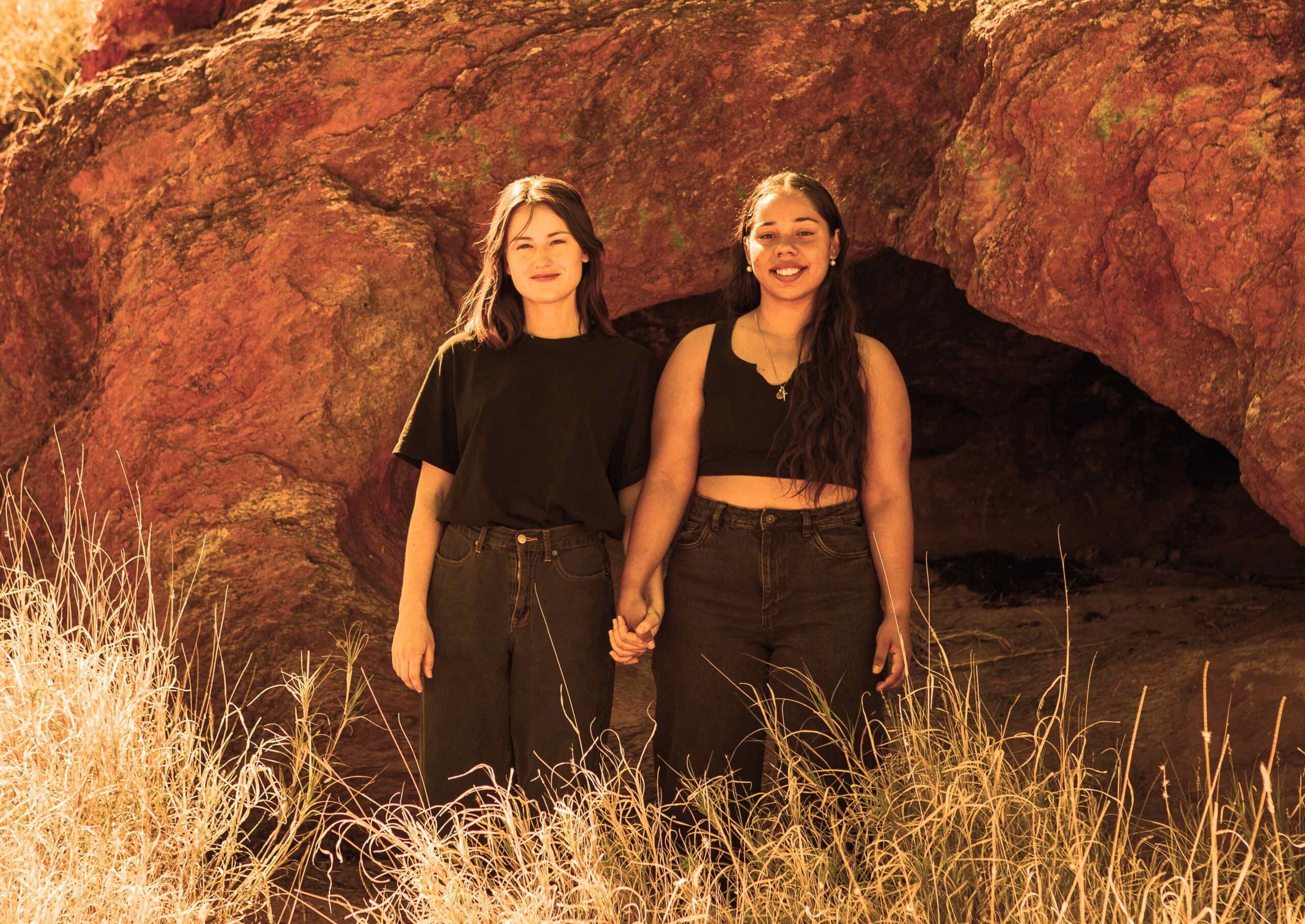 Cuttings is a dynamic new play that grew out COVID and the beating red desert heart of Mparntwe/Alice Springs. It's about to have its South Australian premiere at the 2023 Adelaide Fringe Festival.
In 2020, long-time Alice resident, novelist Jo Dutton (From Alice With Love), received a Creative Fellowship from Arts NT. She had a lot going on that year. Diagnosed with degenerative neurological condition Parkinson's eight years earlier, she'd recently had brain surgery, travelling to and from Adelaide for treatment and recovery. Keen to discover new opportunities for her writing in lived, collaborative settings, Jo turned her hand from prose to play writing, and books to theatre.
A mother of daughters, Jo had watched the rise of the #MeToo movement with a growing sense of interest – and alarm. She was dismayed at how things really hadn't changed since she was a young woman navigating the tricky waters of sex, sexuality and 'the patriarchy' back in the 70s, a system she has long felt fails women so profoundly – and truth be told, men too.
Jo wanted to say something beyond the white noise – something that would stick, include a multitude of voices, and importantly, voices missing from the conversation. She wanted to say the things we all know and don't speak out loud. Vignettes of lived experience. "Cuttings" from daily life.
Jo also wanted to provide an opportunity to engage local creatives, adrift in a local arts scene that had gone from super vibrant to uncharacteristically quiet, thanks to COVID. So she began developing and writing Cuttings with one of the best in the business, Maude Davey OAM.
One of Australia's most acclaimed and recognisable actors – and directors – of stage and screen, Maude brought her indefatigable talent and energy to Cuttings as dramaturg. For Jo – known mostly for writing books and short stories – what followed was a theatre "intensive". With Maude as her dedicated 'support crew', Jo dove deep into the ocean of playwriting, carefully crafting her words for the theatre space.
A key moment in the process came after actor, singer, comedian – and First Peoples Organiser for the MEAA – Elaine Crombie (Pitjantjatjara, Yankunytjatjara) threw down a national "provocation" to the Australian arts and theatre community that went along the lines of: 'if you're going to make work on Country, include the voices of  Traditional Owners'. Jo and Maude listened and took it on. Jo invited Arrernte woman, friend and powerhouse performer Jody Kopp on-board as co-writer, to bring local Arrernte stories and Indigenous perspectives into the voice of the play.
Several cast readings took place in Mparntwe/Alice Springs across 2020, the process eventually spawning the current local cast: prodigious siblings, actor Mary O'Loughlin (Mystery Road, 2022) and musician Bert O'Loughlin (also the play's music composer); Arrernte co-writer Jody Kopp; her daughter, singer and rising CAFL football star Armani Francois (then 16 in her first acting role), and first-time actors but long-time Mparntwe arts professionals, renowned artist Dan Murphy and passionate arts worker, Sophie Wallace.
Cuttings was first performed in full in August 2021 at Araluen Arts Centre during the NT Writers Festival, with Maude directing. Two days before she was due to fly, Melbourne went into lock-down. She wound up directing the production via Zoom, prompting cast member Dan Murphy to ask whether or not she was indeed real! In 2022 Cuttings was then invited to be part of Darwin Fringe Festival. This time Maude was able to direct in person with cast member Mary O'Loughlin as assistant director.
Travelling south, this year Cuttings makes its South Australian debut at the 2023 Adelaide Fringe. The cast remains the same with Mary O'Loughlin in the director's chair with Maude Davey in support via Zoom interstate. The hope is visiting producers will invite Cuttings to other festivals.
Refreshingly – and importantly – Cuttings is a good news story out of Alice Springs, something much needed right now to square the ledger. Mparntwe is the beating red desert heart of Australia and Arrernte Country; it is an ancient and inspiring place with a deep, powerful energy.
This "giant" runs deep in the veins of co-writers Jo Dutton and Jody Kopp, as does the art of storytelling, as they explain to me in this powerful and heartfelt interview…
Megan Spencer: Cuttings has a really interesting backstory. Jo, can you please take us back to the start of Cuttings, its inception – and what inspired it?
Jo Dutton: In 2020 I'd just had brain surgery for my Parkinson's, and I'd come back to Alice Springs, and it was COVID time. And the NT had shut out anyone who wasn't from the NT. So there's all these people drifting around town who returned, especially young people who came back from university to have a bit more freedom in Alice Springs, but they also had very little to do.
I'd already started writing the play as part of an Arts NT Fellowship Grant I had, with Maude Davey the dramaturg. And I thought, "Well, there's not much happening in town. I might try and get a group of people together to act out the play and just see how it sounds.
So we started with about probably 15 of us in the beginning. And we had lots more voices. And we just worked it out from there. We had young people like Mary O'Loughlin, and Bert O'Loughlin. One was studying Music and one was studying Drama. We had other people who were just interested in theatre, and we had Jody who had I'd asked before we got to this point, actually.
I went and talked to Jody because I felt that the play was just too 'white'. The experiences in it weren't very diverse. I am what I am, so I can't write other people's experiences, you know?
So I went to Jody, and showed her what I was writing. And she's just like," I'm in!" From that point on, we worked with a big group of people. And we slowly whittled it down to six of us. So that was the development process.
Megan Spencer: It sounds like it was very much a project that grew out of the community and from you actually being in Mparntwe – in that [particular] place?
Jo Dutton: Yes, it did. It started because I'd written another small play called A Family Portrait. And the themes in it were what I wanted to explore in Cuttings, but I hadn't gotten around to exploring those scenes..
So it was very much an active development process wasn't Jody?
Jody Kopp: Yes, it definitely was. When we first started developing Cuttings, that transition was really gradual, and it wasn't rushed. It was a process where Jo knew what she wanted to portray in the play. We also knew that we needed a cultural element, because Mparntwe is made up of so many different cultures, but also, so many stories come from our Country.
It was really beautiful the way that Jo had written it, because if you're sitting in the audience and you're watching the play, people can relate to it. And people can say, "Oh, my gosh, I was like that". "Oh, wow! I can't believe that concept can be delivered on stage", so that we can understand the power of some of the things that we discuss… Which are really powerful and really gut wrenching and sometimes hard for people to sit through.
We do have a [content] warning, which is really important. And we knew that we needed to do that. But it's real! Like Cuttings is about real situations, real life and women walking in this society – but not just that! Women walking on Country too, and living and breathing on unceded Arrernte Country..
Megan Spencer: So Jo, how do you describe Cuttings?
Jo Dutton: I think Cuttings is a series of vignettes, which are carefully stitched together, which shows the way it is for all those things that we all know about how women are treated.
I suppose on a personal level I was motivated by the fact that I've got three daughters, and every single one of them has suffered a sexual assault. Now that's a pretty high stat, if you ask me? And I was so angry about that. But I didn't think being angry and having a kind of a 'table something' view would help anyone listen to it. So that was the kind of my driving force in the beginning – to try tell a story that we all know. And there's also the issue of how that affects women who try and call it out as an abuse.
So, I was inspired by anger. And then I was tempered by the idea that if I was going to pull this off, we needed to have community voice in it and work together. That you "catch more flies with honey", you know? Like it needed to be light enough for people to take on.
It's not just about sexual assault. But those bits that are hard in the play, the bits that are gut wrenching – around birthing and around sexual assault – they needed to be handled in a way that was measured. And I think that's one of the things where Jody and Armani – her daughter who's a member of the cast – were really helpful. To show me how to be funny. Because I can tend to be a bit 'serious' and 'cranky'! Laughing is really important.
Megan Spencer: And Jody, how you might describe Cuttings as its co-writer? And what did you want to say through it, and to bring to it?
Jody Kopp: I think always in the forefront of my mind when developing and writing and producing something on a scale that… We knew that we wanted [it] to travel? You know, it wasn't targeted just at Mparntwe? We went to Larrakia Country [with it, to Darwin Fringe 2022], and now we're going to the Fringe in Adelaide.
In my mind, I know that my cultural safety when I'm writing – particularly about my people, and experiences – even though they're my experiences, I still need to have respect when I tell stories about my culture. So first of all, that was always in the back of my mind.
But then reading the script, I knew I had to blend it… having a complementary cast that worked and blended together. Because if you don't have the proper cast, that can work and bounce off people and each other, it's not going to work. So that was in the back of my mind, initially thinking, "Who are we going to get? Who are going to be our people? Who are going to pull this off with us?" So you've got the writing aspect, but you've also got the acting aspect.
You know, I've been in theatre for a long time and done some really great plays, but this one was different. It was an opportunity for women to stand up. You know, for young women, for… older middle class women, to stand up and say, "We're going to start telling our own truth-telling. And we're going to start telling you what like we don't like. And what we're not going to put up with, and we're not going to tolerate it anymore".
So through Cuttings we were able to deliver that, but in a sensitive, nice, light kind of way. But there are elements in our play that will rip your heart out. And that will make you understand and make you be aware that it's okay to talk about it [such difficult things]. And it's okay to hurt. And you know what, you're not the only one sitting with that sadness and that fear of [the] elements in that play, you know? We talk about a lot of things that people can relate to. And I think that's why Cuttings is so successful.
Megan Spencer: I think one of the interesting things of the play, too, is that there are men in it. And it's quite an honest depiction of them grappling with all of the flux and change that's going on now around so called 'identity politics'. Could you both speak to the idea of the male roles in the play and the male conversations in the play as well?
Jo Dutton: Well, I didn't want to exclude men and I didn't want men to get angry. And I've had quite a lot of men come up to me after the play and say, "I really didn't expect that! My wife or my girlfriend brought me along and I was sort of dreading it! But I was really surprised, because I laughed, and I thought it was funny. And then I realised one of the things I was laughing at was myself."
The thing that I also think that Cuttings does very well is it it says to men very clearly: "You are the oppressors, you are the patriarchy. So you have to change". And women can bang on and shout and laugh… and try to amuse and use all sorts of tactics to get men to change. But what men have to recognise, first of all, is they are the oppressors. They are the top of the heap in wider society. And so they have to start shifting. And if they don't shift, nothing's going to change.
I'm 60 this year, and I am just so horrified how little has changed for women out on the streets. It's just as bad as when I was young. Some of it's worse because women also have to put up with a whole lot of cyber-bullying now, which is a new thing. At least when I was young, you could go home and cry in your room and get left alone.
But yeah, I think for me, the idea was that men have to be in the play because men hold the power and men have to shift. And we can't just push people over. It doesn't work, they just want to get up and fight you. You just have to gently move them around. And I think that's what we do pretty well in Cuttings.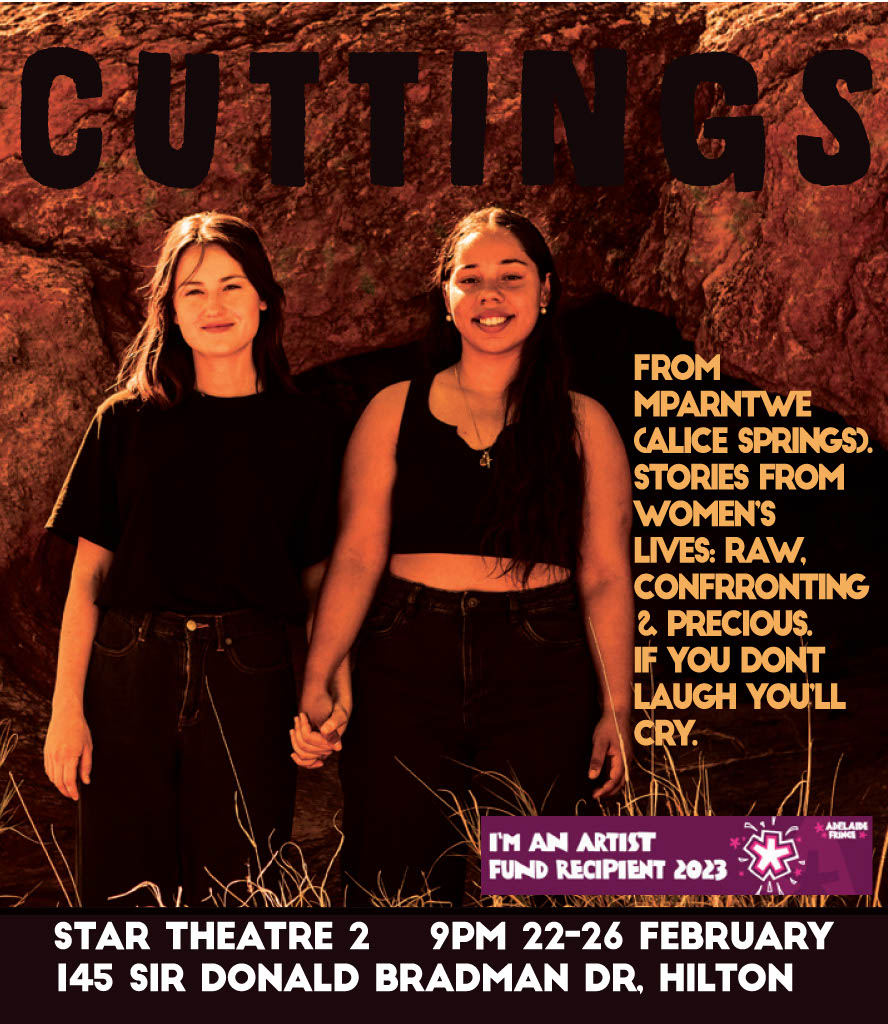 Megan Spencer: Jody, what was it like for you to be in the play, as well as to be a co-writer? Because there's one scene in particular, which is extraordinarily powerful [Jody's character stands up for an elder, "Nana", who's racially abused by a security guard at a supermarket]. What is it like for you to actually enact those words and inhabit those characters across the play?

Jody Kopp: You know, there's always an angry black woman in all of us! But that doesn't define who Aboriginal women are. But, I am one that will not stand and tolerate disrespect on my Country – as I write in the play – or disrespect of my elders.
Performing [Cuttings], it's full on… It's very physically draining, it's very mentally draining. But … I need for them [the audience] to see that anger. I need for them to understand that anger. I know that people get shocked.
So that's a real life event… Nana was disrespected, but I also felt like, "How dare you?" I felt disrespected. And in turn, "How dare you think that you can do this to my community on my Country?" And, "You're a visitor here, mate!" You know? So when I perform it, it does take a lot from me. So it's really good that I don't really have anything after it for me to be able to regroup and continue on in the play.
So when I perform that scene, [my daughter] Armani is normally my gauge. And she'll say, "Mum, you smashed that? Well done, darling". And I say. "Thank you, Cherie!" But even then, you know in yourself… Like when that audience is looking at you and you're giving it all you've got…  You want them to know that story. You want them to know that message. You want them to remember a time that they've seen someone do that to one of First Nations people. You want them to understand that, you know?
It's also really enlightening. And it's really empowering. And it's really forceful. And that's what I love about that scene.
Megan Spencer: Yeah, it's incredibly powerful. And so is your daughter  Armani who's 17. She's a powerful performer in Cuttings as well.
Jody Kopp: There's a part of the play that Armani is in… when we have young people… going through adolescence. There's a scene that portrays how love actually isn't. And that young people don't actually have to put up with certain behaviours when in relationships.
And I think that part in the play also – the train scene – where there's this conflict going on between a boyfriend and a girlfriend, it shows that society isn't going to tolerate that kind of behaviour?
Even if young people – because they're learning about love – they're going through adolescence, and they think that being treated horribly and [with] jealousy, and all of those things are 'love', when in actual fact it's not! And, society isn't going to tolerate that anymore. People are going to stand up. That aspect of the play appeals to our younger audience. So that they know we know that this happens!
Megan Spencer: Thank you. Jo, you mentioned Maude Davey before; you started working with her early on. What was it like having her involved?
Jo Dutton: Oh, it was terrific! We had Maudie involved from 2019. She was the dramaturg on this play that became Cuttings. And luckily for me, COVID came along in 2020, which meant the Maude-  who lives in Melbourne – had no work! So what was a real bummer for her was a real bonus for us! Because she was available.
And Maude is a very well-known theatre director, actor and dramaturg. And she's got a big reputation in Adelaide. And back in the day, she used to also be the artistic director of [contemporary arts centre] Vitalstatistix, which is an Adelaide company.
Maude was insanely good at seeing what I couldn't see in the script. And she was incredible in the way that she brought humour into what I thought were kind of 'heavy, straightforward' themes. So she was just brilliant! We couldn't have made Cuttings without Maude. And as a director, she drew things out of people that they didn't expect could come [out of them as actors]. So she was fantastic.
Megan Spencer: So this play has got legs – it's travelling around – and it seems pretty pertinent to what's going on right now in so many different ways. How do you think it intersects with what's going on at the moment, Jo?
Jo Dutton: Well, I think it intersects with the #MeToo movement. In the process of creating the play – and also within the play – it promotes the themes of unity, the themes of strength, the themes of endurance, especially by women – First Nations or not – are very clear.
And I think that at the moment, coming from Mparntwe/Alice Springs… Alice Springs is in the press for all the wrong reasons. Even if people perhaps are not interested in a play that comes from a woman's perspective, they should come along to this play,  just to support Alice Springs – just to support the community. To say, "Yes, good things come out of this community!" Creations are made, cross-cultural relations are built on regularly, every day [here], in different ways.
And that we're a creative community! We're used to feeding ourselves, because it's not like there's a lot of external things – creative things – to feed us. So I think that the play is particularly pertinent at the moment to those issues.
And for the audience and the good people of Adelaide and elsewhere 'to put their money where their mouth is' and support our town and support the creativity that does exist here and the cross-cultural collaborations that are made here, ][that's] very important.
Megan Spencer: Thank you. Yeah – Alice Springs is in the news at the moment… It is pertinent. And I was going to just ask you both: what would you like people to know about Mparntwe, about being part of that community and what you love about it? What do you want them to know, especially in this moment, when it's in the media?
Jody Kopp: Megan, just go back and talk about some of the issues that are important to First Nations people that we portray in the play… We talk about Black Lives mattering and that they matter. We talk about how inspiration comes from Country and that our culture is still practiced and still alive. No matter whether we have language, no matter whether we are black as the ace of spades… Our people come in all shapes and all sizes and all colours.
But we still are resilient, and we still, on Country, practice what is our birthright.
So [in Cuttings] we talk about Black Lives mattering. We talk about young people – not Indigenous [young] people, but ALL young people – because they're our next generation.
We also talk a lot about spirituality – spirituality as Indigenous people. Everything for us comes from the land. But in order to portray, you know, what we believe on the stage, it's really important – but it's also a really big skill.
And the way that we portray it through poetry, through music and through theatre, particularly when it comes to First Nations people, I hope that they can see and understand that Alice Springs isn't the place that is being portrayed on the media, in the media, all over Australia, all over the world.
This land is sacred land. And through the elements of culture that we talk about in the play, that we're wanting to portray – is that breakdown of society, is that breakdown of people's perception of who we are as First Nations people. Don't paint us with the same brush! Because we are many and we are varied. And we are compassionate. And we're very, very cultured and spiritual people.
Don't continue to insult us because once – particularly the Arrernte giant – because the focus is on Alice Springs… Once the Arrernte giant is woken up, watch out! Because we know the answers and the solutions to our issues that happen in this community.
Cuttings allows us to portray that in our own way, but in a way for the audience and the non-Indigenous community to be able to understand that pride, that love, that connection, that makes us strong First Nations people. Yeah.
Megan Spencer: Thanks so much, Jody. I've got goosebumps listening to you both! So, finally, what are you hoping that people take away with them when they see and listen to this play – on Kaurna land here in Adelaide for the 2023 Fringe? What are you hoping people take away with them?
And also, do you have any responses from the audience that come to mind from your previous outings of it that you could share?
Jo Dutton: We're trying to get people to look at things just a little differently, just to shift their view a bit. I mean, we don't have 'characters' as such in the play, we have voices, and people change voices. And that is a really important aspect to the way the play is structured.
People have to try and follow the themes, it demands participation.
So I would hope that a lot of people do participate in the play – [that they] don't just sit back and expect to be 'delivered to'.
I also think that the really important thing [is] we would like to see the play live on in some shape or form, which is why we're prepared to lose a lot of money coming to Adelaide for the Fringe Festival! We were lucky enough to get Fringe Seed Funding, but it costs a lot of money to go anywhere from Alice Springs.
We're prepared to give this a shot, so that people understand that we are a vibrant and creative community, and that they have a responsibility to support us as a vibrant creative community? Not to see Alice Springs and the people in as 'victims', as 'poor buggers' with 'no culture', or 'poor buggers with so much violence'.
I would like people to take away from the play the fact that Alice Springs IS – I mean, I wouldn't have stayed here for 34 years if it wasn't – an exciting place to be. And what is most exciting about it, is you're at the coalface. This land has never been ceded. And this land is not in a state of post-colonialism – this is pre-colonialism, really, if you want to think about things in terms of those sorts of paradigms.
And we're fighting a fight creatively, to be seen and heard, as human beings first, and as people of different cultures, secondary.
Megan Spencer: Are you proud of this production and the people you've been working with? The cast your co-writer, Maude – all the people involved?
Jo Dutton: I'm absolutely amazed and thrilled. It's been such a pleasure. And it's coming up to two-and-a-bit years now that we've been working together.
And what I can't believe is – my son said to me, because sometimes I get down with Parkinson's – and my son who's a big believer in positive talk, said, "Mum, just look at all those people that have been helping you for all this time, you know? Making and creating this play for free! Giving up their time because they also think it's important."
And I think that's an incredible blessing that I've got, yeah.
And also they're so funny! [Cuttings cast] They never do anything I say! If Jody tells the cast to do something, BOOM!, it happens! If I tell the cast to do something? Oh, no, there's an argument. [Laughter]
Megan Spencer: And Jody, what about you? How do you feel about this play? And do you feel like it should continue? Would you like it to tour around the country as well?
Jody Kopp: Touring is always good. It can be hectic – all of us have our own schedules. It's amazing our commitment for us to continue – two-and-a-half years! And we come sometimes from all over Australia to produce it on stage. I think it's absolutely amazing.
I love any time with Jo. And she's been my very good friend for a really, really long time. But she's actually really funny too! Like, we're not just funny, she's pretty funny too!
I think the relationships that are formed throughout our time with Cuttings with the other cast members… but also the unity that a group of people can have, trying to tell a story? Trying to educate? But also believing in it's so much, that you smash it every time you go on stage? That's what makes me happy!
And why it makes me happy is because I know that when Jo wrote this, it was hard. But every time she sees it, that's healing. Not just for her, not just for her daughters, but every other person that can relate to each and every scene that we have in our play.
And that's what matters. And that's what's important.
Jo Dutton: I think that the aspect of community is really important… What it represents is community production, community involvement, community creativity. You know? I think it's great that Cuttings starts with a "c", because, Cuttings IS Culture, Cuttings IS Community.
Jody Kopp: I just want our tickets to sell! Because the more that we have bums on seats, the more we're going to get that message out there. Each time we're on stage, we 'bring it' people! So if you want to see something raw and real that everybody can relate to, come check us out!
Take a risk, you know? Take a risk…
Declaration: this is a paid post.
* * *
Cuttings plays at the 2023 Adelaide Fringe Festival
Wednesday 22 – Sunday 26 February, nightly at 9pm at Star Theatre 2, 145 Sir Donald Bradman Drive, Hilton, SA.
Book tickets here.
* * *
PLEASE NOTE: Cuttings is recommended for audiences 15 years and over. It contains strong sexual references, references to sexual abuse and strong language.
Thank you: to Jo Dutton and Jody Kopp for the amazing interview!
Words/interview edit: Megan Spencer
Cover photo: Cuttings actors Mary O'Loughlin & Armani Francois. Photo: Charlie Lowson/STS Photography
Photos: supplied & credited above (thanks to the photographers!)
Like: Cuttings on Facebook
Book: tickets for Cuttings at Adelaide Fringe Festival 2023.
Watch: the Cuttings trailer.