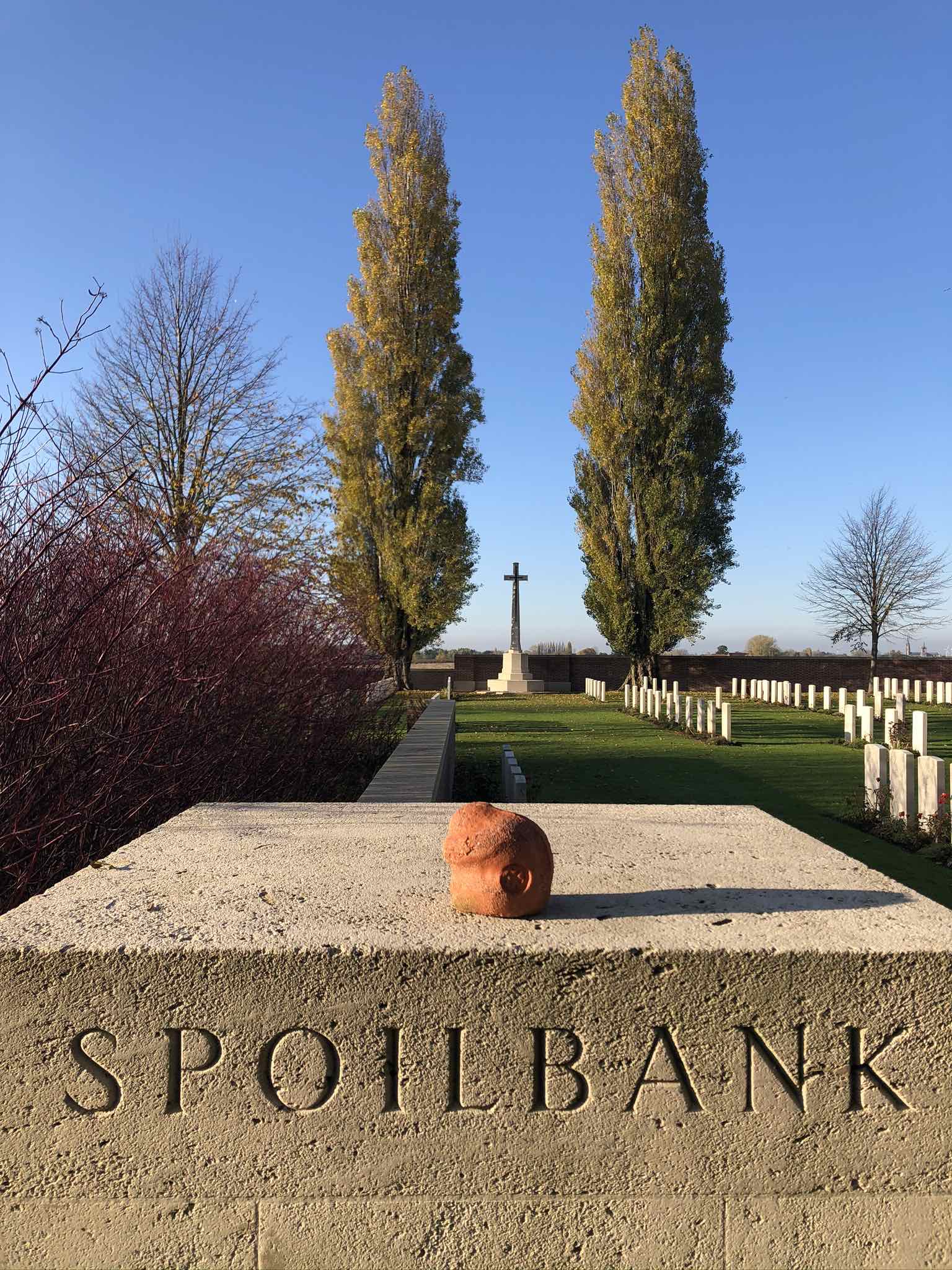 Radical Acts of Remembrance
Posted on January 3, 2020
A fantastic thing has come out of making From A Whisper To A Bang!
A slew of people have taken to visiting the grave of my great-uncle, Richard "Charles" Spencer, Private, 5218, AIF, (1899-1918).
Generous strangers all, asking for nothing in return.
Something I never considered when I began making this podcast series about remembrance, three years ago with the welcome of 2020.
Richard's final resting place is in the small CWGC cemetery of Spoilbank, a few kilometres south of Ypres in Belgium. I tell his story in Episode 03: 'City As War Memorial'. Thousands of people in Australia and all over the world have listened to it.
Sad and astonishing as it is, it is a gateway into something much bigger: a tragic, fascinating and brutal phantasm of a common history shared by the world of that time, at that time… A real-life, historic grand guignol.
To the best of my knowledge, prior to my visit in October 2017, no-one has intentionally been to Richard's grave since he was buried there a century prior amid the ignominy of the trenches, with only a few battle-weary comrades present to say 'farewell'.
Richard was one of the 'faceless many' who gave their lives to WWI. Under a false name (Charles) and under-age (16), like so many he went off on a 'grand adventure' only to have his short life cut even shorter by the violence of that aberrant, industrialized conflict.
Visiting Richard was an abject lesson in history and empathy – a pilgrimage that left me breathless. Still does. While I was in 'Flanders Fields' I met so many other 'breathless' pilgrims – some newbies like me, others who'd been there many times before, and those who just can't stop going back.
Untangling his story dropped me into a sea of deep reflection: about family; about the nation I call home, Australia; and about the world – and the world war – of that moment. It offered me a visceral perspective on the cultural, social and psychic "injury" we still carry to this day, down the line, intergenerationally, in our DNA.
It also gave me insight into what we have and haven't reconciled from that war – one we often look back on nowadays as pointless, yet so many felt at the time was not only absolutely necessary but the absolute the need to be involved in.
So when I go to Spoilbank on the 19.10.2017, again, as far as I know, I'm not only the first Spencer but the first person to deliberately visit Richard's grave since his luckless death on 31.01.1918 courtesy of a malignant flying gas shell.
But that's all changed. Since then – and since the first episode of From A Whisper To A Bang! went online on the Australian War Memorial website 101 years to the day he died – four other visits to Richard's resting place have been made by kindhearted souls who, for reasons of their own, also felt compelled to seek out and remember someone they never knew.
It doesn't look like letting up any time soon.
Coming World Remember Me
Richard's story has been made all the richer thanks to an epic "peace project": Coming World Remember Me.
Koenraad "Conrad" Dumoulin (the kindhearted, compendious Belgian field guide from Episode 03), first told me about this "land art installation", a public art project in Ypres during the Centenary of the Armistice.
November 29, 2018
Dear Megan,
I have a "CWxRM" brick statue for you. 
It was the Flemish WW1 commemoration PR project from 2014 to 2018. It will 

remember

 your great-uncle. 
We have time; I will keep it in the attic. Just let 

me

 know whenever it can be picked up by someone and brought over to Aussie 

world

. 
See the web for '

Coming

 W

orld

 R

emember

 M

e' 

project.
Conrad
Between 2014 – 2018, 600,000 tiny, unique statues were handmade there in workshops from local clay – the very same that infamously plagued the troops of 1914-1918 as the battleground turned to bog in ceaseless rain.
Installed on a field in a spectacular morass to commemorate each of the 600,000 lives lost in Belgium, the statues were an 'object' plea to our contemporary world to never forget the unfathomable loss and destruction WW1 had on the historical world.
It's a tangible, poignant reminder to "never forget" – an urgent invitation to learn from past horror: coming world remember me.
At project's end people could take home the statues. Conrad snagged two for me. Six months later I collected them in Canberra from one of the historians I interviewed for From A Whisper To A Bang!, Dr. Lachlan Grant at the Australian War Memorial. (Eps 01 & 02).
Lachlan + The Simpson Prize students
In April 2019 Lachlan accompanies an annual tour of Year 9 & 10 students to Ypres and other Anzac battlefields. They are the recipients of the annual Simpson Prize, one from each Australian state and territory. They bring two of the statues to Richard's grave; there Lachlan shares with them my great-uncle's soldier story that he's helped me research for the podcast.
May 6, 2019
Hi Megan,
See below pictures visiting the grave of "Charles" Spencer with the Simpson Prize students.
I have the two 'Remember Me' sculptures – you can see in the pictures – from Koenraad for you too...
All the best,
Lachlan
The eight young people standing next to Richard's headstone are the same age as my great-uncle when he enlisted in 1915. They're also standing a stone's throw from where he died in 1918, a week shy of his 19th birthday, at an Advanced Dressing Station next to the cemetery.
I was terribly moved by this spontaneous act of remembrance.
They were the second group of Australian high school students to go out of their way to visit a young man they'd never met.
Jo + BSC Battelfield Tour students
Nov 29, 2018
Hi Megan,
Our "kids" are on their 'battlefields tour'. 
I think I told you about this: each student represented their own relative. 
If they did not have anyone they represented a staff member's relative.
Ebony is the Year 11 student who is reading... I'm so impressed!...
We all had a cry.
Talk soon, 
Jo

From A Whisper To A Bang! also gave me the gift of connecting with living relatives I'd never met, one being my second-cousin Joanne Whiteman, a high school teacher and the granddaughter of Nathaniel Spencer (1912-1981), younger brother of my grandfather Harry (1910-1987). They became POWs together during WW2 in Germany, captured on Crete in 1941. (Episodes 01 and 02).
A year after my 2017 visit to our great-uncle's headstone, Jo facilitates another. In November 2018 a group of students from her school in Central Victoria, Broadford Secondary College, travel to Flanders on a Centenary of Armistice "battlefields tour".
One is charged with reading a short tribute at Spoilbank Cemetary "from Mrs Whiteman". These young people are the first to hear his story in situ.
Jo's "Pop" Nathaniel was five when his big brother Richard was killed on the Western Front. My "Grandpa" Harry was seven. They barely knew him. Only a couple of their memories remain:  crawling as 'nippers' into Richard's bedroom to steal cigarette butts from the overflowing ashtray next to his bed as he slept, home on weekend leave from Infantry training.
The other is waving Richard goodbye from Station Pier at Port Melbourne as he sails off to war. It's the last time either boy will ever see him.
Remembrance as Practice
As I discover in Ypres, the locals have big hearts. Remembrance is not just about tourism, it's a daily practice for all who live there. This is a landscape that was smashed by not one but two world wars. It radiates from every brick, every tree.
You might start out in Ypres as a "tourist" but you leave as a pilgrim. I tried to imbue Episode 03 with this – this sense of place, and its ability to transform those who visit.
In Ypres, every day is "remembrance day" – a city which has conducted a formal "Last Post" ceremony daily since 1928, save for the rude interruption of WW2. Those who lie in its soil are now part of Ypres, such is the depth and strength of their "linkage to the landscape" as Conrad tells me when we meet. There is a 'custodial' approach taken to the fallen who are honoured as much informally as they are formally, in ceremony.
The people of Ypres know how to 'remember well'.
Conrad
October 16, 2018  
Dear Megan,
...Every time I pass by Spoilbank Cemetery I think about your great-uncle and his story.
Bye for now,
Conrad
--
November 13, 2019
Dear Megan,
Just went over to greet your great-uncle and have put a CWxRM statue at his headstone...
It was all quiet at the Western Front.....
Conrad
Conrad's regular correspondence also gives me ongoing continuity with – and connection to – Ypres, for which I am deeply grateful. And now this:
October 21, 2019
Dear Mrs Spencer,
I am not sure how to start this message...
Marijke + Davy
Just before Remembrance Day 2019 I receive a heartfelt email from a young Belgian woman, Marijke, who like Conrad also lives in Ypres. She has heard Episode 03 of From A Whisper to A Bang! It moves her "enormously" – also to action.
She writes:
...This war has made many scars in our region and so it's quite present in our daily lives. Almost every day I drive past the Menin Gate (I'm a school teacher in Ypres) and it still gives me cold shivers. 
To me it seems like stories of (missing) soldiers are floating around in the air here, ready to be picked and told.

.. 


Have you ever heard of 'Coming World Remember Me'?
Marijke tells me she made "a lot" of the tiny ceramic CWxRM "sculptures". She asks whether she and her husband Davy might leave a couple of them next to Richard's headstone this coming 11.11.2019.
...I really would like to visit your great-uncle Richard on Armistice Day next month and place one of the 600,000 sculptures in front of his headstone to express my gratitude towards the Australian soldiers who fought here for my (our) freedom. 
The story of your great-uncle has given a face to the Australian sacrifice. Let this small gesture be my way to show that remembering can still make the difference.
With my kindest regards,
Marijke
I am amazed and moved yet again by the kindness of strangers, also wondering what Richard and other members of our family – deeply affected by his loss at the time yet now long gone from this earth – might make of this spontaneous care and kindness. Would they believe it possible?
November 11, 2019
Dear Megan,
Davy and I decided to visit Richard this late afternoon, because Armistice Day had already started around that time in your part of the world, the place where your ancestor was born.
We could find him very easily. The autumn sun was shining beautifully on his grave. The light created a very warm glow on his headstone. 
I placed a CWxRM sculpture with a poppy in front of his headstone and told him that he can be very proud of you and your stunning podcast. 
We stayed at the cemetery until his headstone was in the shade. We were all alone. Only the falling autumn leaves and the soldiers' souls kept us company. 
We now know where Richard is and we will certainly visit him again in the future. We are happy to share some pictures of this special visit...
Warm regards and love from faraway Flanders,
Marijke
Remembrance = Compassion
Remembrance is an act of compassion which I believe has the power to bring about peace – an idea or 'thesis' I explore in my podcast. These kind 'strangers' have participated in acts of what social justice philosopher Khen Lampert might call "radical compassion".
"Radical compassion is a specific type of general compassion, which includes the inner imperative to change reality in order to alleviate the pain of others. This state of mind… is universal, and stands at the root of the historical cry for social change. "  – Quote source

Remembrance might start with a single gesture towards an individual but I feel it is a transformational and unifying act with the potential to unite us all across time, place, history and identity. I'm grateful to all those who have shown us, and continue to show us, that this is possible.
From my heart to your ears, thank you.
Special thanks to Conrad; Lachlan and The Simpson Prize students; Jo and Broadford SC students and teachers; and Marijke and Davy.
* * *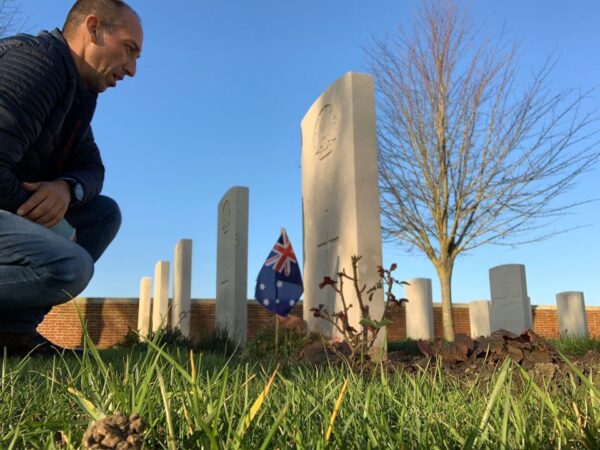 UPDATE: my cousin Guy also visits Ritchie's grave, 07-08.02.2020. More here.

* * *