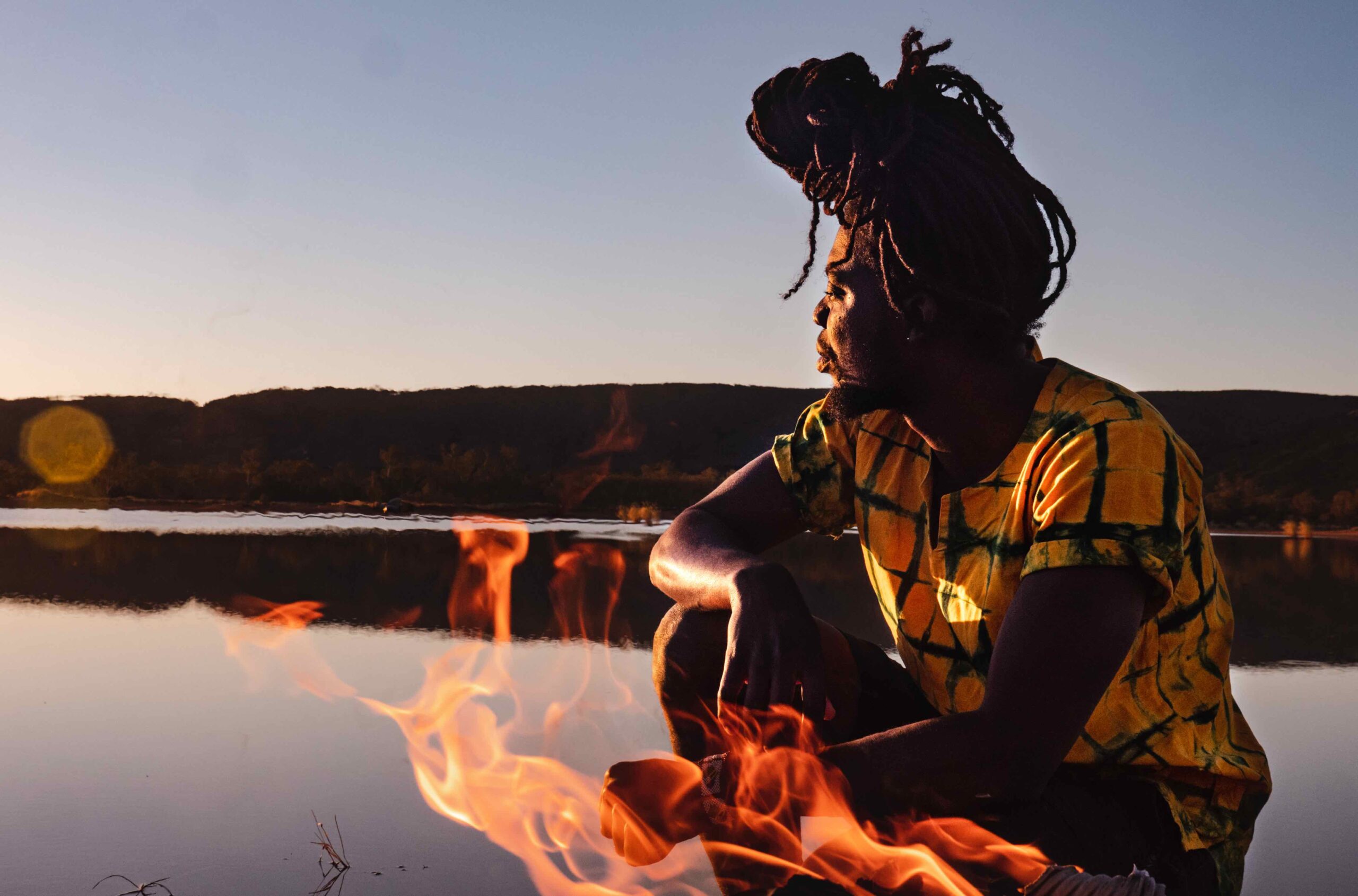 Firestarter: Katanga Junior
Posted on August 31, 2022
A powerful new voice arrives to set the Australian music scene on fire.
Tanzanian rapper, musician, singer and hip hop artist Katanga Junior has called Mparntwe (Alice Springs) home for only a year. Yet already he's one of the hardest working musicians in town, igniting the stages of festivals and music venues alike.
Ferociously talented, his unique blend of rap, reggae and ragga sets dance floors ablaze. His first EP Moto ("fire" in Swahili) is due for national release on September 4, 2021.
"I called it Moto because there's burning and fire in the lyrics," reveals Katanga when I interview him from home, "with fire in the music and the cover art. Yeah, fire is definitely the vibe".
Fifteen months in the making, six-track EP Moto was recorded at Mparntwe's beloved Red House Recording Studio, produced by accomplished local musician and sound engineer Darcy Davis (aka D-Day) and mastered by Melbourne-based electronic pioneer, Monkey Marc, also no stranger to the red desert capital's diverse music scene.
Born and raised in Arusha in Tanzania, East Africa – "Hip Hop City" – Katanga (aka "Junior") arrived in Mparntwe with his Australian wife Tara and two young children in January 2020. A week later the powerhouse performer caught the ear of local producer Darcy Davis.
"I met Junior at the jam sessions I was hosting every Tuesday night, pre-COVID", says Darcy. "We had an instant affinity for reggae music, hip-hop and dancehall… We knew we had a chemistry that would translate to the studio".
Growing up immersed in music – his uncle Gaby Katanga was one of Tanzania's famous rumba artists – Katanga started drumming at 16 and playing professionally in bands soon after.  He also taught himself guitar, "on a little kids toy guitar".
Singing and rapping in Swahili and 'Swanglish', Moto reveals the richness of his voice and accompanying music: beats, instrumentation, loops and styles.
Complex lyrics and distinctive flows" emblazon his style. "I really started finding my voice two-and-a-half years ago when I moved to Australia", he says."
Equal parts moving and fierce, Kwenye maisha ("in this life") fires off the EP, a lushly-looped tale about the childhood disadvantage Katanga witnessed on the streets of his hometown.
Endelea ("keep going") was written in an all-night studio jag. It's an inspirational loop-driven homily that Katanga co-wrote with Darcy "to give hope to lots of my people", and, to pay respect to his new home of Mparntwe/Alice Springs.
Mapenzi Business veers into cheeky, sexy reggae, a song about the sometime transactional nature of love.
Next is superbly mixed dancehall sortie Righty Tighty, a visceral invitation to open your body up to the beat of a song, showcasing Katanga's vocal prowess.
Sure-fire dance hit, Bun Dem ("burn them") follows, a muscular double-time 'ragga' track with a cautionary political lyric.
Harmonies and dubby keys abound in the final song, Tunasemano, a track with a strong political message about freedom of speech.
"Katanga's voice is loud and powerful and people can't help but be affected by the tone of his voice and message of his songs," says Darcy. "His energy and presence is a force to be reckoned with".
A creative crowd 'reader', Katanga Junior has shared stages with some of Mparntwe's most popular artists. Wide Open Space Festival 2020 saw him perform with West African drumming legend King Marong and local rappers Karnage N Darknis. (Katanga also lent his signature vocal depth to track Let Dem Know on the duo's 2020 album, 'My People').
"I feel like I've got so many ideas", Katanga says about performing. "Sometimes when I go on stage, I try see to see what people didn't get. [I ask], 'What can I do for these people?' I read the audience to see what can I give to them".
With a finished hip hop album also in the wings (produced by award-winning Adelaide/Buffalo hip hop transplant Dan the Underdog), and another EP planned for his "chill" acoustic project Ndoto Tunes with  Dave Crowe, the release of Moto on September 4 is only the beginning for Katanga.
"This EP made me learn so many things and understand how music works in Australia," he says.
"I don't have any plan", he grins, "I just go with the flow". Which could mean guesting on Melbourne indie Hilda Green's African-inspired indie pop song Kipepeo, just as it might pairing up with singer Kodivine for an "RnB Friday" at Epilogue.
Reflecting on living and working with his family and new community on Arrernte land, Katanga is super grateful for all of the support he's received in Mparntwe/Alice Springs, and to be living in a town where music and culture is so front and centre.
"It's a really big town – and a good town – for music and every art. It's really amazing. You can't find a place like this anywhere else in the world. To be here, it's special. I pay my respects to the First Owners of the Country, and everyone."
But there's a lot more to Katanga Junior's international music story… Read on.
Megan Spencer: First of all Katanga, when and where were you born?
Katanga Junior: I was born in Tanzania in East Africa and grew up in between Moshi and Arusha, one of the tourist cities.
Arusha's beautiful. All the safari companies are there. If you want to go to Serengeti or to the Ngorongoro Crater – or like Manyara [Lake] – that is the town to go to.
MS: And what's it like to grow up there?
KJ: It's really beautiful. There are mountains and green, and you see the Massai people everywhere. There are goats everywhere and life is beautiful there!
I've got five brothers and one sister. I'm in the middle. Some of them are in Arusha. My mother moved up to Kilimanjaro – Kilimanjaro where the highest mountain is – so I grew up in Kilimanjaro, then I ended up going back to Arusha after I started my music journey.
My big brother is in Zanzibar, one of the beautiful islands in East Africa. So he's there also playing music. All my family are back there [in East Africa]. So I'm the only one who's in Australia outside of the continent.
MS: Was there a lot of music in your childhood?
KJ: Yeah, a lot of music, because one of my uncles – his name was Gaby Katanga, he died in 1999 – he was a famous drummer in Tanzania. He used to play African music – "rumba" music – which originated from the Congo but it's all over Africa and East Africa. It's a big thing.
He travelled all over. He used to play in small bands and bigger bands. We heard him on the radio playing drum kit. And when we were young, we grew up hearing him play music. He played in Nairobi, Dar es Salaam and all the big cities.
And my big brother, the firstborn, he started to learn how to play the drum kit and everyone started to call him 'Katanga' after our uncle. And one time he asked me if I could try to play the drums [to fill in for him with his band]. It worked well for me, and from that day I start playing music and learning, and living with musicians.
And then I was then called 'Katanga Junior' – the name was passed down to me. And I kept practicing – I didn't have a kit, so I had to practice on my legs! And [my brother] ended up leaving the band and left me there!
So I started learning reggae beats with other bands and playing more music. My family did a lot of music – my mother can sing a little bit. And my second brother is a good rapper too. So I [grew] up with music.
MS: So when did you start singing and rapping?
KJ: I started finding my voice two-and-a-half years ago when I moved to Australia.
I went along to the local 'open mic' night at the Herd Bar & Cafe in Healesville [Katanga and his family first moved to Healesville, Victoria in 2019]. And everyone was there playing their songs. So I said maybe I can try to practice one of the songs I used to sing – one of my friend's songs – back home in Tanzania. So I started practicing a little bit.
I started learning guitar 8 years ago, after one of my wife's friends came to visit us in Arusha. We went to buy this like shitty little kid's guitar – a bright red Bugs Bunny guitar! So I knew couple of chords.
So I went to back to the open mic a second time. I put my name down on the board and said, "I'm gonna sing one of my friend's songs I've never sung before. And this is going to be my first time to sing, because always I've play drum kit".
So I sang that song and everyone liked it. I sang it in my language, Swahili. And, then I found out that everyone has to sing three songs! And I said, "I don't have any other songs! That was my only song because I'm not a singer!" And that's how I started singing.
The song was Sauti Yangu by one of my friends. I still perform that song today. Sauti yangu means "my voice".
MS: That's interesting – when you were finding your voice, you sang 'My  oice', the song.
KJ: [Laughs] Yeah!
MS: And before that you had your own band?
Back home in Arusha before I moved to Australia, I had my own band – and I also played in others. We'd play in small venues and functions, and at tourist clubs and every Saturday night. And that's even how I met my wife – I met my wife when I was playing with my other friends, every weekend. She was living there at that time, in 2012.
We decided to come to Australia, because I have two kids now. And the third is coming in October.
MS: Oh wow, congratulations!
KJ: Yeah, for my children's education and their future. Because if they grow up back there, it's hard. Maybe they end up [working] in safari companies – it's hard to see the future, you know? There's not as many options as here.
MS: What was your work in Arusha?
KJ: I played music and I used to teach music a little bit at one of the private schools called St. Constantine.
MS: And when did you move to Mparntwe/Alice?
KJ: In 2020. My wife got offered a job here.
It was January, it was really hot. Like, boiling! She was here for one week [ahead of us] and the house [she found] didn't have power then. So it was really, really hot.
And we arrived – I remember, I was on a plane and when we landed, as soon as I stepped outside of the plane, this heat was like, [makes an explosion sound] – whoah!! [Laughs]
MS: So, very different from what you know?
KJ: Arusha is very different, because it's where the second [highest] mountain is. Arusha is more cold! I don't even sweat in my town!
MS: You only sweat on stage?
KJ: [Laughing] Yeah, you sweat on stage! And when you come to Alice, you feel like, "Geez, I'm sweating now!" It's really hot. It's really different here. People say to me, "Oh, you must be used to the heat?" And I say, "What do you mean?!" Where I'm from it's not that hot. It's really cold and green and chill," all that.
MS: So did you know that Mparntwe/Alice was a big music town before you moved there?
KJ: I didn't know. Some people told me it's a 'reggae' town. And I said, "Really?" And they said, "Yeah, they love reggae up north".
But I didn't know it's a big music town. All my friends back in Healesville were laughing at me. They told me, "Junior, we know you're gonna be sad there, don't go because there's no music there". I said "I'm going!"
When I arrived I didn't have a job. So I posted on Facebook to see if there were any jobs I could do. I went to this cafe and they were really busy. And when I rocked up they said, "We'll take you!" Because there were [some other guys with] dreadlocks there – "Another Rastaman coming to work!" I said, "Yeah!" And they gave me the job said, "Start tomorrow!"
And I made a couple of friends and start talking to them, and they said there's lots of music [here].
One friend took me to the open mic night at the Jump Inn and Darcy Davis was the host for the night. I jumped on stage and we kind of freestyled. And I played a couple of my songs on keys and Darcy played… And from that time I first arrived he asked me to go to the studio. So that's after one week! And he also asked me to host the open mic the second week.
MS: Where are you working now?
KJ: I work at a middle school, tutoring. So I'm a Teachers Aide in the classroom, Year Nine level. I work with Indigenous and non-Indigenous kids.
I applied for the job: I knew I couldn't just say "I'm good for this"… But when I connected the dots, I'd worked with [street] kids back in Tanzania. We used to teach them how to do some of the arts – like you'd make jewellery with them, or you'd help them to do things. I used to teach music to [them].
I [also] used to go to this medical centre and we'd play music for kids who had injuries [or they'd had] surgery. I used to go there and play music like as music therapist, a little bit.
They were all kids who were born with disabilities and doctors would come from all over the world to treat them. And while recovering we'd go play music for them, and it was a good thing.
So when I went for the interview and said those things… [That] I can understand kids a little bit. And when I applied for job and went for the interview with the principal, he asked me a couple questions. Then he told me, "You've got the job!"
MS: How do you like it?
KJ: I really love it. One time one of my [Australian] friends came to Tanzania, and he asked me, "What do you want to do when you come to Australia?" And I said, "I want to work with Indigenous people – Aboriginal people… I want to see the real Australia." It was kind of my dream job.
And when he came to visit last year, he said, "How is your work now? You remember you told me you'd like to work with Aboriginal people? How do you feel now?" And I said, "It's really amazing. Like, how [I] fit, connect, with these kids. And how I talk to them and the language they teach me, and how they talk to me."
I [feel] more connected to them because I feel like we have the same stories.
MS: Who would you say are your influences? Like who are some of your major musical heroes or people who have really influenced the way you write, the way you rap and your music?
KJ: There are so many people! I used to listen to Lucky Dube and Bob Marley, and lots of African musicians too. I listen to lots of reggae and dancehall. I listen to any good music.
MS: Tell me about the hip hop side, though?
KJ: So where I come from in Arusha, we call it "Hip Hop City". It's big there! And everyone – even if you're not singing hip hop – you live in a hip hop way. When I went to Dar es Salaam [more of "pop" city], all the people knew I came from Arusha because we speak more 'slang'…
We are gonna tell you reality. So that is the way of being hip hop.
When I listen to beats and everything, I have to make sure everything flows in the same way. And it does come naturally, in a way.
MS: So it sounds to me like 'flow' is a really big thing for your musical process?
KJ: Yeah. It is.
MS: So what does flow feel like for you? Can you describe when you get into that 'zone'  onstage? You've got a lot of energy with you're performing…
KJ: When I'm on stage I don't think about anything. I think about the music and vibe of the people. I see the crowd and what they want… I go with the flow sometimes on stage – I try to go with that even in my life, which sometimes doesn't work!
So when I come to the stage, I try to change something which will make everyone feel different.
I feel like I've got so many ideas. I do hip hop, I do reggae, I do traditional songs… When I play guitar I play some of my tribe's songs – I play so many things. So that's what I feel sometimes when I go on stage: I try see to see what people didn't get. [Then I ask], what can I do for these people?
MS: Would you say that you are political in some of your music?
KJ: Some of my [songs] are, because I can't keep quiet when some things happen.
Back home everyone loves to dance. The lyrics are sad but the beats are up. People are dancing but when they sit down and listen to the lyrics to understand it… We put the sad songs to the up beat.
MS: You mentioned earlier that you sometimes play some of your tribe's songs. Would you like to say what tribe you're from back home in Arusha?
KJ: I am Makonde tribe. We're good at carving and dancing and playing Sindimba – drumming.
Makonde tribe originally comes from Mozambique and moved south of Tanzania. We moved up to Tanzania when they needed labour to work on sisal farms [a plant textile used for weaving bags], a long time ago. That is how my parents ended up in Kilimanjaro and Arusha.
My mum was born in a sisal farm a long time ago. It was grown and sold all over the world before they started making plastic bags.
Now she's back on her own farm. She's growing pineapple and oranges and cassava.
MS: Mparntwe/Alice Springs brings together a lot of different cultures. Obviously, there's the First Nations culture, the first peoples. But there's a lot of people who travel in and out too. And especially music brings people together.
So I was just wondering if you have anything to say about what you've discovered – what you've found there – in that community? Also yourself being a First Nations person from somewhere else, coming to live there?
KJ: Yeah, like the first thing is, you know, I pay my respects – I respect everyone, the First Owners of the country, I pay my respects to everyone. I like to work with Indigenous people; it's not about coming here and taking over, it's about sharing experience with them…
So it's a good thing to respect the people and everyone, and to see what you can do and what you can't do.
MS: Do you feel at home there?
KJ: I feel at home, yeah. I see Africans, I see Aboriginal people everywhere. So I don't see myself different when I step out. I feel like I'm part of them. It's not the same when I'm in Melbourne or when I'm Healesville [or somewhere] else.
When I go down to the shop, there are lot of us. But when I go somewhere else, I see the difference. Maybe I'm going to stand out myself, you know?
MS: Are you excited about the Moto EP release?
KJ: Yeah, I'm really excited because it's been a long time. There's been so many ups and downs, so many expectations… And now everything's finished!
It's hard; you don't know anything [before] you come to Australia. [Then] someone tells you, "Hey, come to the studio and do this…" This EP made me learn so many things and understand how music works in Australia. And I'm happy with that!
It's good to let it go – because if I have the music [recordings], I'd still be changing them.  I'm happy to finish it now because it's been like 15 months.
MS: Finally Katanga, is there anything else you'd to say about your music –  that you'd like people to know?
KJ: I just want to say thank you to everyone who was involved in this EP: producer Darcy Davis, singer Nyapal Lul, guitarist Jackson Simon, Monkey Marc [mastering], the photographer Irvin Bubar and Laura Morellon for the cover art.
And to Alice Springs Town Council for the Musician Support Grant to produce the EP, to my wife and family…
And thank you to the peoples of Alice Springs. Everyone, you know? Yeah!
Many thanks to Katanga Junior for the interview!
Declaration: This is paid content.
This interview was originally published in August 2021 – it was republished due to unforseen/unfortunate technical issues with WordPress.
* * *
Katanga Junior launches his new EP Moto, 9pm, Saturday 4th September at Epilogue Lounge, 58 Todd Mall, Mparntwe/Alice Springs, NT.
Interview: Katanga Junior
Words/edit: Megan Spencer
Cover photo: Irvin Bubar
Photos: supplied & credited above.
Like: Katanga Junior on Facebook
Watch: Katanga's videos on Youtube
Follow: Katanga Jr. on Instagram
Download/buy: Moto from Bandcamp. (On all streaming platforms on Sept 4).
Thanks: Darcy Davis for the quote.