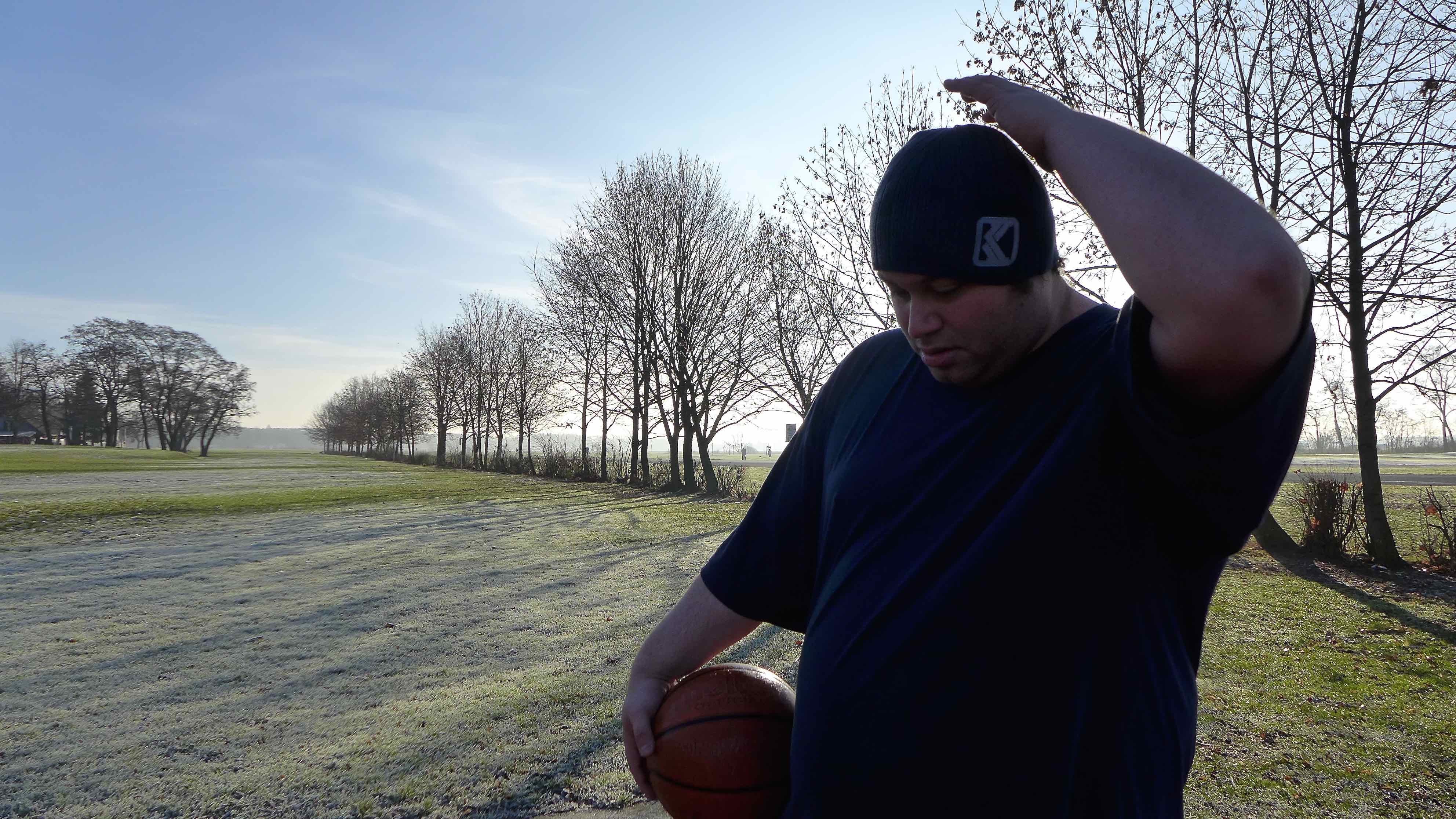 Pulse Of The Rhyme: Cedric Till
Posted on January 6, 2017
One of the most impressive things about Cedric Till is the respect that he has for words.
About to turn 28, the Berlin-born rapper and spoken word artist stills rowdy rooms with the power of his poetic expression. You know something special's about to happen when he gets up on a stage, quietly smouldering with the intensity of not only having something to say, but having thought through how to say it a thousand times over…
Up there, he lights a fire, digging deep into the machinations of his experience and fashioning carefully-chosen phrases into rhyme, rhythm and reason. No-one draws a breath until he finishes his gentle speak-singing narratives, usually flashing a wry, shy grin in conclusion.
In "a world that can't stop talking" Cedric is a rare orator, one who makes you shut up and listen. Deep. Words, he tells me, are the tools he uses "to touch life". "They're the tools I use to chisel a message". I'm not surprised to find out that his 'day job' is as a translator: language is his business.
The day we meet for the Circus Folk photo shoot, brilliant sunshine dares to overthrow the bleak tyranny of a Berlin winter's day. Squinting in the the dazzling rays, Cedric recounts more about his life, his writing practice, recordings, rapping and creativity, as we crunch our way across the glistening, silver-frosted tarmac of Tempelhofer Airfield, which flanks the neighbourhood he's called home for much of his life.
I learn of his fearless rhyme battles as a teen; his 'tenuous' relationship with German hip hop ("let's just say I've been 'an observer and student of it' since 2004", he laughs), and the gratitude he feels towards hip hop and basketball. "They saved my life in the early years", he says.
On this gleaming winter's day, Cedric shoots hoops, I shoot photos, and we both shoot the breeze. A pleasure.
---
Circus Folk: Cedric – you are one of the rare Berlin-born 'Berliners' on Circus Folk!  But you also have Polynesian heritage: where do you hail from and what is your family background?

Cedric Till: I was born and raised in Berlin, in a former hospital for women and children, here in Neukölln. Last of a dying breed, or so I'm told.
I've lived in Berlin most of my life, in two different districts. I was born in Neukölln (Berlin's now rapidly in-demand "eighth borough"), but spent three years in a group home in Geltow, a local center between Potsdam and Werder in Brandenburg. At age eleven, me and my mother moved to Reinickendorf [a north-western neighbourhood of Berlin]. I would go to school there. When the rent became unaffordable, I moved back to Neukölln, in 2011.
Ethnically speaking, my mother's German, also born in Berlin. My father, a guitarist, composer and songwriter, is a more complicated case. He was born in Lübeck [Northern Germany], but his father, whom he only knew from a photograph and one brief phone conversation, appears to have had Polynesian and African-American ancestry, going back to Hawaii.
When I learned about my heritage at age 15, I began looking for connections out of curiosity. Problem is, there aren't too many Polynesians [here in Germany]. So far I have only met one person with Tongan heritage in my life.
I've spent most of my life seeking a culture that felt like mine. I was raised in a German family, but even as a child I never related to German culture, opting to look for answers elsewhere. I'm still searching, really. Should create my own culture, perhaps?
CF: What do you like about living in Berlin? Is it good for young artists? And what might be some of the challenges?
CT: For one, it's my hometown. As a Berliner, hometown pride is part of what makes us who we are. I'd say it's comparable to that of the people of New York or Philadelphia. We love our city – dirty, noisy, green, rough and rugged as it is.
Is it good for young artists? It's THE place to be, if you ask me. Whatever you do, you'll find an audience and a community here. Some people may come here for a short spell, milk the city for some exposure and move on. Others arrive and make their home here.
The challenges? Rents are raised like middle fingers to the locals: the gentrification process is very real. When I moved back to Neukölln after all those years it was like everything but the names of the streets had been changed.
Also, Berlin is now an artistic "Mecca" of sorts, which means there are thousands of artists living here. This makes getting noticed much harder, especially if you're a local. People come here for the 'cultural melting pot', but not really to experience local Berlin art, due to the language barrier. This makes it appear like there are parallel societies at times.
This is why I feel affirmed in my choice to use English as my language, not German.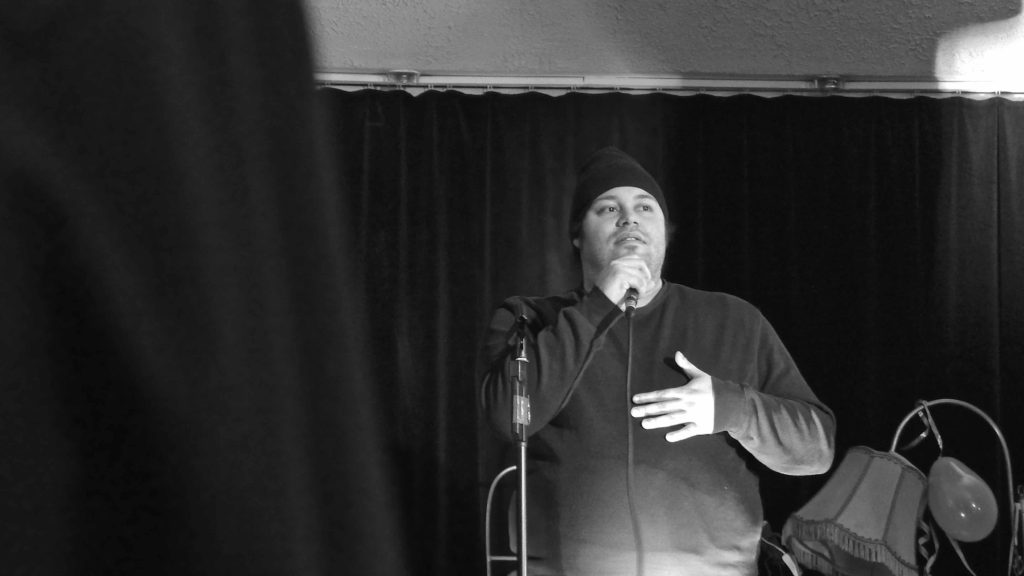 CF: When did you first realize that you wanted to write and perform? Was there a 'light bulb' moment for you? Or was it more of an organic process?
CT: When I was five my cousin had given me a tape with songs from rapper Ice-T's albums 'Power' and 'Freedom of Speech'. That was when I fell in love with Hip Hop.
Five years later I was living in the group home I spoke of. The time there was difficult: I fought with the other kids every day, as well as the adult supervisors. Many of them came from broken homes. Some had mental illnesses, some girls were raped by their fathers. We even had a few children who were indoctrinated by their neo-Nazi parents.
I was there due to my hyperactivity disorder and a resulting hair-trigger temper. I needed some kind of outlet for the constant emotional and physical battery; sports wasn't enough.
So on March 25th, 1999, I wrote my first rhyme. It was only self-therapy in the beginning but I was ambitious and wanted to become good at it. In the fall of 2004, I performed my first recorded song at a youth center. That was when I realized that I had talent and wanted to be seen and heard.
CF: Who are some of your artistic heroes or inspirations?

CT: I've already mentioned Ice-T: he's practically responsible for me ever picking up the pen to write rhymes. As far as music goes, the most important inspirations include Björk, Sade, Miles Davis, MF Doom, Eminem, Z-Ro, The Wu-Tang Clan, Sean Price, Scarface, Joe Budden and Ka.
My artistic heroes are my creative friends.
CF: What is your relationship like to writing? Is it something that comes naturally to you? Or is it something that you have worked at over the years?
CT: I think, back to my elementary school days, I've always loved to write essays and do researched presentations. I think writing comes naturally to me now because I've been doing it for close to eighteen years. I have written more verses, poems, and songs than I could possibly remember.
As per Malcolm Gladwell's definition of mastery ["ten thousand hours of deliberate practice to achieve mastery in a field"], I consider myself a "master" of my craft. But I am still yearning for more growth and working towards ever-greater heights of creative proficiency. I will stop working when my body says it's time to go.
CF: And also to performing: what does it feel like when you're on a stage?
CT: The stage, much like the recording studio, is my confessional. It's my shrink. It's my sanctuary for when I simply must vent all these stockpiled thoughts and bottled feelings. It is pure catharsis I feel when I leave the stage, knowing I've left it all out there.
That said, the introvert in me enjoys creating more than performing. I don't enjoy reiteration much, even though it is practically the vast majority of an artist's work.
CF: What kind of stories do you tell, on stage and/or in your music? How would you describe them?
CT: I never know if they are 'stories'; [it's for] other people [to] decide if they are.
I go through life, I think about ideas, people, events… I discuss them. I share everything that goes on in my mind. It is an inherent need of mine. A song, a story, or a poem: that is all but a mode of expression.
Some people respond to certain modes better than others. I just write what I feel I must express. Topically, only the inspiration I get from life and my imagination limit me. Just listen with an open mind and an open heart.
CF: You also rap and make music quite prolifically, having released at least two recordings per year since 2010. Would you be so kind as to share a 'snapshot' of your journey through music so far, including origins and collaborators?
CT: I rap and I work with musicians and producers who provide me with the necessary musical canvas for my writing. Since my debut album 'Iron Fist in a Velvet Glove' in 2010, I have released seven EPs, the last one called 'INFP', being the first project released under my real name, Cedric Till. I dropped my former stage name "Concrete Cee" this year because I did not want to hide behind a made-up name anymore. My work is too personal and too attached to who I am for me not to use my real name.
I got into recording in 2004, when I took part in a youth project that sought to keep urban kids off the streets. A youth center happened to have a recording studio, and I recorded my first song there. I would later home-record at friends' places, but in 2005, I had my first professional recording experience with my longtime friend Andy. Since then he and I have become an inseparable tandem.
I have worked with various artists, be they singers, musicians, producers or rappers from over twenty different countries. The most notable people from the United States are producer and filmmaker Jenova 7 from Boston; rapper and songwriter Chel Strong from Detroit; producer and teacher Erik Jackson from Florida; and producer Batsauce also from Florida.
In Europe I've worked with people like Bradata and VPD from Bulgaria who respectively run a TripHop radio show in Varna, and the net-label Dusted Wax Kingdom. Then there is Undogmatic from Portugal, Sick Rat from Italy and my Berlin comrade Marius Gold, who's an engineer and producer.
CF: You recently told me you're working on nine projects at the moment: what are they? And how can people access your work?
CT: Ha ha, yeah. Some of these projects are still in developmental stage, and need a real direction first. Others are beginning to form into shape and might only need one or two songs to complete – like my EP 'El Nacimiento de Con Quixote' with Buenos Aires producer Darkside.
I am currently finishing up an EP with Sick Rat called 'Seeing Naples', an EP with Erik Jackson called 'The Learning Curve' and one with Batsauce called 'New Horizons'. All of these will be released in the first half of 2017. Everything else is too early to say. People can mostly access my work through Soundcloud and Bandcamp, though my first album ['Iron Fist In A Velvet Glove'] appears to be on Spotify as well. My second album 'Grimoire Capricornus' will be out this month [January 2017].
CF: You often hear writers talk about "catching" stories as they pass close to them from seemingly out of nowhere: is this how it is for you? Or do your words and narratives well up inside you from deep within (rather than from 'without')?
CT: I never sit down to think about what I'm going to write. I live my life, walk the streets at night, think about ideas, people, events, relationships. I discuss these things with friends.
When my thoughts have formed and I've received the perfect canvas from one of my musical colleagues, only then do I begin writing. At this point the idea is already there, only the sentences need forming. Call it being "impulsively creative". Random energy spikes instead of a continuous flow.
CF: What do you think makes a great story?
CT: Let them come from profound inspiration, and/or a real place. Let the characters be relatable and detailed, the sentences flow naturally and beautifully, and the scenery evoke images and memories to bring the story arc to life. Or, you could just tell it as it is, from your heart. The connection between storyteller and audience matters.
CF: What ambitions do you have with your music? And with your 'spoken word' performances?
CT: I'm still figuring that one out… As a youth, I wanted to be the greatest rapper ever. I was hyper-ambitious, obsessed with fame and greatness. I was also insecure behind my mask of boisterous confidence in my skill.
Today, after a myriad of setbacks and lessons, I would rather focus on the craft and the people I do this with and for: let them carry me where I am supposed to be. I am confident in my skill and power as an artist, but also humbled. I want to be seen and heard and felt, like everyone does.
I'd prefer to live from my art like everyone does. But really my work is more important than me or my ambitions: give me a million bucks and I'd probably invest all of it back into my art. I don't care for material possessions or prestige. I would rather die poor than compromise my integrity. I guess I'm more Nikola Tesla than Thomas Edison!
As far as my spoken word exploits go, they go hand-in-hand with music – it's all the same thing for me. My real ambition lies in my creative work, not its outcome.
CF: Can you share your experiences from some of your most memorable gigs?

CT: I remember a gig back in 2007 with a collective of people I used to run with called Styleworxxx. We performed at the Matrix/Narva Lounge [Friedrichshain-Kreuzberg area of Berlin]. It was an event run by different schools from Reinickendorf so all the bands were school bands except for us. I knew like 70 percent of the people who attended, none of whom to that point had taken me seriously as a rapper.
A former friend and I premiered a song called 'Inhale, Exhale', and by the second chorus everyone in the place was chanting it with us. I get goosebumps still thinking about that one! A lot of people would eat their previous sly remarks that day.
Then there are the monthly storytelling events at Lagari that Amelia runs [Australian comedian/producer Amelia Jane Hunter]. Those are always magical and cathartic for me as I get to experience different styles of orating and storytelling, and I can simply speak from my soul to people. And how could I forget some of the 'Sunday Slips' I've done! [Run by American-Colombian performer Liliana Velásquez]. Sometimes the level of talent is just mind-boggling, with the energy carried from performer-to-performer. I am looking forward to more memorable performances to come.
CF: What role do you think the spoken word performer has in Western culture? Is it growing or dying as an art form?
CT: When I say "spoken word" people always assume [I mean] "poetry slams". While I respect the artists performing at slams, the competitive format does not hold the same intrigue for me as it did in my youth. I just want to connect with people through my work.
What's the role of a spoken word performer? Prove that attention spans aren't as short as people often lament, maybe? I think all artists essentially have the same role, no matter what vehicle of expression they use. Some are here to entertain, others to soothe troubled spirits, then some are here to rattle cages and shake the foundations of people's belief systems.
Is it growing or dying? It's here, still. That's what matters. It'll stay here, if I've anything to say about it.
CF: What is it that drives you to make music, produce art, get up on a stage?
CT: I simply must. If I do not record or perform for a month or so, I get cranky like people get "hangry". I start to get pissed off at little things, snap at people, begin to dislike myself, begin to doubt my purpose. My brain is a perpetuum mobile: if I didn't express everything that went on in my head I'd punch walls and scream out of the window or something.
I can wear people out during conversation, so to spare them I simply have to write, record and perform focused work. Creative expression frees me, rids me of negativity. Keeps me sane. I cannot survive without it.
CF: Finally: five of your favorite words – and why.
CT: 1. "Motherfucker". I say it at least ten times a day in different tones. Sometimes to express annoyance or admiration, sometimes as a nuclear punctuation mark. The "mother" part is often mouthed like a groan or muttered under my breath, and then the sharp "-fucker" part comes in like a flying guillotine. I just love this word, ha ha!
2. "Person". It is utterly neutral. It merely denotes a single entity of the human species. I get tired of the gender, race, faith and general identity wars people inflict upon each other on a daily basis: they discriminate against one another based on the category they either put themselves or others in, while disregarding the actual issues they face.
3. "Earth". Earth: our home. Our foundation for life to grow in. The element of my sun sign, Capricorn. A resting place for deceased life forms. The smell of it after rainfall. The connotations we've added: "earthy", "down-to-earth". I love all of it.
4. "Craft". The dedication to mastering a skill, the process of creating a piece derived from that skill, the "craftsmanship" of it and its appreciation, the attention to detail, the imagination, the execution. You cannot be a great craftsman without passion. I don't do anything without passion because I have pride in my craft.
5. "Code". It does not only describe a sequence to unlock or initiate something, it also means the tenets one lives by. At fifteen I devised my own personal code of conduct with people; I have never veered from it since. It's brought me much hardship, but also filtered people. Those that didn't belong stayed away from me. Those that did became my friends.
 With many thanks to Cedric Till for his words, time and the photo shoot.

---