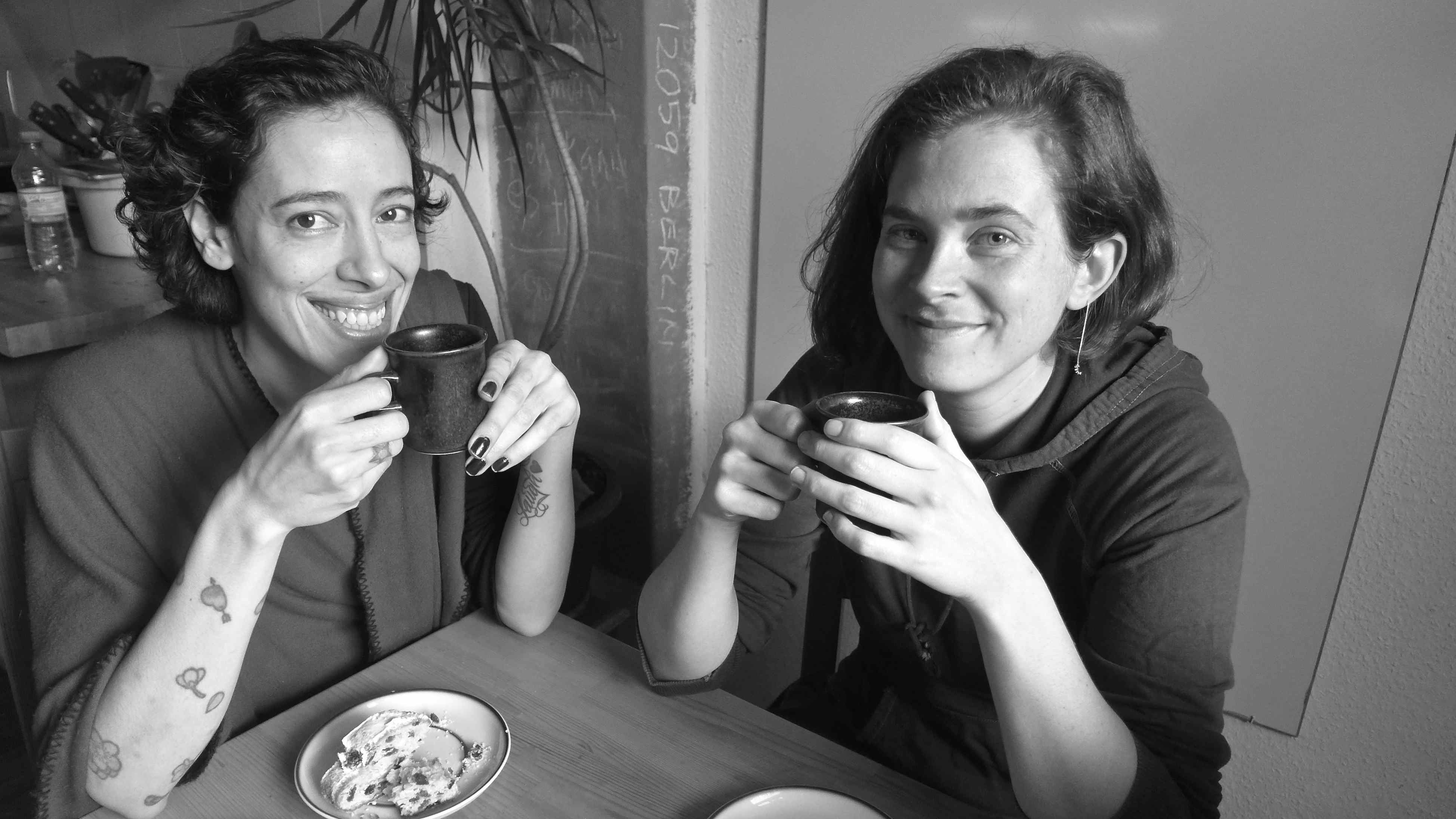 Wild At Heart: Molly Pope & Liliana Velásquez
Posted on March 23, 2016
"Destroyed, divided and held captive during a century of chaos and upheaval, borderless Berlin has yet remained a city where drifters, dreamers and outsiders can find a place — and finally run free." 
– Stuart Braun, 'City Of Exiles'
It's no secret that for decades Berlin has become famous for attracting bohemians, artists and performers, from the world over. Many put it down to the Berliner Luft: a certain freedom of spirit and dirty glamour that infuses the air, and sounds a siren to the seekers, the playful, and those adventurous of heart.
Former mayor Klaus Wowereit echoed this idea when in 1994 he famously described Berlin as "poor but sexy". As he was recruiting potential tourists and tech industry investors to help save the city from financial ruin, its incumbent artist constituency shook their heads, loudly drew back on the luft (and cigarettes), and collectively exhaled a cloud of "tell us something we don't know."
The luft may sound like romantic twaddle, but the penny certainly drops on a night like Sunday Slips! Held weekly at Lagari in Neukölln – and MC'd with dazzling aplomb by American-Colombian Liliana Velásquez – on any given Sunday you'll find a dozen performers from as many different countries taking the stage, immersed in a genuine spirit of play, open-mindedness and wild-at-heart entertainment.
A cabaret performer, dance artist, comedienne and self-described "muse", Liliana took over the weekly open mic night just over a year ago. Affectionately describing it as "low fidelity vaudeville", she's worked hard hard to uphold that historic luft manifesto, making it a space and place for everyone – be they up on stage or in the seats below.
Such is its reputation for experimentation and adventure, it's not unusual to find a touring A-lister comedian trying out new material alongside a first-timer. (Nor a performance poet alongside a latex-clad fetish storyteller.) Comedians flock to Slips! and a community has been built: it's a safe room for artist and audience alike.
It's an easy place to make new friends too, which is what Canadian poet Molly Pope and Liliana have become, since Molly first found her feet on Liliana's stage, unexpectedly performing one of her elegant, smiting pieces to an appreciative crowd. Both are long-time Berlin residents and tireless supporters of the local comedy scene.
For Circus Folk + Flower Punks, I asked to photograph them together, away from the stage and in Liliana's kitchen, the site of their regular catch ups. In my head I pictured these two women of words, united by cups of coffee, like minds, and the warmth of friendship.
As the beautiful, white afternoon light began to lower and dwindle into the premature nightfall, I hurriedly took a bunch of shots. The image above is the very first of the session – the very one I had secretly hoped would be its signature…
---
Circus Folk: Liliana, you're a "Colombian in Berlin", and Molly, you're a "Canadian in Berlin": would you give us a snapshot of your your backgrounds? And how you wound up not only on the stage, but on the stages of Berlin?
Liliana Velásquez: My mother calls me her little guerillera street princess.  It's funny because Berlin is the city that gave me the closest connection to where I was born.  I am an 'anchor baby' and the first-born of five – also the only one born in Weehawken, New Jersey, USA. This was strange for me because people say a lot about Jersey and I never really connect.
I visited a few times to see my grandmother and aunt but at that age I only had eyes for Manhattan. My grandmother is a couture seamstress and a devout Catholic.  I grew up between the warm sandy beaches of Miami, Florida, and the land of blossoming fruits and flowers, Medellin, Colombia.  I never felt I fitted in anywhere.  I had not understood that these two wonderful places are different countries that actually have a huge internal battle!
All I knew was that my father cried when he got his citizenship and I had never seen him cry. But he didn't cry from joy – and this was a big lesson in nationality.
I left home at 18-ish for NYC to be a famous fashion designer (hahahahahaha! Thank you Grandma!) This was where I built my independent self.  The path was definitely my own but I have had the good fortune of walking side by side with many guides.
The stage has never been foreign to me: I would charge my parents one dollar per night to watch 'EL SHOW DE LA MANDARINA', my first daily production.  It started with my brother introducing me in a Burger King hat.  I was too young to pronounce "ballerina" correctly,  so I have forever been called the "Mandarina".
In my late 30's Berlin found me through a long story that starts as a fashion and art model in NYC. I am thankful to all the wonderful reasons I came to Berlin, and above all the peace of mind it gives me to explore new cultures and continue learning to accept myself.
Circus Folk: And for you Molly?
Molly Pope: I was born on the island of Newfoundland (nestled in between Greenland and New York). I grew up in a small fishing village called Flatrock but because I wasn't Catholic and Newfoundland had the last denominational school system in North America. So I got to go to school in the "big city" of St. John's. That's why I don't have much of a Newfie accent b'y.
I ended up in Berlin at the end of a long European trip. Some friends from Halifax, Nova Scotia, where I'd gone to university, had a theatre troupe called Dapopo, and they were coming to Berlin to perform. I was bumming around western Germany at the time, so I thought I'd tag along and see the city. I've never really liked cities, especially big ones, but Berlin broke that rule. It was supposed to be the last stop on my trip, then back to Canada. That was almost seven years ago!
Circus Folk: And Liliana – your performance background, is incredibly varied and diverse; it includes cabaret, MC, comedy, acting, modelling…
Liliana: Aahhh, thank you…  I started dancing young: my first style was Flamenco. In one of our shows at age 5, I came off stage and asked my mother if my pirouette was strong enough to lift the layered flowered folkloric flamenco skirt above my face and continuously show my panties.  She took me out of flamenco shortly after….  My childhood brain has a lot of issues with this.
We grew up on a budget and moved around quite a bit. I thought we had everything, not knowing how hard my immigrant parents' struggle was.  They continued to support my desires in a low-income manner, so I joined all the school dance theater and performance groups possible.
Dance was always the leading beat in my heart.  My family was supportive – I was learning all the art forms, but not considering them a career. After being abruptly uprooted from Miami at age 15 for making out with a girl – also my best friend at the time – I was punished and sent to Colombia.
That is where the streets, exploration and the earth guided me.  I studied dance and theater and naturally began moving around in the circles of artists. To this day I think "wow": all the power that ever was, and all the power that ever will be, is here now. What I learned to appreciate? Now!  People!
I started modelling in Colombia for fashion designers and bartending at PLATAFORMA, a gay bar in Medellin. And as many Almodovar movies go you can imagine the rest of my training was fabulous.  In NYC I modelled, acted, danced bartended, managed tattoo shops, became a Dominant Female Alter Ego and lived every minute, mistake and pleasure to the fullest.
Circus Folk: Molly, what inspired you, to step away from 'the chair' and onto the stage to perform your writing? And then move into comedy?
Molly: I've always surrounded myself with performers: theatre folk, musicians, and now in Berlin, comedians. I like the energy, the highs and lows. I guess after years of people asking me why I never went up on stage, I thought I should give it a try. I knew I had no interest in doing stand-up, but I've been writing my whole life, never a time do I remember when I wasn't writing. So I thought it would be nice to get some feedback.
Liliana's was actually the first stage I ever got up on, and it's where I regularly perform. It's still quite new for me,  just a year now.
Circus Folk: And what initially drew you to the stage Liliana?
Liliana: I was born with this urge to entertain.  I never really accepted – even today – that I have to separate dance from comedy, from film. I was inspired by Broadway stars and musicals, so to me you had to be a "triple threat" to even begin to be considered. Dance saved my soul in my twenties and comedy saved my soul in my thirties.
Circus Folk: And what do you both enjoy the most about the stage – and about the relationship with the audience?
Liliana:  Art heals us – and others.  Talent is natural, and training takes desire patience and perseverance. And I love the exchange – the possibility of opening someone's perspective
Molly: I enjoy the challenge – of taming that excited energy and being truly present in that excitement. I'm still figuring out the relationship with the audience – I spent so long being an audience member, I feel a bit uncomfortable on the other side, but I'm learning.
I like it when I perform something, and I get totally different reactions from people for the same piece. That feels good.
Circus Folk: Both of you have worked at a good number of venues around Berlin, both performing and backstage, helping to run things, supporting the community, and keeping things ticking over… You've both been on stages and watching others at work: is Berlin a good place for comedy? What could you say characterises the 'scene' here?

Molly: [It's] the freedom – the lack of 'mainstream', the genuine exploration of something different… There are multi-lingual/multi-cultured audiences open for something new. Here you can get stage time everyday of the week and you can test out your material on people from all over the world. There is a community of performers who are genuinely trying to help each other.
The people who are pushing the production aspects are motivated for multiple reasons, they are not just outsiders trying to pick up the profit – they are performers themselves who want to see better comedy, more opportunity.
I've met quite a few visiting comedians – some big names from big cities – whose jaws drop when they see our crammed basement shows. I'm told in New York that you pay to perform at an open mic, you pay to perform to a bunch of other comedians and no real audience! Or in London, I hear that you work on your ten minutes and then you beat it to death doing it over and over and over again.
The comedians here write. All the time, they write. New material. And this city is great for new material. Berlin makes me laugh all the time because it's such an honest city, and the truth is hilarious.
Liliana: Is the world a good place for comedy?  I mean really it does not matter where you land if your passion guides you, and you really can't do '9-5' etc etc… Then the world is your oyster, and we do comedy on corners, behind bars, in parks… And then hope one day, whatever the part of the world were are in at the moment ("we" being me, myself and I, the corporation in my head!), hopefully there is a booker on vacation there too.
I'm at a point in my life where I no longer believe the "right path" is "to be in the right city".  Berlin is great for all who want to make it home.  NYC is better for comedy, and yes of course so is LA…  But Berlin is best for me at the moment; so I will keep doing my comedy here day after day…
Circus Folk: Who makes you laugh? And/or inspires you, especially to keep going?
Liliana: Children make me laugh, as do bitter old people. I love the spectrum: the way my family raised me is what keeps me going. Life is life: keep going, and keep it simple if you can.
Molly: Cliffy [English comedian in Berlin, Caroline Clifford] makes me laugh. All the time.
A lot of people have inspired me to share my writing: a lot of late-night conversations with good friends in dark bars about life, the universe and everything. These things inspire me.
My partner Peter is a beautiful writer; he really inspires me to create beautiful things.
Circus Folk: Geographically speaking, you're both 'a long way from home'. As long-time travelers and 'ex-pats', what is your concept of home now? And what is the hardest thing about living far away from 'home'?

Molly: This question tears me up (and I mean that in both senses). I love being in Berlin and I love my friends here; I have built a real community around me of amazing people. But I want a magic portal between the two places.
My heart belongs to the ocean, specifically the North Atlantic coast. The hardest part of living away from Newfoundland is not being familiar with the landscape, the weather, the sky, the wind. I miss looking out at the horizon and knowing what to expect that day.
Liliana: Home is basically in my suitcase. I can turn any place into home with one candle a silk sarong, a photo of my parents and a little bit of my favorite scent.  A kitchen always helps.
Circus Folk: Molly, as a performer, what's the most important thing you've learned, to 'do', and 'not' to do?
Molly: To be present, in that moment. Absolutely the most important thing.
And not to do? I guess when someone gives you a compliment, don't question their judgement, take the compliment and be grateful.
Circus Folk: And Liliana, what do you think you'd be doing with your life, if the stage and performing hadn't called you? And where might you like to see yourself say, in five years' time?
Liliana: Hahahahahahahahahahahhaha! I'd probably be a language teacher who was very dramatic… In five years I see myself living the same life, but better, bigger and with more family around me.
Grateful thanks to Liliana Velásquez & Molly Pope.

---
Circus Folk + Flower Punks  is the performance and portrait exhibition at the Australia Embassy in Berlin, which features work by myself and Kate Seabrook (March 9 – May 27). This is a series of interviews I did with some of the artists I photographed.
---
Next week, rising cabaret performer, Oh Hannah Day!