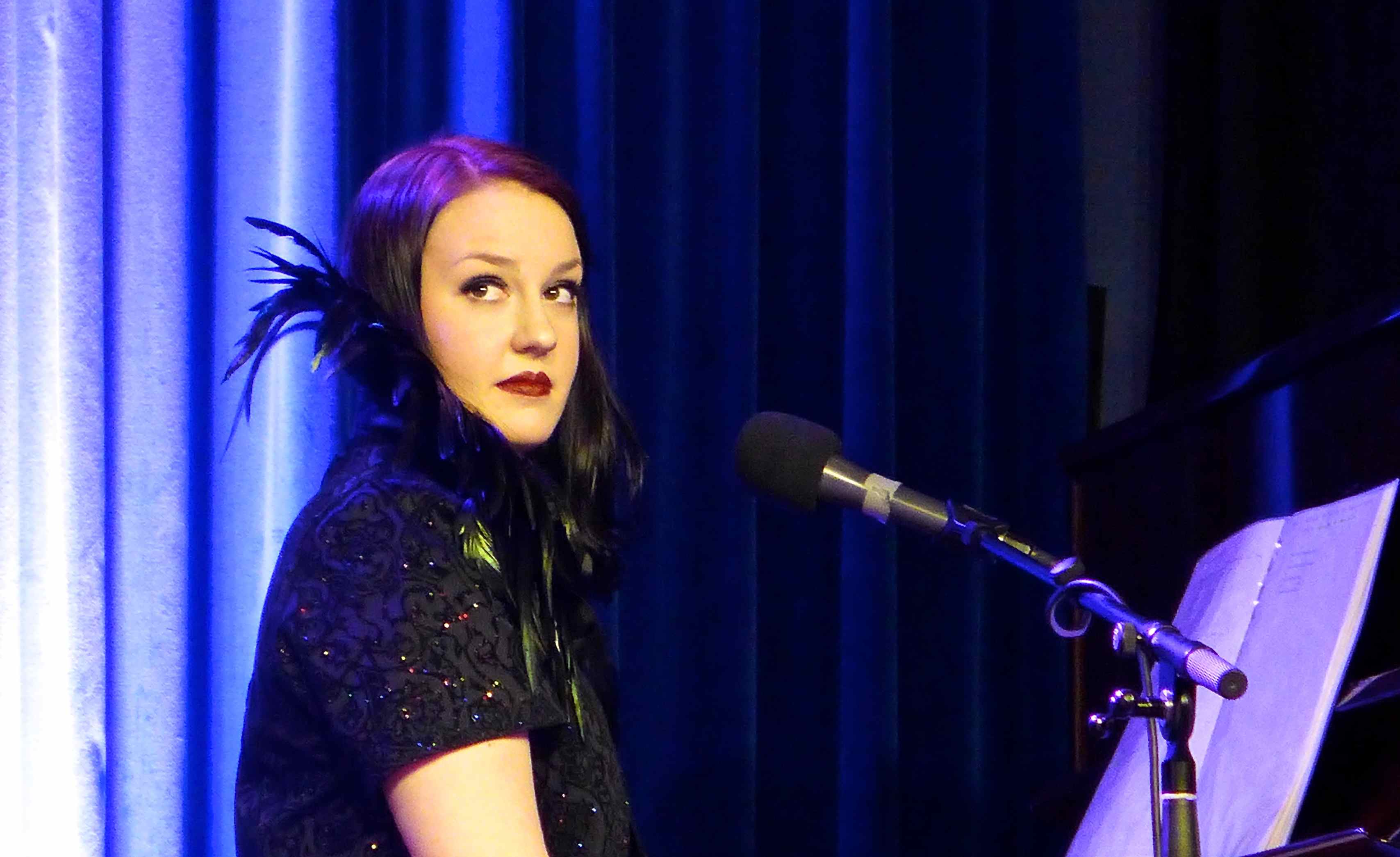 Hello to Berlin: Hannah Day
Posted on March 30, 2016
Imagine: you're not long out of high school and barely a whisper into your twenties. Your star is on the rise as a cabaret artist in your home city of Melbourne, but instead of staying put, you take a giant leap of faith by moving lock, stock and barrel half way across the world…
After a brief OE ("overseas experience"), you decide to throw your entire life into a suitcase and join the diaspora of countless artists who, over the century or so before you, also emigrated to Europe's unequivocal cabaret capital: Berlin.
Sporting a wide smile (and a colourful dirndl) you get a job in a traditional German restaurant (serving pork knuckles and sauerkraut to traditional German diners), teach singing on the side, and in a resolute effort to get your on-stage  'flying hours' up, lug your 15-kilo keyboard on the U-Bahn to as many open mic nights as humanly possible.
In the meantime, you start to become 'a performer to watch'…
That's more or less the long and the short of Hannah Day's story so far, in her adoptive hometown of Berlin, a place she has determinedly lived for nigh on 18 months. With a voice as big as Ella Fitzgerald's, and a knack for writing insightful, bluesy comedy, you'd be forgiven for thinking she's been on the planet far longer than her 25 years.
A dead ringer for a latter-day "Sally Bowles", Hannah might just be an old jazz soul trapped in the body of a neue-Kabarettisten.  She certainly wouldn't be out of place in the pages of a Christopher Isherwood novel,  nor on the stages of his beloved Weimar-era haunts dotted around his old stomping ground of Schöneberg.
I photographed Hannah on stage at Koffer Bar and at the Kookaburra Club – the latter for which she was accompanist for friend/mentor Amelia Jane Hunter, performing her 2015 one-woman "divulgence of autobiographical atrocities, feminist failings and other delectable flaws", 'Elegant Filth'. (Two photographs from it  feature in Circus Folk + Flower Punks.)

After a break, 2016 sees Hannah back on stage with a renewed vigour for writing and performing. Surely a new one-woman show of her own is in the offing, and not too far away…
---
Circus Folk: What initially inspired you to become a performer – and cabaret artist? What do you love about the stage – and about the relationship with the audience?
Hannah Day: I've been a musician for as long as I can remember. I started playing the piano at 4, the bassoon at 12 and taught myself guitar during high school.
It has always felt 'a given' that I would work in music. I didn't start singing until I was 16, but it was an expression that was so natural, like I was always supposed to emote that way.
I discovered cabaret when I was studying Music Theatre at university. We did a unit on cabaret, where each of us devised a 10-minute piece. I wrote about a woman who falls in love with a man she sees in a supermarket aisle, and convinces herself they will get married.
(It was inspired by a certain door-to-door subscription salesman from a very prominent Australian company, who did a little 'stalking' of his own after trying to sell me a newspaper…)
Anyway, I bought a $20 wedding dress from Savers, almost passed out before performing and on the night had never made people laugh so hard in my life. I was hooked!
It just so happened that the artistic director of The Butterfly Club was in the audience and he asked me to write a 60-minute show for them. Since then I've written, marketed, produced, directed, loved, hated, bled and performed three full-length, one-woman shows on their stage.
I love performing on stage because I love words. I love taking delicious sentences off a page and expressing them with all the passion I can muster. I've always been a huge book worm and working on stage has taken me right inside these little worlds of words; from Victorian London, to the French Antilles, to the late Roman Republic.
I live and breathe music and I love sharing that with an audience. I'm passionate about 'effective communication', and I've dedicated my life to the study of how I can effectively bring this to the stage.
I want my audience to feel – and share – this passion and I hope this evokes a story in them too.
CF: What is your concept of home? And why did you make Berlin yours?
HD: I've had so many different places where "my stuff lives". After moving out of home at 19, I lived in eight different share houses before I settled anywhere for longer than a few months.
When I finished uni, I worked for a year and then decided it was time for me to take a typical Australian 'right of passage' and backpack around Europe – a cabaret 'pilgrimage' if you will.
I'd heard about Berlin as an arts hub, but I didn't really know anything about it. I set aside two weeks so I could see as much as I could. I was instantly in love. This was a city that was different. This was a city that was special. This was a city that enticed me with its glitter and feathers, shared it's bawdy secrets, and enveloped me in rage with its injustices.
A city built on a shocking history, it bursts into 'the now' with mascara, lights, spray paint and a glint of what's been (a little like myself!) Co-incidentally, it's [also] a wonderful hub for cabaret and many other art forms.
A few days into my stay I went to a show and met the artists – and the rest is history! We shared such a love of the stage; we exchanged details and for the next week they introduced me to whoever they could.
I was soon back in Australia, buzzing over what I had seen. I'd made my mind up even before I hit home-soil [that] Berlin would be my home. A few months later the bags were packed, and my life into a suitcase or two. I have a complex concept of home, as there have been few places where I felt I have belonged. But Berlin really feels like the real deal. I love the way the city moves, its oozing charm and grungy petulance.
I'm still finding my way here, but every now and then it still takes my breath away – as it did on my first day here – reminding me that this is a place I love, and I'm excited to call home.
CF: Cabaret is having a resurgence, but I feel it's still seen somewhat as a 'niche' art form. Would you agree? And what motivates you to do cabaret?
HD: I think cabaret is having a resurgence – but I do wonder why it needs one? It's a timeless and changing art form, that is so broad. But yes, it is still seen as a 'niche'. I have a lot of people coming to me after shows and saying, "you're very 'cabaret'". I wonder what they think I was attempting?! (I also feel inclined to direct them towards this video..)
I love cabaret because it incorporates so many things that I love to do: I get to write, sing, play an instrument, direct, live in another era, interpret and emote in my own way, and sometimes wear a fabulous dress! It's an art form with such a rich history and there are simply no limits.
CF: Could you tell us about one or two of the best gig/s you've ever done? And perhaps even the "worst"?
HD: I have very sketchy memories of what I do on stage. I try very hard to turn off the 'judgement' part of my brain, as an audience can read the effects of self-judgement very quickly.
I think one of my best performances wasn't even a gig! I was singing a song during a repertoire class, and you could barely hear me at some points because of the reaction from my class mates. That still makes me proud. I'm also still on a high from the first cabaret show I put together: the reaction from the audience was what made me realize, "this is it"!
My worst gigs involve a lot of memory loss. When I get nervous, words are the first thing to go. During opening night for the last show I did in Australia, I could not remember the words to a very dark piece which I'd decided to perform in the original French, so I had very little hope of making it up! I tried to act my socks off as I froze… Thankfully my accompanist cottoned on to my blackout and played on into the next section!
Another time I forgot the opening words to Goldfinger, which to this day I find hilarious. My worst times cause me a lot of pain in the moment and [in] the days after, but thankfully I tend to grow from them!
CF: Who inspires you, especially to keep going?
HD: Thankfully, I have so much that inspires me: my performing friends Amelia Jane Hunter and Rebecca and Colin who make up Carrington-Brown; my teachers and friends in Australia who I could list at great length (they know who they are!)
I have an incredible group of cabaret artists and musicians from around the world to look up to: Meow Meow, Camille O'Sullivan, Pink Martini, Tim Minchin, Ute Lemper, Kate Miller-Heidke, Ben L'Oncle Soul, Billie Holliday, Ella Fitzgerald, Louie Armstrong, Carole King, David Bowie, Björk, Dave Brubeck, Diana Krall, Joni Mitchell, Liza (!!) – the list is endless!
Also actors like Helena Bonham Carter, Meryl Streep and especially those who write like Amy Poehler and Tina Fey; Monty Python; playwrights, composers and authors like Kurt Weill, Bertolt Brecht, Shakespeare, Tolstoy, Dvořák, Chekov, Mozart…
But to be honest, seeing someone live inspires me the most. Live theatre and live music gets me so riled up, I feel I could do anything! Hearing other artists play and succeed drives me.
Whenever I feel like I'm 'done' or can't continue, a live show reminds me that I want to be there; I have to be there.
CF: In five years time, what would you like to be doing with your performance career?
HD: I have some pretty grand dreams, but I'd just love to be living off my art. At present I work several jobs to stay afloat, but I only want to be one place, and that's wherever the stage is hot and the audience is keen!
I've always loved having my fingers in several pies, so I'd like to be writing in various languages, playing music, moving, and singing.
Thanks Oh Hannah Day, for the interview!
---
Circus Folk + Flower Punks  is the performance and portrait exhibition at the Australia Embassy in Berlin, which features work by myself and Kate Seabrook (March 9 – May 27). This is a series of interviews I did with some of the artists I photographed.
---
Interview: Hannah Day
Words + edit: Megan Spencer
Discover: Hannah's work on Facebook.
Read: about Hannah's one-woman show Weill Creatures.
View: the full 'Elegant Filth' gallery.
Visit: the history of cabaret in Berlin.
Next week: photographer Kate Seabrook.