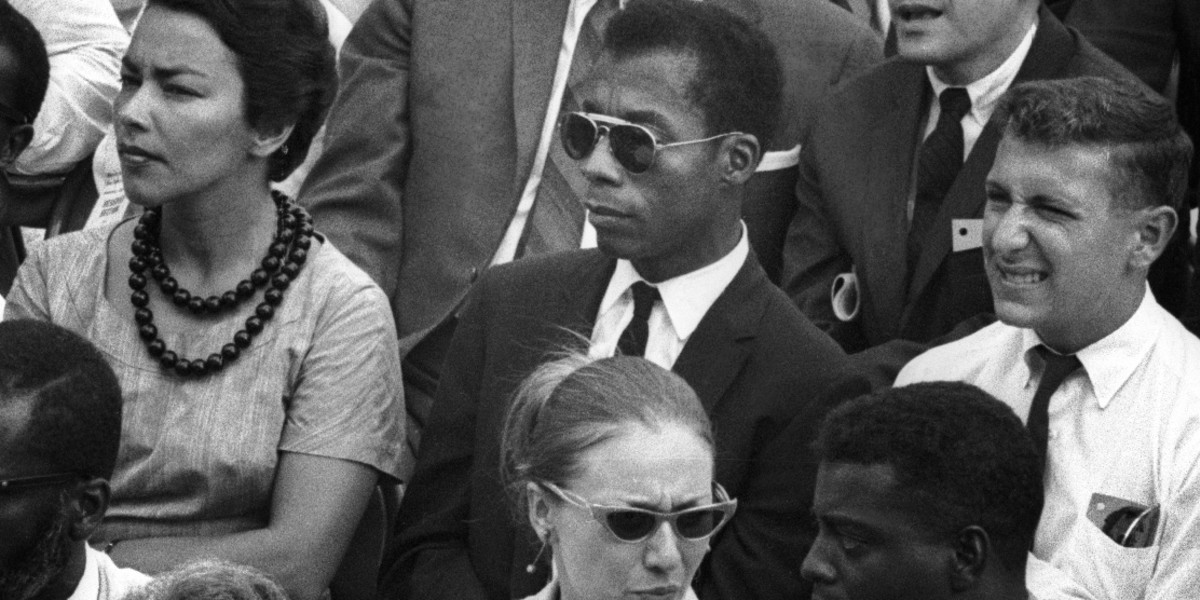 Top Ten Films From Berlinale: David Mouriquand
Posted on March 15, 2017
Guest Post: David Mouriquand, EXBERLINER, Before The Bombs Fall.
1) I AM NOT YOUR NEGRO
An unmissable offering in this year's Panorama selection was Raoul Peck's timely, Oscar-nominated documentary I Am Not Your Negro. The filmmaker takes the words of the late novelist and social critic James Baldwin, who wanted the lives of Malcolm X, Martin Luther King Jr and Medgar Evers "to bang up against each other", and stylishly laces his prose with archival footage and modern clips.
The result is a concise, articulate and non-hectoring chronicle of black activism during the civil rights movement, which contains eerily prophetic aspects, and comes to life through the director's status as a cinephile.
Peck uses a great number of film clips in order to create a fascinating correlation between the history of cinema and America's race and class struggle. Hollywood here is essentially the eagle wounded by an arrow. It's a riveting watch.
2) THE BOMB
Conceived as "an art installation with live music" for a soundtrack by the band The Acid, The Bomb transfers surprisingly well to the big screen. Screening in the Berlinale Special selection, it clocks in at 1 hour and features footage of the atomic bomb, from its inception to its use. Disturbing, insightful and immensely powerful, directors Kevin Ford, Smriti Keshari and Eric Schlosser show how truly terrifying it is that mankind is capable of the being the architects of our own worst fears and possibly, demise.
3) UNTITLED
This posthumous documentary by Michael Glawogger, edited by his longstanding collaborator Monika Willi, is a mesmeric cinematic experience. Composed of the Austrian director's last footage, filmed in the Balkans, Italy, North and West Africa, it offers a contemplative journey that is as transportive as it is eye-opening.
4) ON BODY AND SOUL
Ildikó Enyedi's return to the silver screen after an 18-year sabbatical proved to be successful: the writer/director scooped up the Golden Bear. Her film focuses on the nascent relationship between two lonely souls who work in an abattoir. Inhabiting a harsh world unconducive to tenderness, they forge an empathic connection in somnolence.
The affecting performances and the melancholic tone make it a weirdly inspired choice for this year's top prize. It also clashes with last year's rather obvious winner Fire At Sea, which was Berlinale-tailored. Not that aspects of On Body And Soul aren't timely: maybe we need an unusual love story to see us through the strange times in which we currently live…
5) THE PARTY
Chameleonic British director Sally Potter's eighth feature was the comedic highlight of this year's Competition. It was also the streamlined and effective antidote to Oren Moverman's bloated The Dinner, also selected in Competition.
This monochromatic chamber piece, dubbed by the director as "a light and loving look at a broken England", is a lean, mean and wickedly mordant black comedy which frequently echoes the work of Yasmina Reza and John Boynton Priestly. The zingers land, the mystery works and the eye-watering cast have a blast, making this dysfunctional game of Cluedo a one-act play that happily stakes its claim in the pantheon of parties-gone-wrong films.
6) CASTING JONBENET
Kitty Green's documentary about the unsolved murder of the titular 6-year old beauty queen is an excellent genre-bending hybrid, the thought-provoking antics of which echo Robert Greene's Kate Plays Christine, screening at last year's Berlinale. It is a compelling and darkly humorous look at our culture's obsession with the sensational, as well as a study on our tendency towards schadenfreude, and the morbid fascination we all have when it comes to tragedy.
7) THE OTHER SIDE OF HOPE
Aki Kaurismaki's droll take on the immigration crisis is the surreal 'yin' to last year's Golden Bear-winning 'yang', Fire At Sea. Beautifully acted and cinematically lush, this unpredictable film has heart to spare, deftly meshing deadpan humour with sincerity. Arguably this year's Competition selection's strongest offering.
8) EL PACTO DE ADRIANA (ADRIANA'S PACT)
This incredibly impactful and truly engrossing documentary is the Panorama selection's gem. Lissette Orozco's feature film debut tells the story of a revelation which causes a deep fracture within a family: the director's favourite aunt, Adriana, is suddenly detained while visiting her family in Chile. She is accused of having worked for the DINA, Pinochet's notorious secret police and faces horrifying charges of torture, which she denies.
Armed with a camera, her young niece takes it upon herself to uncover the truth about Adriana: a truth that could exonerate or incriminate her beloved aunt. Imagine if Sarah Polley's Stories We Tell had taken a more troubling turn, and you gauge the tone of this haunting documentary, the intrigue of which rivals the most immersive of conspiratorial spy dramas.
9) INSYRIATED
Belgian director Philippe Van Leew helms an incredibly tense chamber piece set in Damascus. As the world crumbles around a small group of people holed up in an apartment, one matriarch desperately tries to salvage her family and neighbours' humanity.
It is one of the Panorama selection's most thrilling offerings, boasting a superb and complex central performance from Israeli Arab actress Hiam Abbass, previously seen in Steven Spielberg's Munich and recent Netflix hit, The OA.
10) SOMNILOQUIES
This experimental dreamscape from directors Verena Paravel and Lucien Castaing-Taylor screened in the Forum selection, is ideal for those who like their films destabilizing and hypnotic. It focuses on the late American songwriter Dion McGregor who made the history books as the world's most prolific sleep-talker. Over the years his roommate and fellow songwriter Mike Barr would record his friend's nocturnal diatribes, all at conversational volume. They oscillate between the surreally funny, impressively coherent and the poetically disturbing.
The filmmakers curated and compiled selections of his dream-speech recordings, and play them over the blurred exploration of naked bodies belonging to sleepers. The result is a lysergic mood poem that often feels like being in a sensory deprivation tank.
Honourable Mentions: God's Own Country, Close-Knit, Pokot, El Bar, Call Me By Your Name.