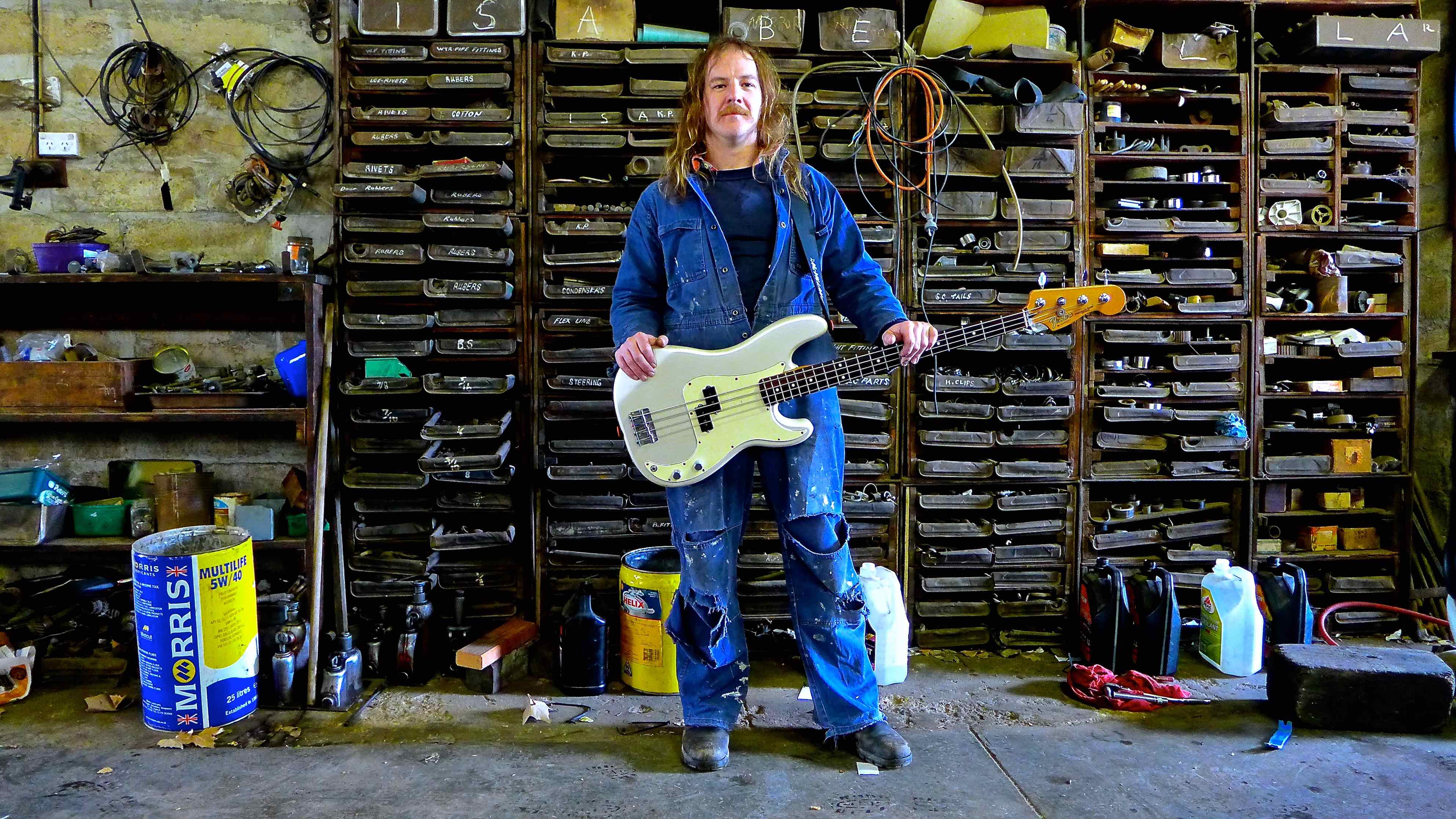 Rock Solid: Alex McMillan
Posted on August 28, 2017
Alex McMillan is a player of hard rock and a lover of rocking hard.
Raised on a diet of guitar gods and double-denim '70s hair bands, he is also a third generation motor mechanic.
His dad Trevor is my mechanic. And my dad's. He's been keeping our cars on the road – and in great nick – for years. It's always a pleasure to chat to him. He keeps a box of old pennies next to the till, which he lets me fossick through whenever we finish up a "transaction".
The Central Victorian business was built by Trevor's father, and 'the shed' in which it is housed a metal wonderland filled with 8o years worth of screws, spanners, engineering equipment, toil, grease and memories. "McMillan A and Son Garage: Motor Mechanics and Engineers" reads the sign out front. It's for real too, not just a remnant of nostalgia waiting to be painted over.
It was there in this giant, old, corrugated iron shed Trevor told me about his son's band. "They're getting a bit of airplay on triple j" he said, remembering I used to work there. He gave me a CD to listen to. Resplendent with lead breaks and rollicking rock cycles, it instantly took me back to the mid-70s gate-fold sleeve albums my friends' older brothers used to thrash on their bedroom stereos: AC/DC, Sabbath, Status Quo, Motorhead, Nazareth, Kiss, Thin Lizzy, Lynard Skynyrd… His son's name was Alex, he worked with Trevor too (another "son"), and the band was called Black Aces.
It took a while for us to meet, but eventually we did late in 2016 at said shed, after I dropped off our old campervan for a service. Alex told me he and Black Aces – in which he played bass – were about to embark upon their first overseas tour with a bunch of dates lined up in Germany and beyond. He was excited. I was excited for him. I invited him to let me know when they'd be playing in Berlin. I'd come to see them when I got back home there…
In the centre of the 'McMillan and Son' shed is a 1930s Land Rover jeep which Trevor and Alex are quietly restoring.
Out the back is a not-so-quiet band room, where Alex and Black Aces rehearse, a lot – especially in the lead up to a run of local gigs, an overseas tour or a new album – all three of which are taking place now. In November (2017) the band will again travel to Europe on what will be their second overseas tour, and, a chance to square the ledger on – were it not for their resilience and sense of humour – what could be considered a version of hard rock hell: the tour of 2016.
Born and raised in Bendigo, Alex loves his 'day job' working alongside his dad, fixing cars of all descriptions and chewing the fat with the steady stream of customers who come through those historic garage doors.
Equally, he loves playing music (and cracking a beer or two, three..) with his Black Aces band mates who sound more like soul brothers than "mates". A stalwart of the local music scene, Alex previously played guitar in psych-rock five-piece Wolfy & The Bat Cubs (alongside uber-drummer Nadine Muller from Killerbirds), and earlier in boogie-n-Quo-inspired Made In China, which emerged from his high school days and wound up in 2015 after a decade on local stages.
Now bass player with Black Aces, the story of their evolution and overseas rite of passage is recounted by Alex below.  They book steadily and rock steady, supporting the likes of Cosmic Psychos and Dallas Crane, with solid interest from OS labels and an ever-growing fan base in the UK, Europe and metro and regional Australia. Debut album 'Shot In the Dark' (2016) "reached number 17 on the iTunes Australia rock charts", with another about to be unleashed just in time for "Hard Rock Hell" (the UK festival this time), where the Aces share billing with Twisted Sister's Dee Snider.
Alex's enthusiasm for music (and life) is infectious. He's the classic hard-rocker 'paradox': off stage the antithesis of 'blokey': self-effacing, good-natured and polite. On stage, full-rocker: wild, loud and larger-than-life.
Surrounded by decades' worth of working man's tools and stories, it was a fun shoot in his "old man's" garage, and a delight to listen to Alex's tale, one that could only be forged by a hard-rocking heart and a larger-than-Lemmy sense of adventure…
Circus Folk: Do you remember the first time you picked up a guitar?
Alex McMillan: The first time I picked up a guitar was in primary school, and I haven't put it down since. A friend of mine played and I thought it was the best thing ever. Everybody used to hang around him. I thought it was great! He showed me a few chords and away I went. I had a few lessons and kept going from there.
CF: What kind of music did you listen to growing up? And is your family musical at all?

AM: When I was a kid, on long drives mum and dad used to play lots of Status Quo and Van Morrison, Neil Young, Queen and Led Zeppelin. (My mum's a huge Zep fan!) But I wasn't very keen on [this kind of music] when I was younger, and didn't really 'get it' until a bit later on.
When I was about 13, me and Pete [McMillan, drummer, no relation] were hanging around in the shed at home – I think it was Christmas Eve or something – and we found my folks' old records stashed away. What a find! We dusted them off and got the record player going, and it was the first time I listened to 'Back In Black' by AC/DC! Then there was High Voltage!! The guitars were amazing. There were lots of other great records in that collection too: the Beatles, Stones, Dylan – even Meatloaf's Bat Out Of Hell.
My family isn't very 'musical' but they love listening. My pop does play the banjo & mandolin, so maybe that's where [my musical ability] comes from.
CF: How did you make your way to playing bass in Black Aces?

AM: I'd known Tyler [Kinder, lead vocals, lead guitar in Black Aces] for a very long time, since we were teenagers. I was in another band called Made In China with fellow Aces drummer Pete, and both our bands used to play at the same pubs together. And we both played rock n roll!
Around 2011 the Aces' bass player quit the band and I got a call from Tyler to see if I could fill in for a couple of gigs. I thought this was awesome! I'd always really liked the band, and was thrilled to play with them. Since those first few jams and gigs, every time we get together the music flows very naturally – they're a great bunch of guys who love rock n' roll.
CF: Although you're not 'technically' from a musical family, you are from a 'mechanical' family, and you're in fact a third generation mechanic. Could you please share a little of the story behind 'the family business'?

AM: Yes, I do come from a mechanical background. The business was started around 1930 by my great-grandfather; he built the garage and made it what it is today. I never met him, but he was an extremely clever fellow and a very gracious person. We still use a lot of the spanners that were there when it was built, ha ha!
Ah, it's great working with my old man. There's lots to learn and he's a great teacher – "nothing that can't be achieved" sorta thing! And I guess that mentality flows though the band too: "play as much as possible, play well and have a great time."
CF: And what does your family think about you playing music?

AM: They have always been very supportive – always! They love helping, especially years ago when I was at school. They would take us to the pubs, watch us and help us with all the gear. Dad's driven us to so many gigs in the past, he'd even drive us down to Melbourne for gigs before we could drive! They enjoy coming along to the shows and seeing the band live – they dig it.
CF: Could you please give us a bit of a snapshot of Black Aces – its history – and your other band-mates?
AM: The band was started by Tyler, gee, maybe around 2004? They were a three-piece for a long time, so it has seen a few different line up changes over the years. But our current line-up has been together for about two years now, since "Jazz" joined the band [Jarred Morrice], our 'powerhouse' rhythm guitar player.
His old band (The Deep End) were calling it quits after many successful years together, and our rhythm guitar player at the time (Rhys Collier) decided he couldn't play in the band any longer due to other commitments. So it was perfect timing for Jazz to join the group.
It's been a rock solid line up since then – the band really came into its own. Everyone is on the same page and wants to play the same rock n' roll – the kind that should be played: hard, fast and as loud as possible! Tyler is the lead vocalist and guitarist, and one of the mightiest singers you'll ever hear (he's a great guitar player too).
Pete McMillan is a bloke I've known for such a long time; even though we share a last name he's not my brother. But we do share a love for a "Black and Tan" (a pint of beer with a mix of half draught beer and half stout: tastes like success.) He's a great bloody drummer too – he can swing like a dunny door, solid!
CF: What kind of success have Black Aces had so far?

AM: Over the years we've been very lucky to have supported some great bands and toured all over Australia, the UK and Europe. We've recorded at some great studios, slept on some magnificent couches, drank some quality riders and had all sorts of truck stop coffee!
Every time we hit the stage we want to play better, rock more arses off, get people banging away and having a good time. We want to see people getting up, getting into it and really enjoying themselves.
Success can mean many different things. But I think we are extremely happy with what we have achieved so far and there's still a lot of music yet to be played, all over the world.
CF: You've also played in other local, Bendigo-based bands…

AM: Yeah – Wolfy & The Bat Cubs was a very fun band! Think The Kinks meets The Yardbirds meets Dylan: very '60's garage RnB. We had some really good times playing together, toured around Australia and had some great supports. It was fronted by the man from Lockwood [an outer suburb of Bendigo, Central Victoria], Josh Lobley; I was on guitar, Nadine Muller (Killerbirds) played bass, Maddy Ellis was on electric organ and Brendan McCarthy on drums.
I also played in a band called Made In China, with Pete (from the Aces) on drums, Declan McLaren on bass, Daniel Mangan on guitar. It was boogie rock n' roll. We started in high school and played countless gigs at the Newmarket Hotel in Bendigo. We played nearly every week, and on the 'off weekends' we'd be perched at the bar. The old publican Des used to call us the "house band", ha ha!
CF: How would you describe the music you play, and the Black Aces sound? Do you have any particular music influences?

AM: The Black Aces' sound incorporates Aussie pub rock and Gibson guitars at full volume through Marshall stacks! Its balls-to-the wall sorta stuff, stomp ya foot and have a good time.
Influence-wise, I guess many, many different sorts of music. We all love the blues of Chuck Berry and Muddy Waters, but we also all have different tastes. But that's what makes everyone approach playing and writing with different points-of-view; then you can bring it together and make something new and fresh. Personally I go through phases: I have a varied record collection and I do enjoy cooking with Bob Dylan on in the background!
CF: It's very apparent that you – and Black Aces – really respect good 'old fashioned' rock n' roll, and seem to be really committed to it. What do you like most about the 'genre'? And how do your audiences usually respond to your music?

AM: I guess it's the 'no nonsense' attitude, the excitement… You can drink lots of beer to it and we don't muck around with pedals and other stuff – we just plug in and play! That's the way we do it. The crowds we play to always enjoy themselves. [Our music] always gets people up and about – that's what it should be: people digging it and letting their hair down.
---
"He kept us fed with his many varieties of nachos: plain; with cheese; and with cheese and sauce."
---
CF: Black Aces toured Europe late last year, with album 'Shot in the Dark'. But things went kind of  wrong when you got there. What happened?
AM: Yes we did tour for two months, and ah well, probably it was just [a case of] the usual "touring band problems" – shows being cancelled and so forth. We landed in Berlin and found out our first seven or so shows had fallen through. But not to worry – off to the pub we went! We got talking to the barman who put us in touch with a few clubs, and we managed to book a show, and then made our way to Holland.
The next show on the tour was booked in Utrecht [Netherlands], so we found a small caravan park near Arnhem which was cheap, and bunked out there for eight glorious nights! First things first though: we went to the record store and got talking to the blokes behind the counter, and one of them was in a band, the other was a sort of a booking agent bloke for a few clubs. And we scored a couple of shows around a few towns in Holland, which was awesome!
CF: So how did you all feel while all this was happening? And where did you wind up playing?

AM: We were alright with it really – it was just "soldier on", you know? It's the four of us against the world – you just have to put your head down and go for it with nothing to lose!
It was a bit of a blow: each show pays for you to travel to the next one, so having a week's worth of gigs cancel leaves you going "Bugger!" But all bands go though this: you just go out, talk, meet people and things can happen if you want them to with a bit of good luck on your side!
We did one show at a bar called "Cafe De Baron" – that was great. A very nice chap who ran the bar – he kept us fed with his many varieties of nachos: plain; with cheese; and with cheese and sauce. It was an endless menu!
It was kind of playing in the window of this bar, but people were enjoying it. We made a few fans, sold some t-shirts and it was a good show really… Then we had another one in Tilburg [Netherlands] supporting a great band called Black Bottle Riot. It was a great show with a good crowd, and great people ran the venue.
CF: Leaving aside the potential disaster of losing seven gigs on arrival to Germany (!), what was your favourite moment from the tour?
AM: Playing Hard Rock Hell was definitely a highlight! It was one of the last gigs of the tour. We had never really played a festival before. I certainly hadn't played in front of a crowd that big. [It was the 10th anniversary of the UK hard-rock festival with a daily capacity 6000 – Ed.]
We were all really nervous, pacing around backstage before we went on… We kind of just exploded once we started playing and the crowd seemed to really get into it! We even got given an encore by the stage manager, which was pretty incredible for a festival. Then the organisers immediately came back stage and offered us a spot at the festival the next year. We were blown away!
I wouldn't say it was a "disaster"; more a "learning curve". It was a great experience to learn how to navigate our way around different countries and pick up 'some language'. Knowing how to politely order a beer is the most invaluable thing ever!
CF: Will you return to Europe to play again?

AM: We are booking our UK tour at the moment and will play the 2017 Hard Rock Hell Festival in Pwllheli, Gwynedd, North Wales around mid-November, so we'll book other dates around that. It's looking like we'll kick off the first week of November, and hopefully tour for 3 to 4 weeks up and down the UK.
We're all very excited to be heading back and playing again. The crowds in the UK were fantastic last year and we can't wait to catch up with everyone again. We'll be playing as much as we can in Australia from now until then, so there'll be plenty of shows for people to check us out at!
CF: And there's a new album on the way?
AM: Yes, we've been working on our new album, rehearsing every spare moment and recording. When we returned from Europe last year we really knuckled down on rehearsing new material; we wanted to record a new album and had a list of about 30 songs written.
We spent roughly 6 months after coming back to Australia rehearsing and honing the songs. There were many, many hours spent in 'the shed'!
We eventually cut it down to about 14 songs and booked some studio time. We recorded with the legendary [producer] Mark Opitz and [mixer/recording engineer] Colin Wynne at Thirty Mill studios in Brunswick, Melbourne. We recorded it totally live all standing around in one room, which was great – how it should be done!
We are all really happy with how it sounds, and it's great playing new material. At this stage it's going to be a 10-11 track record, (we're still in the mixing process and editing). There's not much more to do though. It sounds great, it's very exciting and we're looking forward to putting it out.
There's no set release date yet, but it would be nice to get it finished before we hit the road in the UK. We don't want to rush anything either: it's like a maturing a single malt scotch, it needs time.*
We're working on having a single – or a double A-side – ready to take on the road, so there will be new 'merch' available.
CF: Please finish this sentence: "In five years time Black Aces will be…"

AM: Rockin' all over the world.
Many thanks to Alex McMillan for the interview!
 * * *