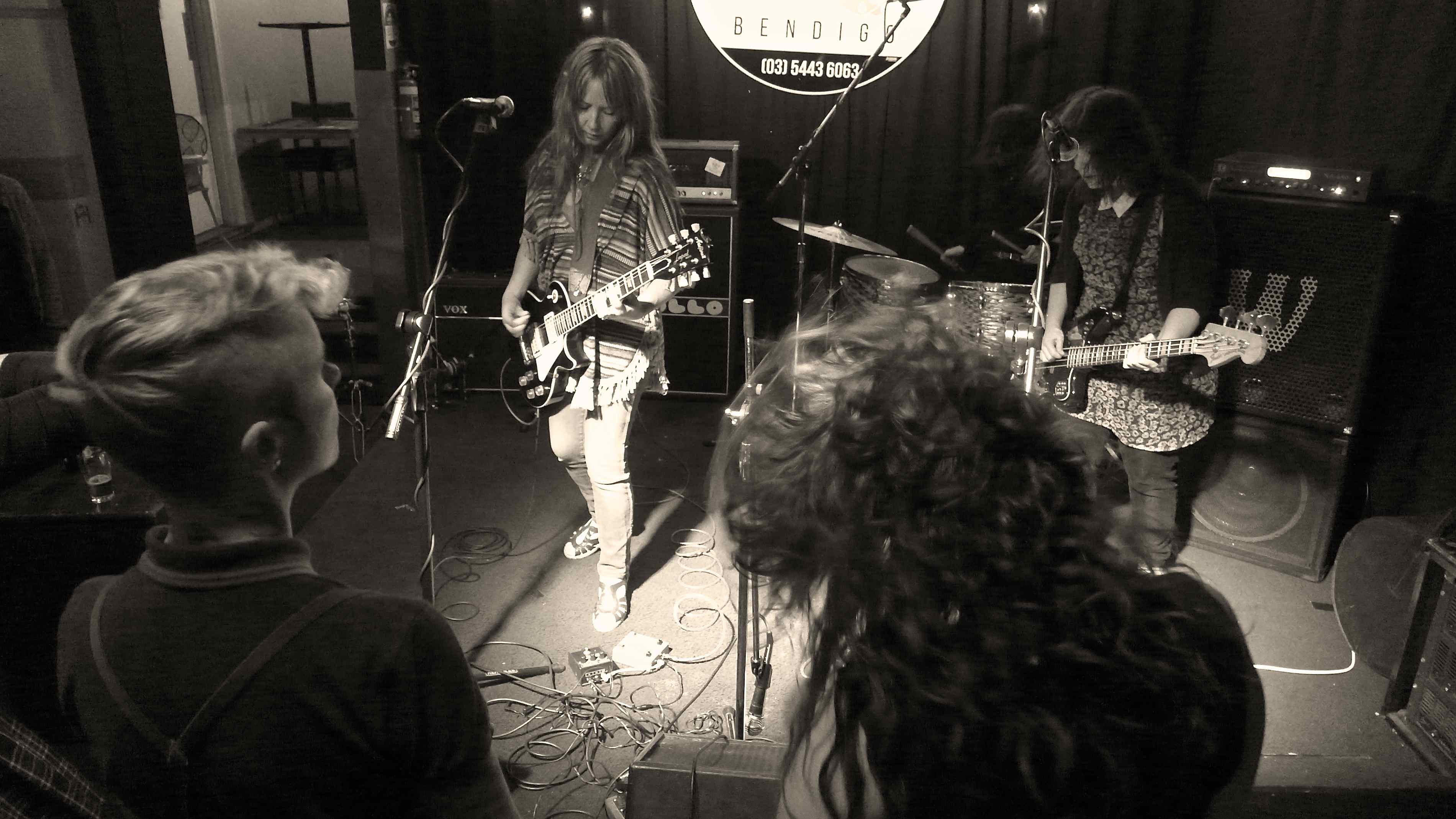 Everything Louder Than Everyone Else: Killerbirds
Posted on August 28, 2016
Earlier this year a music dream was realised: I got to see the Killerbirds play live.
I know one of the 'Birds: Prue Allan. I count her as a friend, a beautiful, wise, hilarious person with a giant heart, and, a rocking good yoga teacher. I got to know her over the five years I spent living in Bendigo, frequenting her yoga classes for some much-needed respite and restoration.
We hadn't known each other long before I kidnapped her to take A VERY LONG DRIVE to the outer south-eastern suburbs of Melbourne (read five hours in the car together.) Travelling in my sardine-can-sized Getz, we drove there and back in one day, me fuelled with the kind of drive-by 'buying mission zeal' that can only come with an impending wedding (mine, in a week's time), with understanding Prue up for a marathon chat as we stared down lonesome highway after lonesome highway.
Completing the four-hundred-km round-trip in record time, during it I discovered that in addition to being a yoga teacher and well on the road to becoming a clinical psychologist, Prue was also a musician – the bass player for Killerbirds no less, an accomplished, kick-arse, heavy, all-grrrl three-piece, which had previously toured and played amazing gigs all over the country since forming around (then) six years prior.
And, while they were on a bit of a break, they were talking about playing again…
It would take a while, but reform they did. My timing was out but: as I prepared to exit Bendigo for Berlin, the band was arcing up again. To my dismay, after waiting four years to see them play – in that time hearing more and more great things about their live gigs and love of stoner rock – it looked as if I was going to miss out. I staved off the kind of regret-tantrum saved for missing awesome live music opportunities (eg. Talking Heads at the Melbourne Entertainment Centre, 1984. With ticket in hand, I was too sick to go courtesy of a plateful of hash cookies I'd consumed not knowing of course that they were hash cookies. "I thought they were muesli?" Hilarious to my friends…)
Luckily the stars aligned on a visit back to Australia earlier this year. It coincided with not only Prue's birthday, but a rare gig by Killerbirds at one of Bendigo's old music haunts. I'd get to say happy birthday to my lovely friend and finally, finally, get to see her and the band play.
Killerbirds didn't disappoint: muscular heavy rock with harmonies. Yin/yang, light/shade, night/day, feminine/masculine: their music and presence took possession of every cell of every person in that room. No-one stood still: we twitched and cheered and punched the air as they fuzzed and slammed us into submission. I fell into a kind of music-induced swoon, one I'd rarely found myself in since the riot-grrrl 90s – a time when all-women bands finally got to shed their 'otherness'. Like Sleater-Kinney, The 5.6.7.8's and Bikini Kill before them, Killerbirds were mesmerizing: short, sharp, cranked, and inspiring.
They made me feel very alive. I loved every second. They were indeed "killer".
Killerbirds are Bindi Masterson (guitar/lead vocals), Prue Allan (bass/vocals), and Nadine Muller (drums/vocals). Front n' centre fan grrrl that I am, I bailed two of them up for an interview.
---
Circus Folk: How did you first meet? And could you please give is a bit of a 'snapshot' as to how the band came to be, and what motivated you to form it?
Bindi Masterson: We all grew up in Bendigo. Prue and I knew each other from school, and I knew Nadine as our families are friends. Nadine approached Prue to play bass in a band after being suitably impressed with her air guitar, then they asked me. We are all very musical and had the same taste in music, so we gelled from the start.
Prue Allan: Nadine approached me when I was working at the skate/music shop my partner and I owned (and ran very badly) at the time. I had only briefly met Nadine at gigs where her band "The Strays" played. Their set comprised of Stooges and Radio Birdman covers, so I really dug them. Hence, I dubiously agreed, but told Nada if she found someone else to play bass that I wouldn't care.
I have pretty bad anxiety, so the thought of playing gigs stressed me out a lot (it still does.) Nadine's dad [Dean Muller, drummer from Cosmic Psychos] once told me he builds an imaginary wall when he feels nervous on stage. This seems to work for me. I also have a 'grounding ritual' I do in the girl's dunnies before a gig.
CF: What do you do for "day jobs"?
Bindi: Nadine is a freelance hair/makeup wardrobe/ stylist in TV and film, and I am a set dresser for a TV show.
Prue: I have been teaching yoga for about 16 years. I have recently finished my post-grad Masters of Clinical Psychology after a long stint of full-time study. It was synchronously a head fuck and the most invaluable experience, to put it mildly. I am still 'pathologising' myself: apparently it comes with the territory.
CF: What are your individual music backgrounds, and do you have any music mentors or teachers you'd like to acknowledge?
Bindi: I've played in bands since I was about 16. Both mine and Nadine's families have played in many bands, and been involved in the music industry our whole lives. So they have been our mentors and huge influences – it was natural we followed suit. Killerbirds was Prue's first attempt at playing bass in a band; as soon as she picked up the bass she was a natural.
Prue: I had a piano teacher who was my mentor. I started lessons with her when I was six until I was about eleven. I didn't like practicing but I used to improvise a lot and make up my own songs in minor scales. I loved going to see my teacher; she is still one of my best friends. She cultivated my love of classical music and took me to the opera. My parents didn't often listen to music. Their record collection consisted of Billy Joel, Paul Simon, Nana Mouskouri and Demis Roussos. The best they had was Hot Chocolate, and Elton John, who I still love. I guess I learnt to harmonise with these records. I've always loved to sing the harmonies of anything. I am always looking for them in any piece of music.
Mum and Dad did have a Skyhooks record but I think that was in there by accident. It did get a flogging by me though.
CF: After initially forming and playing, you had a bit of a break; what made you come back together, and why did you decide to reform?
Bindi: We had a break around six years ago. There was always talk of us getting back together for a gig at some stage. Then two awesome friends of ours from Adelaide came to visit Prue in Bendigo and got matching Killerbirds tattoos on their arms. So we thought we'd better get across to "Radelaide" and play for them! Since then we have been gigging around a bit, and writing new material.
Prue: It feels more cohesive now; we are really enjoying making music with each other. My bass playing has improved so I can provide more support and input. We also laugh a lot! I laugh so much I get asthma.
Bindi: Killerbirds to me is having a great time with my best friends, and being able to create music we love. We have had some crazy times in the last 10 years, and I love every show we play. I love seeing how a song develops from a little ditty or riff I was singing at work, into playing it live and seeing people enjoying it.
Prue: [Killerbirds] are my extended family, and [an outlet for] creativity, self-expression and stress relief.
CF: You cite your influences as "grunge, doom, stoner rock, stoner metal, Sabbath and Motorhead".. But your sound is distinct: how do you describe it? And evolve it?
Bindi: I guess you would class us as rock-slash-grunge? Prue and I are 90s kids so that has really influenced our music and songwriting. Between the three of us we have so many influences – I wouldn't know where to start!
Prue: Yes, I would say our sound is grungy garage rock with pop sensibilities. Once I thought we were more sludgy and hard rock. I think I was kidding myself though.
As far as influences go, I agree, that's a hard one. We all listen to music spanning various genres and time periods from The Shangri-Las to Pentagram. It is all very mood dependent…
Bindi: Our style now is a lot different from the early days. I think it just develops or matures over time, and is influenced by what we are listening to at that moment.
Prue: Bindi is the driver. She comes up with most of the riffage and lyrics. Nadine and I add our two cents worth. We develop the songs together.
CF: You've gigged a lot: where have you played – in the early days, and more recently?
Bindi: In Melbourne we played the usual suspects – a lot: The Tote, the Old Bar etc. We also frequented Adelaide, Tasmania and Brisbane back in the day.
Prue: The first place we ever played was the Satan Soldiers MC clubhouse. I think we were too loud for them as most of them went outside and had a ciggie when we played. (Either that or they hated us.) The next gig we played, Bindi's Goldentone amp blew a valve and caught on fire. That was visually impressive.
The first Melbourne gig we played was at the Greyhound Hotel in St. Kilda with Ian Rilen & The Love Addicts. Cathy Green played bass – I had a bass crush on her. They were really good to us. Some of my most memorable gigs have been at The Espy and St. Kilda Bowl [Bowls Club.] I liked playing in St. Kilda: we always got a warm reception on that side of the river.
Adelaide and Hobart are still my favourite places to play. They got what we were on about: there was no pretension or bullshit.
CF: Your live gigs are visceral – it's kind of like watching a force of nature! When you're on stage together, how does it feel when you're in the thick of playing – and, what do you love about playing live?
Bindi: I love to be able to play loud music with two awesome humans, and zone out in our own little world…
Prue: As aforementioned, I shit my dacks every time we play. I shoe-gaze mostly… But I agree, I do love it when you get into that zone and everything flows together. There's an inexplicable euphoria in that. Gets the neurons on the pleasure/reward brain pathways firing, releasing the dopamine which effectively creates the same effect as snorting cocaine. Oxytocin (a bonding chemical) is also stimulated.
Maybe that's why you develop a deep connection with people you play music with. They become family. Even with bands that don't like each other. Which is not the case for us ; )
CF: And which do you consider some of your most memorable Killerbirds gigs?
Prue: We have been fortunate enough to play on the bill with several seminal bands over the years including Magic Dirt, The Hard-Ons, The Lime Spiders, X, The Meanies, Ian Rilen, The New Christs, The Super Suckers and the Celibate Rifles. We supported The Living End in Bendigo one night, then drove down to Melbourne to play the 2am slot at Pony. That was memorable. It was packed and people were throwing their shoes in the air as a tribute (apparently).
One wild night in Hobart people threw roses on stage and into Nadine's floor tom while women up the front flashed their boobs at us. (Nadine also played with a rose between her teeth.) We also supported the Pierced Arrows (Fred and Toody from Dead Moon) which was definitely a highlight for me.
CF: Prue – you're in a couple of other bands: Vaginaballs and Affordable Repayments. What other bands or music projects have you been involved in? Bindi and Nadine as well?
Prue: Bindi has played in lots of great bands since she was a teenager. She more recently played in a phenomenal band called Dead River for a few years. They were well regarded in Melbourne and went on tour in the US. Bindi is currently working on a new project with some seriously noteworthy Melbourne musicians. I am really stoked for her, it is going to be pretty monumental.
Nadine has also played in several great bands over the years, including my favourite, a 60s garage band Wolfy & The Bat Cubs. She swapped the drum kit for the bass and was mesmerising to watch.
The only other band related stuff I have done was a brief stint on vocals in a 90s grunge band, back in the height of my Babes In Toyland/L7 [fan] days. We went to the Melbourne Rock 'n' Roll High School in Collingwood for a bit. It only lasted a few months unfortunately.
CF: Is there a story behind your band name?
Prue: At the time I wanted to be called "Killer Kane", in homage to the bass player (Arthur) from the New York Dolls. He was such an unhinged, god-fearing weirdo, and I found him beguiling.
Unfortunately there was already a band with that name. We then drew from Alfred Hitchcock's 1963 American horror film 'The Birds', where birds would violently attack people. We saw ourselves as attacking people with raw, unapologetic sound (I made that bit up). I guess you could interpret it in an Aussie bogan way – "those birds are killer". But that was not the intention. We are not that conceited!
CF: What are some of the challenges female musicians – especially female bands – face? Are there particular disadvantages even now in 2016?
Bindi: When I started playing live I noticed that the attitude towards women in bands was different than [towards] male musicians and bands. There were times when engineers would tell me how to use my amp, or how I should sound, which is frustrating when you're not overly-confident, and can't stand up for yourself.
I don't notice it as much these days, as women are killing it in music, and well and truly hold their own as much as the next guy. I don't feel the divide is as wide as it was.
Prue: I commend more and more female and male musician calling bullshit on the misogynistic culture of the music industry and inappropriate behaviour. For example, Melbourne bands like Camp Cope or High Tension who have highlighted threatening or sexist behaviour of punters, reiterating that it won't be tolerated at their shows.
Some female-based bands or musicians are less impacted by sexism and inequality but I am sure all of them have at least one story. I have got quite a few but I don't want to take up the whole interview dwelling on douche bags. But yes, it still happens.
One more generic example that springs to mind, is the countless times people have said "you don't sound like a girl band", as if that is supposed to be a compliment. Or [they have] compared us to other female-membered bands (who have a completely different sound or musical objectives), or tried to insinuate some kind of rivalry between us and them…
It's like some people are inadvertently trying to maintain a derisory stereotype – that women are inherently threatened by, or compete with, each other. Why does this happen? I don't know. Maybe to try and keep us separated and disempowered, or something…
CF: I guess technically are "a Bendigo band", meaning based in a regional Australian city. What does that mean to you? And is it – and has it been – a supportive music culture or environment in which to develop?
Bindi: Bendigo is a town with only a couple of venues supporting live music – even less loud rock music. There is a very supportive network – and some amazing bands and artists – that need more venues spaces to play.
But if the venues aren't making money from punters, they will can the gigs and replace live music with pokie machines or restaurants. This is not just a small town problem though.
Prue: I still live in Bendigo, the other two [Killerbirds band members] left years ago, so I think it's funny when people still think of us as "a Bendigo band"!
There are not many venues to play in [in Bendigo], especially for punk/noisy-type bands.
However there are good bits: even though most people I know in Bendigo don't necessarily have the same music palate as me, they will still come to gigs because they are supportive. So yes, there is a supportive music culture. Perhaps more so in the genre pockets of blues, folky stuff or metal.
There is a huge blues festival here every year. There is also a small but prodigious noise scene.
Terminal Sausage is my favourite Bendigo noise band.
Bindi: The biggest thing I noticed about being in a regional band is you have to work harder to get recognized and acquire better gigs in bigger cities.
By work hard I mean travelling from Bendigo to Melbourne a lot, go to see other bands, meet people… It can be exhausting spending every weekend away, but that's was the only way to do it. It's a bit easier now with the internet.
Circus Folk: If you could imagine "a dream gig", what might that be? And what's next for Killerbirds?
Bindi: My dream gig would be to play a '90s band cruise ship tour'! Don't know if that exists, but it should!
Prue: Playing at a music festival in Europe. I would also like to play in Spain and in Japan.
Bindi: An album is on the cards, so hopefully that happens within five years. We hope to record by the end of 2016.
And we have a couple of gigs coming, but we're staying low, working on new material…
Many thanks to Bindi & Prue from Killerbirds for the interview!
---
Interview: Prue Allan + Bindi Masterson (Killerbirds)
Words, edit + photos: Megan Spencer
Follow: Killerbirds on Facebook
Hear: Killerbrids latest demo
Listen: to Killerbirds on Last FM
View: my Killerbirds photo album
Read: vintage Killerbirds review