Blood Crystals: Kris Keogh
Posted on May 26, 2017
"The crystals may be obtained for examination by covering a minute drop of blood with a glass slide, and after adding water, alcohol, or ether, to permit a gradual evaporation to ensue." – 'A Text-Book on Physiology', John William Draper, M.D., 1866.

The cover art from Kris Keogh's new record is taken from a centuries-old old medical journal. It's the sketch of a microscopic view of 'crystallized' blood cells.
Ornate, fragile, and frozen in time, the illustration distills the process of life and death. The blood crystals, inert and no longer living, reveal in delicate, minute detail, the miracle of life – the very blood that supplies our bodies with oxygen, the breath of life.
It's the perfect visual metaphor for Processed Harp Works Vol. 2, inspired as Kris tells it, by "two, simultaneous life-changing events": the birth of his daughter and the death of his father, in 2013.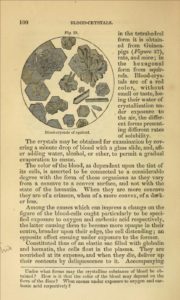 It's always fascinating to see how artists express loss: think David Bowie mourning his own passing with Blackstar; filmmaker Mike Mills' funny, moving requiem for his dying dad, Beginners, and Philip Toledarno's heart-wrenching photography essays, Days With My Father and When I Was Six, meditations both on the loss of close family members.
Enter Kris's 'Processed Harp Works Vol. 2'. Equal parts melancholic and ethereal, joy and grief  are comfortable bedfellows – you can hear them wrapped around each other, resonating together. Deep cavernous rumbles and spacious, sorrowful drones ebb and flow between liquid harp sweeps and uplifting melodies. It's an album vibrating with ambivalence and hope. Impossible not to be affected by it, sonically it's as exquisite as its cover art.
To make Processed Harp Works Vol. 1 (2011), Kris purpose-built Invert The Universe, a Reaktor software ensemble – also the foundation for Processed, the "setup" for the sonic exploration and musical meditations of Vol. 2. It creates a space for "processing" both disparate sounds and intense disparate feelings. Gradual evaporation ensues…
"Everything I make is about juxtaposition, about creating something unexpectedly cohesive from seemingly opposing sources, from polar extremes," he says. "These extremes are ingrained at nearly every level of this album."
Classically-trained and pop-inspired, musically Kris cites influences as diverse Prince and Debussy, to German click-music-maestro Oval and Atari Teenage Riot. Splitting his time between hometown Nhulunbuy in the Northern Territory and Japan, Kris is prolific. In bands (Red Plum and Snow) and a solo electronic artist (Blastcorp, Laptop Destroyer), he's been a fixture on – and a driving force behind – the Territory music scene for years, on stage and off.
Innately creative, Kris is an in-demand artist, producer, musician, designer, music label owner, community builder, and now a dad, which, with his partner Deb (also a creative force-of-nature!), might just be his – and their – most rewarding collaboration yet!
Kris Keogh spoke to me from his "second home", Osaka.
Circus Folk: First of all Kris, the cover artwork for this album: it's exquisite. What is the story behind it, and why did you choose it for this release?
Kris Keogh: It's a woodcut from a medical textbook from the 1800's of the blood cells of a squirrel under a microscope, of all things! I found it on archive.org, somewhere among the millions of out-of-print books digitzed and stored there. All you need is the time to go hunting, that site is a goldmine.
I love that image 'cause it looks organic and random, but also really intricate and structured. That's kind of how I think the album sounds, so it's a good fit. The web scan was pretty lo-res so I got a proper graphic designer (thanks Nico!) to restore it. He worked his magic and somehow remade it all hi-res.
CF: To the story of this album: you say that two simultaneous "life-changing" events inspired the album and its sound: the birth of your daughter and the death of your father. Compositionally, how did you go about 'integrating' these events, their ensuing emotional effects, and the 'weight' associated with both, into your music? Such as the extremes of joy, and extreme grief, I would imagine?
Kris: I wasn't really consciously thinking about joy or grief or anything specific when I sat down to make this album. It was only once I finished recording that I kind of realized that was what it had made me reflect on: that that's what I needed to get out.
As I've gotten older I feel like I've amassed all these life experiences which now include births and deaths of the people closest to me. My thinking is now hard-wired through those experiences; I can't escape them, and wouldn't ever want to.
They make me 'me', you know? So when I sit down and make harp music, I just let my hands and brain do what feels honest. Intimate and honest, with absolutely no showmanship.
All of my history is inside me, and when I play like that, I feel like the music that comes out is filtered though those experiences.
CF: And 'Processed', the "self-made Reaktor ensemble designed by trial and error" you made "over the last ten years" – what did that teach you? It must have been very frustrating at times and gleeful at others: why did you want to create your own software? And what were some of the challenges you faced making it?

Kris: Finding your own voice in music is a really hard thing to do. Reaktor is the thing that has gotten me on the path to finding mine. I've been using it since 2001, to experiment and then refine those experiments. It's just like having a music shop with an endless supply of effects, which you can take home and experiment with until you have a setup you really like.
I want to make music that sounds new, beautiful and alien, so it's great for that. It's also a good setup considering the nearest music store is 1000kms by road from Nhulunbuy!
The learning curve is long and steep though; I still feel like a total beginner. It's a weird combination of having to use really rigid and structured thinking processes to bring to life really loose and fluid musical ideas. Having both sides of your brain in full effect doesn't come naturally to me, so it can feel like work sometimes.
But it's well worth it. And I love that there's an online community of people building with Reaktor, all sharing things they've built for free. And you can pull everyone else's work apart and borrow bits and pieces as you see fit. It's also a really nice feeling to be able to make creative tools that you can share with other people.
I uploaded my setup for this album to the Reaktor User Library a few weeks ago. It's called Processed, so hopefully other people are making cool stuff with it too!
CF: You spend a lot of time in Japan: it sounds as if the geographical, cultural and physical landscape there also finds its way into your work, perhaps even more noticeably in this album than the previous. Living in two cultures as you do – the Northeast Arnhem Land community of Nhulunbuy and with yearly visits to Japan – has this movement between the two changed your relationship with place, and perhaps even home? And is this somehow reflected in PHWV.2, given that you recorded this album in your home studio in Nhulunbuy?
Kris: I feel like a misfit in both places to be honest: I'm not Yolngu and I'm not Japanese. Living around two cultures that are very different from my own means I'm never really in my comfort zone. I understand so little of what's going on around me in both places that I think I end up in my own head a lot.
It is really great to be around people with different perspectives though. That constant reminder that my culture isn't the only thing going on in the world is a good for me as a person.
As for music, I don't try and consciously work in elements of either culture into my music, but I'm sure the influences do seep in… I've definitely got lots of love for all aspects of Japanese music, from traditional koto music through to all the crazy underground electronic stuff. The same goes for living in Arnhem Land: Yolngu music, new and old, is so inspiring.
'Just Before Forever' video by Deb Hudson.
Those traditional descending manikay vocal lines are so raw and unbelievably gorgeous.  I feel it's rude to just take specific things I like and use them in my own music directly, but I'm sure the influences do seep in subconsciously.
Circus Folk: When you sit down to compose, are working from a "blank page", or are you the type of composer who has melodies and ideas bubbling away just below the surface all the time? And when is it the "right time" to sit down and compose: do a set of specific 'conditions' need to arise before you start a project such as this one?
Kris: I don't really pre-plan anything. I'll just choose a key, set the pedals on the harp and just play. I'll play for ages and something will start to develop and I'll go with that. I record it all and then I'll often write the melodies (and even chord sequences sometimes) by editing the actual audio, cutting, pasting and moving individual notes around in the computer until it all sounds right to me.
I feel like if I can capture the vibe and the sound in the moment, I can then go back and edit the notes into something more concise and musical later. With this album the sound and feeling were more important to me than the actual notes when making it.
I don't know if it's just me, but the harp just has the saddest, most melancholy tone of any instrument I've ever touched. It's heartbreaking; it sounds so sad, yet so beautiful, all at once. If you mute a string you played a few seconds earlier, the note doesn't stop, instead you realise that the note has continued on as all these sympathetic vibrations in all the other strings. It's so inspiring to play a single note on an instrument and have it do that and feel like that. Writing music in that kinda situation is so easy, it just falls out.
I wish it was more romantic than it is, but writing music is just work for me. If I waited for inspiration to line up with my free time, the house being quiet, my tech setup working smoothly and my harp being in tune, I'd never make anything. I have to schedule life so those things line up and then just get to work. Once I'm in the sound, luckily I get the vibe pretty quickly.
CF: There is so much 'space' in this record. What is your relationship to – and/or view of – the use of space and spaciousness, in music? Is it an essential factor in the composition process, and the sound of your music, in particular? I also remember tangibly noticing it when you were making music in Red Plum and Snow…
Kris: Space is super important. The act of adding even a simple reverb to a sound makes it go from lifeless to existing in some kind of (simulated) physical space.
People relate to spaces; they become attached to memories of feelings, people and places. A lot of what I do involves heavily processing the space that sounds exists in, and then layering and cutting between different spatial setups.
Glitches and cuts between drastically different spatial setups don't happen to us in everyday life, and I think all the spatial edits help give this album that otherworldly kinda feeling.
So in short, yeah, space is really important to my music.
CF: You seem very excited by the release of this album: as someone who has made music your entire life – in bands, collaborations, and solo – what excites and compels you to make music?
Kris: To be honest, creating things and sending them off into the world just makes me really happy. Getting up and making something new and beautiful out of thin air is an amazing feeling. It's a sense of achievement; making an album is like winning a really long and drawn battle against all your inner creative insecurities. If I stop making things, I start to question who and what I am, and that's not pretty.
I'm also just a total music fan. I love music so, so much. Making music and being amazed by new music is the best thing ever; it's like my one addiction, one I have no plans of giving up.
CF: Some feel that music is the most direct contact with the 'spiritual' side of life, especially when it comes to harp music! Do you agree with that idea? Do you think the harp – and music in general – has the capacity to moves us on some 'deeper' level?
Kris: Music moves me, for sure. This album is designed to do exactly that. It's a 40-minute chance to zone out and be somewhere else. Hopefully that's somewhere deeper, calmer and more relaxed. I'm not at all spiritually minded, but I feel music is a far more subtle and transformative medium than, say, language to express how I feel.
As for the harp, those sympathetic resonances that give it its tone, just move people.
I can imagine the sound of the harp in previous centuries having the same effect as walking into a big cathedral; there's a humbling sense of wonder in both.
CF: Who are your biggest influences for this album in particular?
Kris: Musically, I'd say Bows' sampled harp and guitar sounds, Oval's glitches and the consonance and slowness of the solo piano work of people like Arvo Part and Nils Frahm. Conceptually, its just opening myself up to let the music come out.
CF: Six years have passed since 'Processed Harp Works Vol. I' (2011): how different are you now in 2017 as an artist and composer, from when you made the first record? Can you hear it in the music?
Kris: I've matured, ha ha! I've gotten over the need to try and use distortion to make everything sound intense.
Musically though, I had heaps more time and freedom to make this new album. The first one was made with my sneaking into the uni in Darwin, playing and recording the harp that was kept in the storeroom in the concert hall, then sneaking out. I wasn't a student and wasn't a teacher, so I was in some kind of weird "you shouldn't really be here" kinda situation. So I'd take those recordings home and put them through my computer and process them.
This time though, I've since saved up and bought a harp of my own, so I could play the harp and computer at the same time. This meant I could do all the processing and then add extra notes and sounds, get things just right, rather than be restricted to only sampling what I'd recorded. The new album is definitely more melodic because I had the option to refine things and add notes as needed.
CF: You have a little girl now, Peach. I'm guessing she might be into music like her dad – and uber-creative like her mum! Is she showing signs of being interested in music yet?

Kris: She likes music, but she mainly listens to J-pop star Kyary Pamyu Pamyu on repeat, although she had a Sophie phase a while back. She makes up little songs on my drum machines; she's got about a dozen little beats and tunes she's made. She likes twinkly princess sounds, so I think the harp influence has seeped in a bit there.
I actually wrote this album to function as her bedtime music. She puts it on every single night to go to sleep to, without fail. It works really well in that context, I know, because I've spent every evening of the last six months laying there listening to it and trying like mad not to fall asleep at 7pm!
Many thanks to Kris Keogh for the interview and Deb Hudson for the images!

* * *
Interview & cover photo: Kris Keogh
Words/edit: Megan Spencer
Photos: Deb Hudson
Listen/download: Processed Harp Works Vol. 2 (Provenance Records)
Listen/download: Processed Harp Works Vol. 1 (New Weird Australia)
Visit: Kris's website
Discover: Happy Yess, the music venue in Darwin co-founded by Kris
Note: Kris Keogh and Deb Hudson and have been in my friend circle since 2008.
Correction: Text amended: Kris used Reaktor software to create his own processing setups for both Volumes of his Processed Harp Works (he didn't create Reaktor – my mistake!)