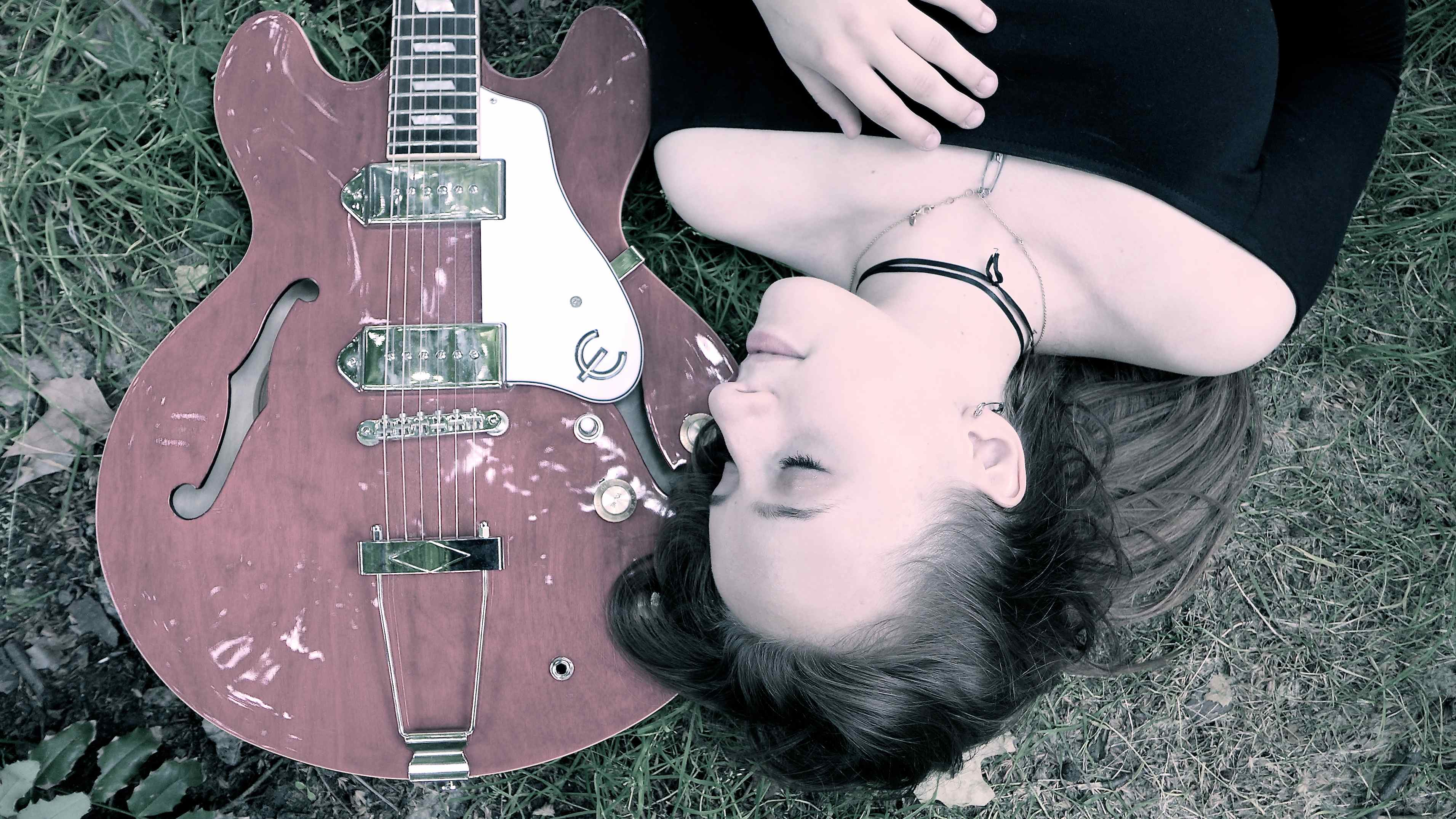 New Romantic: Stella Turner
Posted on June 22, 2016
"I love William Turner: that's why I took 'Turner' as my performer name," Stella Belinda Franke tells me as we walk down a busy Berlin street, looking for an impromptu photo shoot location.
Her eyes glint with inspiration as she speaks the Romantic landscape painter's name. It turns out the artist now known as Stella Turner loves to talk about art, and music. As we dodge cars, dog shit and stinging nettles, she manages to cram a lot into our brief conversation. Her aliveness is palpable.
Stella Turner also loves to play music. I first saw her belt out a couple of well-honed originals late one open mic night in Berlin. While clearly in her formative stages, she had something special to share: a rich, confident voice, a flair for songwriting and connecting with an audience.
Which was just as well: gun shy from a misogynist spray by one comedian, hesitation had filled the room about "who" or "what" might come next (the blessed price of an open stage). Stella stepped up like a veteran, re-tuning the space with humbleness and an assured, graceful performance. Collectively we breathed a sigh of relief. Only later did I find out how nervous she was.
The next time I saw Stella play it was in front of a hundred fervent late-teens (quite possibly the entirety of her International School classmates), crammed into a club deep beneath a Kreuzberg street. She was support for rising teen alt-rock sensations Cardboard Hearts (also members of Stella's school year.)
With her beloved ruby-red Epiphone in hand ("he's called Aaron!") she took to the stage in bare feet, smashing out self-penned ballads and the occasional cover (Radiohead's discarded 007 movie theme 'Spectre' being one on the upright piano against the wall). The place oscillated between vibrant cheers and hushed attention.
Three encores later – and a piano pounded into submission – a would-be Tori Amos was born. It was a long way from the family Christmas at which Stella had made her performance 'debut'.
Roll-calling her influences between songs (a good number of rock stalwarts among them), somehow I felt  reminded of Nick Drake. Maybe it was the bare feet and over-sized guitar, or the vulnerability of her storytelling: that clear-eyed view of an inner landscape and the willingness to expose it to rooms across one of the grumpiest cities in the EU. I couldn't help but be impressed by Stella's courage.
"It is only when we are no longer fearful that we begin to create," so said William Turner. Clearly it's not only the artist's namesake this young, British-Berliner has taken to heart…
---
Circus Folk: You are a rare creature – a 'native' Berliner!
Stella Turner: Yes, I was born and raised in Berlin seventeen years ago, with my mother coming from London and my father from Saarbrücken, Germany.
I also have an older brother called Sebastian. We've lived in the same flat all my life – I've only ever moved rooms inside the flat!
I absolutely love Berlin and definitely will come back to live here when I'm older. I'm bilingual, so both German and English are my mother tongues. But I do like to speak English more as I go to an International School, which involves being in contact with all sorts of different cultures. The common denominator is that we all speak English.
CF: When did you first start playing music? Are there any 'formative' music moments or stories in your life that you can share with us?
ST: I started playing the piano when I was five. When I was six, I decided to start playing the cello and for a long time I wanted to become a cellist in the Berlin Philharmonic, where both my parents work. (My mother sometimes plays in the orchestra and my father is a producer for the Digital Concert Hall.)
Since I come from a musical family, music is second nature to me and I was brought up on great music such as the Beatles, Stevie Wonder, Joni Mitchell, Radiohead and many more.
I only started playing the guitar when I was 14, after I saw Jake Bugg at a concert here in Berlin. It was a strange moment: as I looked at him I thought, "I am going to do that someday". I borrowed a friend's guitar and obsessively started teaching myself.
Without ever having touched a guitar or playing anything non-classical, since that night, I knew I wanted to become a musician in the pop/rock field! I wanted to become a musician since I was tiny, but it was only then that I found the right way to express myself.
CF: When/how did you first start singing?
ST: I was always singing when I was younger – I joined the school rock band when I was eleven and sang lead vocals. I also loved singing in the school choir, however was quite shy about singing in front of people.
I only properly started singing when I began composing and playing the guitar. I felt much more comfortable singing my own songs. Ever since January 2016, I have been taking singing lessons to hone my craft.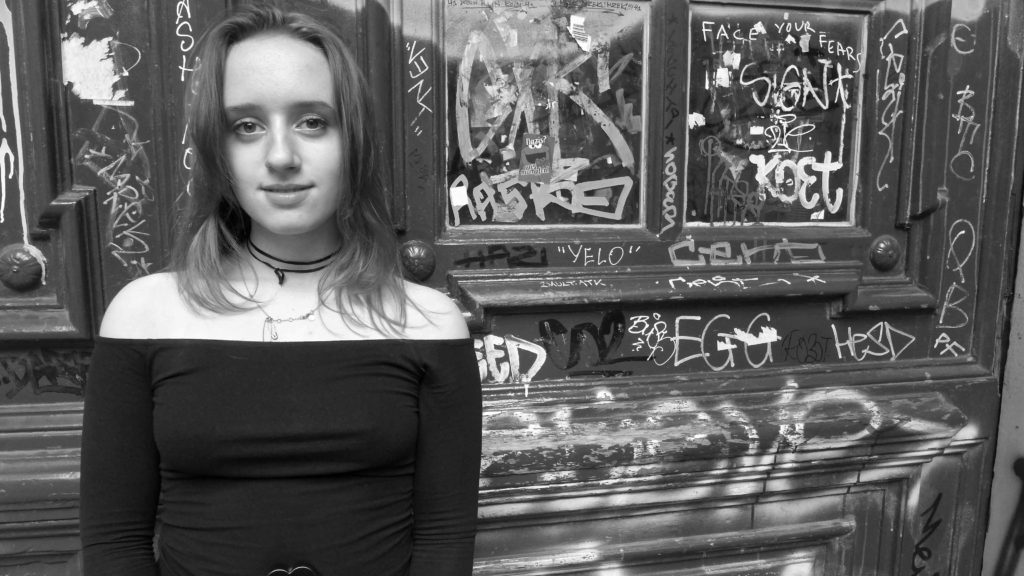 CF: What instruments do you play – and do you have a favourite?
ST: I actively play the guitar and piano; I played cello for ten years, and [also] play the bass guitar in a band with friends of mine.
I definitely like the guitar the most: as it has not been taught to me by a professional, [this] let me develop my own technique, and gave me a lot more freedom than [what] I got from classical training.
It's also easy to whip out at a party – everybody can sing along. It's basically a ticket to a good time! Also, it doesn't have the 'snobbiness' of other instruments. As the basics are simple to learn, everyone can play guitar.
To me, it embodies the spirit of music.
CF: Are there any particular music teachers, influences or mentors in your life, who might have helped you along the way? What have you learned from them?
ST: There have definitely been a few people who have majorly inspired me.
Of course my parents have had the most impact! They educated me on what good music sounds like and gave me the opportunity and freedom to choose whatever instruments I wanted to pursue, as well as encouraging me to practice and focus on my instruments in a way that others would focus on sport or school.
My jazz piano teacher Wolfgang Köhler opened me up to improvisation and trying out different styles of music, which has greatly improved my capacity for playing in situations where I am outside of my 'comfort zone'.
Another major influence is my first guitar teacher: he educated me about loads of music, gave me feedback on my songs, and helped shape my style. His name is Mihai Iliescu and he is part of the Romanian soul group Zmeitrei.
Colin Brown and Rebecca Carrington [Berlin-based UK cabaret performers 'Carrington-Brown', also featured on Circus Folk] have been a huge influence on me too. We started working together in late 2014 after I saw their show 'Carrington Brown'. I decided to ask them to teach me because I thought their show was just incredible.
They agreed and ever since have been helping me sort out my songs, taught me how to behave onstage, given me valuable advice in terms of singing techniques, and so much more. Colin has helped me work towards a full set of thirty songs and has been an incredible mentor in every sense of the word – I could go on and on and on!
My most recent influence has been my singing teacher Kristiina Hofmann Tuomi, who started teaching me in late 2015. She has taught me tremendous amounts about the voice and the body – I couldn't believe there was so much to learn!  I feel I have improved greatly thanks to her. Seriously – I don't know what I'd do without them!
CF: You write and perform original songs – how would you describe your own music? What do you write about? And is it a process that you enjoy?
ST: I would say it is a concoction of my major influences, mostly [of] the Beatles, Radiohead, the Rolling Stones, Tame Impala and [English alt-rock band], The 1975. [It's] definitely guitar-based and very melodic. I try to keep the harmonies interesting and love to play around with modulation, but I also love a good, simple song – the thing the Beatles were 'masters' at.
In terms of what I write about, I go through phases… For the first year or so I mainly wrote about concepts in a more abstract way, as I was afraid of directly speaking about things that were going on in my mind.
Recently – and especially since I saw The 1975 perform in Berlin – I have dared to directly address things. Matthew Healy's lyrics greatly influence me as I believe he captures the 'vibe' of my generation in a genius way.
I absolutely love the process: it's my way of coping with all that goes on.

CF: Who are some of your musical heroes – and why do you admire them?
ST: I would say forever my greatest musical icon – surprise, surprise – is John Lennon. I believe he made music that was a universal language: not too intellectual but still incredibly poignant and intelligent. But I can't mention him without the rest  – it wouldn't have worked without Paul, Ringo and George.
Kevin Parker of Tame Impala inspires me massively in terms of his perfect production. Stevie Wonder for the soul. Matt Healy for the lyrics and sentiment. Freddie Mercury for the mojo and eccentricity. Thom Yorke for incredible emotion and atmosphere. Mick Jagger for stage presence and rawness; Debussy for the musical magic; Beyoncé for making me feel majestic and powerful. David Bowie for, well, David Bowie…
I wish I could name more women!
CF: What kind of ambitions or "dreams" do you have around your music? Is it something you would like to pursue professionally?
ST: I just want to be able to inspire good things in people: [to] make people feel okay to be who they are, make them feel ignited, feel alive. Make them feel how my musical heroes make me feel.
It would complete me to make it my profession. Fingers crossed.
CF: When did you start playing 'publicly' – and do you remember your first 'gig'?
ST: I only very recently started performing publicly, and it was at open mic nights [Sunday Slips] at Lagari, here in Berlin-Neukölln. My first one must have been in February [2016].
However I also performed at my family's Christmas party last year. I was extremely nervous as there were many very important musicians present.
(Don't tell my parents, but there may have been some wine involved!)
CF: What has been your best gig so far – and why?
ST: The best gig so far was one of the open mic nights.. But I've had many great gigs – it really depends on the crowd! I once had someone compare me to Jesus – so there's that!
One time I found out that some people waited for me to play at the open mic, as they had enjoyed my performance so much the last time! I was very last on the bill and it was past 1am on a Sunday evening: that was special.
CF: How do you think you have changed as a performer over the time you have been playing?
ST: I have become much more confident: at a performance in front of my school I basically cried and ran off stage because my legs were shaking so visibly. I've learned to be relaxed and channel my 'inner Jagger'. I wish!
CF: What's been your best moment as a musician so far – and perhaps your most challenging?
ST: My best moment was probably when I performed in front of my grandparents, who are extremely critical. They said they truly believed I was onto something – the biggest compliment they could have payed me!
My most challenging was actually to decide to perform in front of strangers. I'm extremely shy about showing my vulnerable side and like to act quite nonchalant.
My challenge at the moment is to let go of the notion that I must be 'self aware'. I believe that it is necessary to look past your ego in order to create something truly beautiful.
CF: What do you enjoy about being on stage and performing? And what's the most important or significant thing you have learned so far, about being a musician and performer?
ST: I love feeling the energy that I get back, depending on how much I give. The more I give, the more the audience responds. That is the most satisfying thing in the world.
The most significant thing, for sure, is that you cannot compromise your vision. You have to do what you want to, and what you feel you have from inside yourself – to give everything you have.
CF: Could you imagine your life without music?
ST: No! I definitely could not imagine my life without it. It has simply always been there and always will be. It is a fact that everybody understands it. I react to it as if it were a drug – I get rushes, goosebumps and extreme highs just through listening so certain songs.
Watching someone fully embrace themselves onstage is the most beautiful thing I've ever experienced. I could go on like a madman – my friends know this already!
CF: Who are you listening to at the moment?
ST: Well, mostly Tame Impala's album 'Currents' – possibly the best album of 2015.
Also, 'I like it when you sleep, for you are so unaware of it' by The 1975. It speaks to me like few other recent albums.
I've also been listening to The Japanese House [20 year-old UK musician, 20 Amber Bain], Alt-J, Foals, Fleetwood Mac (song 'Everywhere'), The Doors and Pink Floyd – ie, lots of psychedelic rock!
CF: Do you think Berlin is a good town for musicians and artists – especially younger artists, such as yourself?
ST: Yes, Berlin is great! Berlin is a young city, and more seasoned professionals are always offering help.
I've met so many fantastic, supportive people and have been given so many great opportunities in the short time that I have been performing in public.
Berlin has a great, supportive artists' scene in which you can try out anything you want to with the certainty that someone will connect with you. That also means you see many things you cannot 'unsee'… Many!
CF: Please finish this sentence: "in five years time Stella Turner will be…"
ST: "..Inspiring love and happiness."
---
Interview: Stella Turner
Words, edit + photos: Megan Spencer
Listen: to Stella on Soundcloud
Visit: Stella Turner's Facebook page
Read: more about William Turner
View: the full gallery of photos from the shoot with Stella.
Photos cannot be reproduced or published without express permission from the copyright holder. Please don't steal! : )