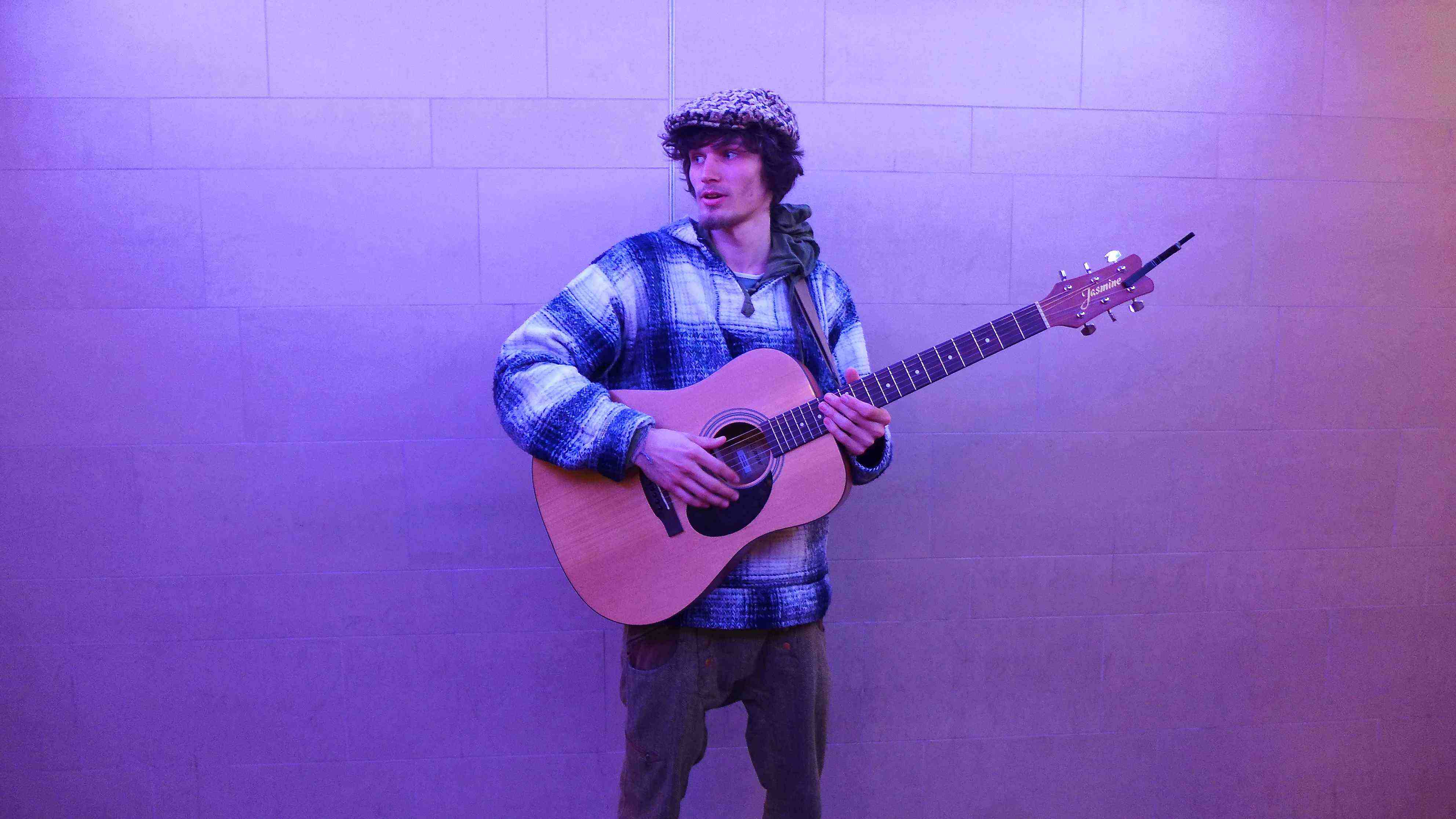 Der Himmel unter Berlin (Heaven Under Berlin): Tim Anders
Posted on March 3, 2016
I literally stumbled upon Tim Anders and his music in a tunnel, en route to a rendezvous at the "Berliner Siegessäule" (Berlin Victory Column.)
As the Victory Angel towered over me gleaming in the sun, I heard Tim's voice way before I saw him. It seemed to float up from the underground and into the busy street.
Descending the stairs his music echoed around corners and filled the labyrinthine, 'otherwordly', fluorescent-lit space, like a cloud that had somehow escaped from the sky above and had taken a wrong turn.
Many metres later I spied him from a distance, singing his heart out for no-one in particular and anyone who would listen.
I asked if I could take some photos of him at work in his very own subterranean 'concert hall'. He kindly agreed – and later, to do this interview for Circus Folk + Flower Punks, the photography exhibition in which I've included one of the photos I took of him that chilly Winter's day.
As it turns out, this is Tim's first interview! And as you'll hear, the street is where his heart belongs…
---
Circus Folk: When did you first pick up a guitar – and did anything or anyone in particular inspire you to do that?

Tim Anders: Good question!
I can't even remember the first time I picked up a guitar but what I [do] remember is me, smiling into the camera while being proud about my first drum set ever! I got it for Christmas and I can still remember my parents taking pictures of me.
Back to the guitar: I was 14 years-old when I picked up my mum's old guitar which she played as a kid. The first song I started with was 'Angel' by Jack Johnson. The second was 'Knocking On Heaven's Door'. After learning these songs I asked my parents if I could take some guitar lessons and they said yes. That's how everything started.
Around the age of twelve I started singing a lot and actually it was my music teacher from school who inspired me too.
CF: Where is 'home' originally for you? And why did you make Berlin yours?
TA: I was born in Braunschweig, Germany but my family moved a lot so I grew up in different places during the early years.
After I graduated from school in south Germany I moved to the United States to do one more year of school. As soon as I came back I started working as a chef and I did this job for about three years.
When I was done doing that, I decided to move to Berlin and ever since I've been busking.
I've been trying to do what I "saw" me doing since I wrote my first song!
CF: How long have you been busking for? And is Berlin a good place to busk?
TA: I've been busking for about one year now. Not only in Berlin – I was also playing across Germany, Italy, France and Sweden. But Berlin is still my first choice because of the inspiration the city gives me daily!
Sometimes it's really rough 'cause there are so many things interrupting you on the streets.. I think the "weather God" and me, we won't become best friends anymore!
But what I really like about busking is that you really get to feel the honesty of the people. If they really like what they see or hear they pay you for it. And I'm not only talking about the money: it's more the gesture of taking the time to share the moment and listening to you.
And if they're not interested in what you're doing they are walking by without even recognizing you!
CF: How would you describe your music, and your singing style? And who inspires you – which artists?
TA: I really don't want to put my music into a specific drawer – the decision is up to the people! But of course my biggest influence is Paolo Nutini. I'm a real big fan!
CF: What ambitions do you have – what would you like to be doing, say, in five years time?
TA: I definitely want to make music all my life and I want to keep on performing on the streets, and of course play a lot of club gigs too. I'm working hard to get closer to my dream of becoming a professional musician.
Hopefully in five years I'll hit the big stages.. : )
CF: What do you think you'd be doing with your life, if music and performing hadn't "called" you?
TA: Oh that's a hard one.. I really don't know 'cause I wouldn't be the same person I am now! I just can't imagine a life without it, because that's all my life is about!
CF: You are in the middle of recording your first CD: when will it be out, and do you hope to tour it?

TA: Yes, we're working on it and it's going pretty well so far. There's still a lot to do but probably we'll be finished by the end of March.
I can't tell you the exact date for the release but I will [know] soon. A tour would be awesome, especially a radio tour to promote the album. Time will tell!
CF: What inspired the songs for it?
TA: My daily life – everything and everyone around me is my inspiration! Also nature has always been inspirational for me too because I usually go there to write and find some melodies.
There's so much more – but it would be a hell of a list!
Thanks Tim – for the photos and the interview.

Interview: Tim Anders
Words + edit: Megan Spencer
Listen: to Tim's music here
Discover: Tim is about to record his first EP – you can find out more about his work here
Visit: Tim in the Siegessäule tunnel! He's there most days.
View: more photos of Tim on SmugMug.
Cover photo: Megan Spencer (c) 2015
The Circus Folk + Flower Punks photography exhibition is on at the Australian Embassy in Berlin, March 9 – May 27, 2016. Photo ID required for entry.
Next week: Hanna Nordqvist, lover of words, theatre performer and Grinberg practitioner.