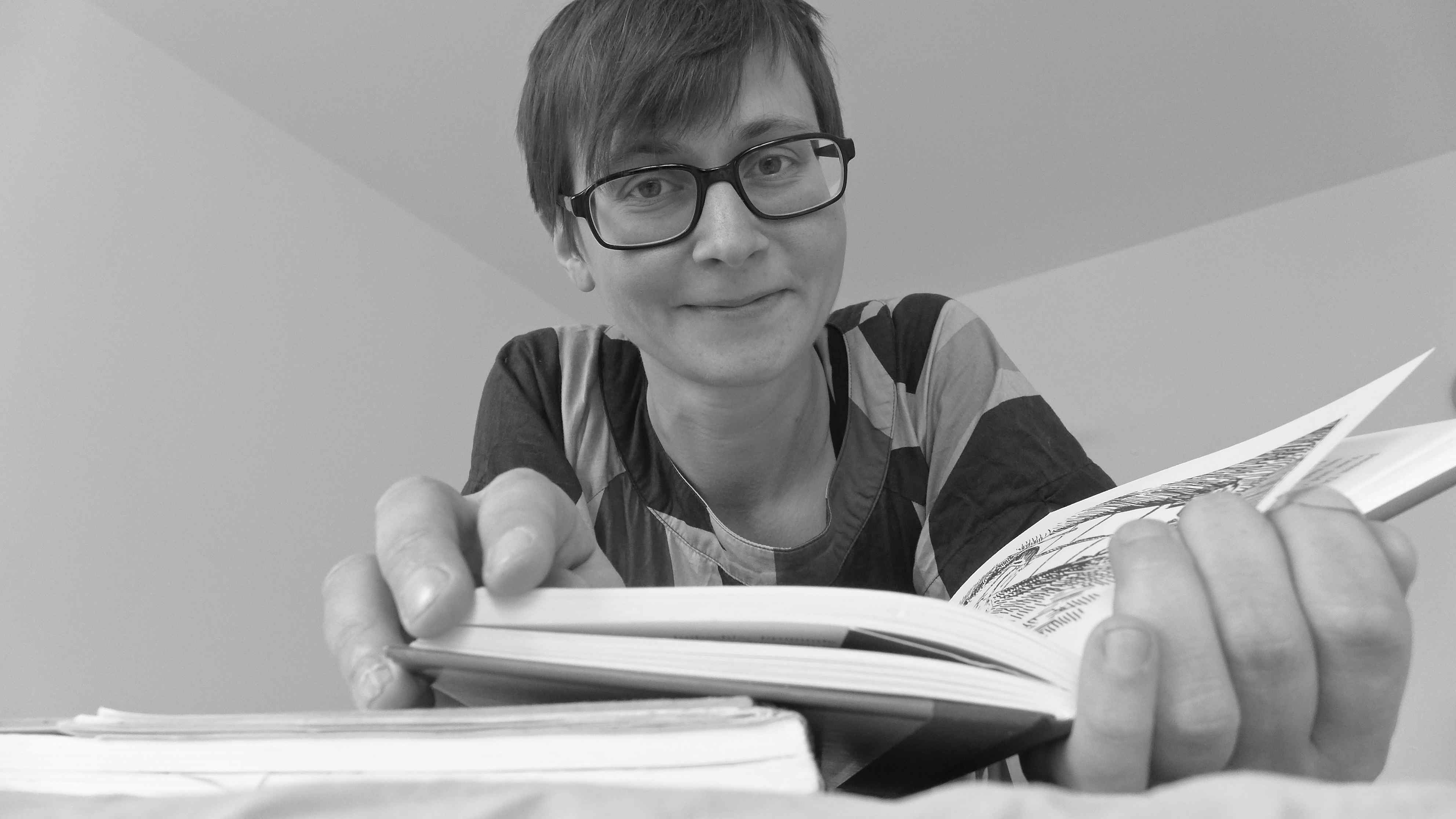 One Adventure In A Whole Day: Hanna Nordqvist
Posted on March 10, 2016
A long distance relationship made it possible for Hanna Nordqvist to leave her home country of Sweden for Berlin – plus a few magical nights when as a teenager, she visited the 'City of Dreamers'.
Hanna is one of the women featured in my photo series for Circus Folk + Flower Punks, the photo exhibition put together by myself and Kate Seabrook. It opened this week and Hanna was at the vernissage, along with around a hundred other people…
Living in Berlin as an adult, she has moved through academia and publishing to find her way to studying the Grinberg Method, a particular bodywork therapy currently on the rise in Europe and the US. This year she will to graduate as a practitioner.
Hanna also loves to tell stories: it's in her bones. So is theatre.
Hanna is part of Berlin's Fischell Kollective, a "fragmentary – literary – biographical – musical – rhythmic" theatre group which "researches new material in new spaces and contexts". She also gives solo readings, with one of her favorite storytellers being Tove Jansson, author of the beloved, beautiful Moomin series of children's fiction.
I first met Hanna in July 2015, when she enrolled as a participant in Deep Storytelling, the two-day storytelling and empathy workshop which I co-presented. As part of the program I produced a podcast, interviewing the participants about the revelations they discovered about themselves (and the work they did), during the weekend.
What struck me about Hanna was her deep level of empathy, especially when she spoke about her passion for her Grinberg work, and the clients and colleagues with whom she collaborated.
Some months later I asked if we could do a portrait shoot in her rooms which, as it turns out, are located just around the corner from the Australian Embassy, our venue for 'Circus Folk + Flower Punks'.
As the late morning sunlight filled the space I snapped away, asking Hanna to "try and get lost" in her favourite Moomintroll book which she'd brought along with her. Time went quickly; it was fun.
The resulting images reflect what I found to be Hanna's kindhearted, graceful and thoughtful nature.
---
Circus Folk: "A Swedish woman in Berlin"… How did you find your way to Berlin – and to call it home? Could you give us a snapshot of your journey?
Hanna Nordqvist: It is quite a long story…
I was in Berlin for the first time in 1998, when I was 18 years old – I was living in Moscow with my family at the time (my stepdad worked for the Swedish Embassy), and going to an International School. A Danish classmate had moved to Berlin a few months before, so a small group of friends and I were going to visit him for a few days. We had a really good time – it was autumn and dark and rainy, so my impression of the city was rather gloomy, but somehow also intriguing with all building sites and alternative places.
Many years later – in 2006 – one of my brothers, who studied art in Göteborg, had his final exhibition with his class in Berlin, and I went to see it. Again I found it really intriguing with all the interesting 'spontaneous' bars, cafés, galleries and project spaces – the feeling that this was a city that offered opportunity and spaces to expand on ideas. In some way it reminded me of Moscow the way I had experienced the city as an expat teenager it in the 90's – a certain feeling of freedom.
It was also summer this time (in the middle of the World Cup), with loads of people on the streets and in the parks. It had the excitement of a big city, but at the same time so much more relaxed and friendly. It made me feel at home in a particular way, and I had a really strong feeling at the time that this was a city I would like to live in at some point.
One year later I went to Bologna, Italy, for Erasmus study exchange, and there I met my partner, Massimo, who has Italian parents, but was born and grew up in Germany. He also was in Bologna for university exchange. After we both left Bologna we had a long-distance relationship, travelling back and forth between Sweden and Germany, for almost two years. But I also started learning German and looking for a way to move closer.
Massimo studied in Hildesheim – a small town close to Hanover, but I was set on moving to Berlin, which meant not exactly moving to the same town, but at least the same country – and only a couple hours train-ride away from each other.
At just about at the same time the Swedish chain of bookshops that I was working for parallel to my studies, happened to open a shop in Tegel Airport in Berlin, and I was offered a job there. So that made the move even easier – knowing that I had a job from the beginning!
What I found in particular when I arrived – in February 2010 – was how natural it felt to live in this city; it really did feel like home very quickly. And now six years later I have difficulty imagining living anywhere else.
CF: What kind of writing and performing do you do – and how would you describe yourself as a performer?
HN: I feel I am still in the very beginning of my work with writing and performing, and at the same time I have realised that I have actually loved to write and perform since I was very little!
I have difficulty remembering names and dates, but I was always quite good at learning song texts, and I used to memorize texts from my parents LPs and sing them to whoever wanted to listen. When I was 6 or 7, my mother got me to sing at a feminist party for International Women's Day (I think that counts as my first 'big' performance!)
When I got older I got more shy and nervous. I would start to shake, sweat and go red when I had to speak in front of the class, and this embarrassed me so much that it stopped me even thinking about voluntarily performing anything more than I absolutely had to. It is only in the last five or so years that I have realised that the reason I get so nervous is because it really excites me to stand in front of people. It is still a challenge, but I also really love it.
What I really like is to tell stories, in words and in gestures. I don't enjoy so much going into dramatic roles (maybe that is because I am not so good at playing roles), but I love walking the line between reality and fiction: to experiment with telling a story almost as myself, but maybe still not entirely.
And also retelling my memories and impressions: trying to make them come alive, but at the same time playing with them – turning them around, painting them in different colours, trying out different perspectives… Both my writing and performing also often are in themselves reflections on memory and imagination – how we remember and how our imaginations bring things to life and give them form.
What also fascinates me is the possibility of using the body and semi-abstract, poetic gestures or movements to transmit certain atmospheres, moods, and emotions – and even sometimes to use gestures in order to contradict what is being told in words. This is something I would like to experiment more with.
I think I try to do something similar also with words when I am writing: to catch something abstract by finding the 'right' words and order of words: to taste, feel and play with them in a very concentrated way.
In my performances I want to see how I can combine words and movement in this way – maybe as a sort of abstract, poetic, realism… And as I write this, I am thinking that maybe what I like doing both in writing and performing is a kind of imitation or 'cover' – in my own way, re-telling something I have heard or seen.
Maybe it's a bit like singing the songs I learned from my parent's LPs…
CF: How would you describe your relationship with 'words'? Is it some kind of love affair? And, have you always loved words?
HN: Yes it is definitely a love affair! But a complicated one…
For a very long time – and sometimes still! – I was blocked by the feeling of there is only one correct way of using words within a language, and that anything else is 'incorrect'. I think this is something we also learn in school, what is 'correct' language and grammar… And maybe because I left Sweden when I was 14, and never finished school in Swedish, but instead started having to move between languages. There was always a kind of insecurity there in relation to language.
Swedish is my 'mother tongue' and the language I am most at ease with when writing – the language where I can most easily feel and play with the different nuances. Even so, there are still so many parts of the language that I don't know or have control over. For example there are some expressions that I was sure was a natural part of written language, and only after years of using them also in formal letters, found out that it is actually more of an 'informal' spoken language! These kinds of discoveries can make me very embarrassed and shake confidence in language. I get the sudden daunting feeling that I don't have any control at all of my language – that I don't have any feeling for it!
Generally in the past I have very easily become insecure by people telling me that my way of expressing something is wrong. But over the years I have also discovered that people sometimes have very strong opinions about what's right and wrong in language, and that it doesn't necessarily mean that they have the monopoly on deciding what is allowed, or is not.
I have loved words since I was very little: the magic of words describing something or building up a story. My grandfather used to tell us stories, and I remember the way he seemed to pick out each word very carefully – with a lot of attention and love. Each word received its own deep value and weight in the story. Words were important. And my mother translates books from Russian to Swedish – a work that requires a constant 'tasting' and feeling for words and expressions.
So this concentrated relation to words has always been a part of my life; it is a base that I continue to build on.
CF: You are a Grinberg Method practitioner – mine as it turns out! As a therapist you work a lot with people's bodies, and their experiences of body: how do you think this relates to your interest in performing, and writing?
HN: My interest for working with the body started through my fascination for theatre and dance. First as a spectator and researcher: noticing how deeply movements and expressions on stage touched and moved me, and trying to figure out very theoretically how this worked. Later this lead me to start trying out different forms of dance and theatre practices for myself.
My first encounters with the Grinberg Method gave me a new sense of freedom and lightness for my physical expression. I learned in a deeper sense to go with my body and use whatever flow or intensity was there, instead of trying to force it into a certain form or direction.
Through the three years of Grinberg studies that I recently completed, one of my big realisations has been how connected my writing and creativity are to how I am feeling in my body. For example, the feeling of being 'blocked' or 'restricted' in my writing is more or less directly connected to the certain way of tensing and holding myself – and that I can affect this feeling, by moving or changing something physically.
For example, my writing is very different after I dance a bit around a room… Or that I can consciously move between a state of focus and de-focus, and that this helps me to stay lighter and more easily bring flow to whatever I am working with, without having to push or force myself so much. It means I am able to better keep my initial joy and motivation for the work.
In my work as a Grinberg practitioner I notice that, for a lot of my clients, the subjects they are battling with can also often be connected to the urge of wanting to bring something into expression – to allow their own voice and needs to be heard and take space. The physical tension and pain that people come to me with almost always are partly connected to consciously (or unconsciously) the pushing down of something, or holding something back.
Many times for me, working with clients during a session also feels a bit like putting them on a 'stage' – through touch and instruction, trying my best to give them the space for whatever is needed to be expressed, be that through words, sound, or intentional or unintentional movements and impulses. And in this way helping them to reconnect to and again feel their bodies, instead of only trying to keep them under control.
Seeing how I can be a part of giving back others more of their freedom of expression, also inspires and gives me courage for my own writing and performing.
CF: Who inspires you, especially to keep going in both your Grinberg work, and with your own creative pursuits?
HN: I keep finding new sources of inspiration. At the moment I am very actively searching for new impulses, ideas and directions within body work, writing and performing.
For my performing however, I keep coming back to the Tanztheater works by Pina Bausch, and also the director Frank Abt, who has made a series of theatre pieces that touched me very deeply, based on interviews for Deutsches Theater.
For my writing, one of my absolute favourite authors is Tove Jansson, the Swedish-Finnish author who wrote the Moomin books. They keep pointing me back towards the 'serious playfulness' that I would love to arrive at in my own writing.
Another huge source of inspiration for me – both for my work with clients, and in my writing and creating – is my teacher during the last couple of years of Grinberg studies, Vered Manasse. Her way of teaching showed me again and again the possibility of going towards where there is intensity, and daring to stay there, instead of avoiding, controlling or numbing it.
Writing and performing brings a lot of intensity and fear for me, because it is something that means a lot to me, and I have a thousand different strategies of distracting myself away from it! Vered has inspired and encouraged me to find ways to always bring myself back to what is significant – and, to dare to acknowledge it.
CF: What is your concept of 'home'? And your feeling for your 'adopted' home, Berlin?
HN: I think for me it is a certain feeling, certain elements coming together: some you see and recognise, and some are more abstract.
I think you can almost make yourself at home in any place, if you are forced to – bringing whatever elements you need to it. It is when you move away from them you notice the effort you had to make.
Then there are certain places you just have the feeling of 'home' right from the beginning – as if just being able to let yourself 'drop down' and 'breath out', while at the same time something starts 'pulsating' and 'beating'. It's a bit like something hits your frequency, and makes it 'swing higher'…
I think feeling at home in a place is a bit like falling in love. Meeting someone you are really attracted to and excited by, while at the same time you have the feeling that you know each other already, since ages!
This is the way I feel about Berlin.
CF: Finally, would you share with us one of the most inspiring books or works you've read – perhaps one you keep coming back to? And that you think may inspire others too, if they read it?
HN: Again I would say Tove Jansson's Moomin books, especially Moominvalley in November and Tales from Moominvalley.
Even though these are books for children, I keep going back to them again and again for inspiration.  They are so funny, yet with such deep philosophical and psychological observations.
They help me to reconcile myself in a deep 'felt' way, with my own particularities, hang-ups and hysterias – and others' too!
Many thanks to Hanna Nordqvist for the interview!
---
Interview: Hanna Nordqvist
Words + edit: Megan Spencer
More: about Hanna's work here.
The 'Circus Folk + Flower Punks' exhibition is on at the Australian Embassy in Berlin Gallery Space until May 27, 2016. More details here.

Next week: Samantha Wareing, aka 'Wasp Summer'