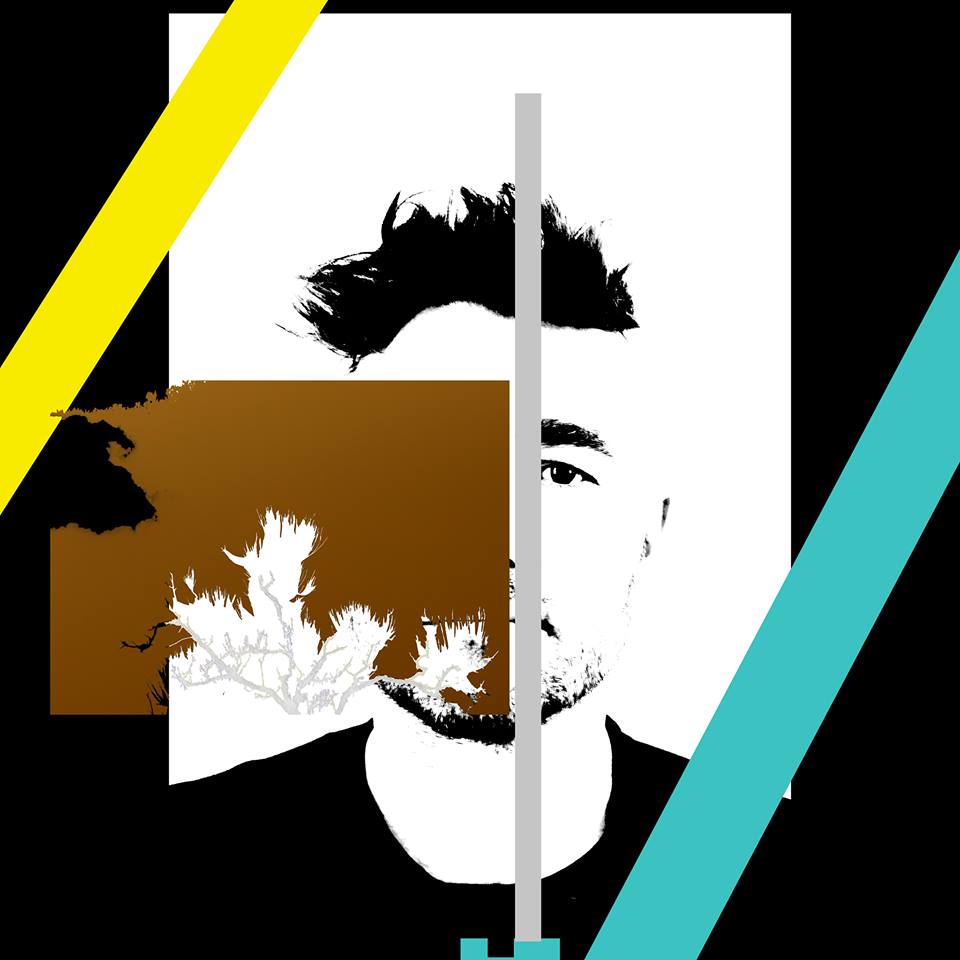 Brother From Another Planet
Posted on December 10, 2015
"If it's electric we can play it," Jeremy Conlon once declared in an interview about his long-time music project, Cooperblack.
Despite being published in the Northern Territory's most 'infamous' daily newspaper – and pictured perched high atop a wobbly tin roof, astride a cherry-red vacuum cleaner and against the brilliant blue sky of Northern Australia – he wasn't kidding.
Brandishing the machine's chrome-metal tubing as if some kind of divining rod of "rock", his playful grimace suggests, given half the chance,  he'd jump at transforming that domestic cleaning appliance into a magical, kick-arse "electric" instrument …
Either that or go into battle with a crazy cosmic creature from the outer planets.
Influenced by otherworldly pop pioneers like Bowie, Kraftwerk and Bauhaus, Conlon has always been a kind of musical cosmonaut, a shameless dreamer plugged into the endless realms of possibility music proffers. He's also a fearless adventurer, whether testing the outer limits of pop and dance within his own musical "output", or out in remote Australia innovating new ways to record musicians with little or no resources.
Since leaving his hometown of Adelaide for Darwin in 2003, much of Conlon's time north has been spent embedded in communities working with some of Australia's best-known (and least-known) Indigenous musicians, Gurrumul, Tom E. Lewis and Nabarlek amongst the former.
A prodigious, multi-disciplined, multi-talented musician, engineer and producer – with a raft of production credits to rival that of any east coast 'industry' peer – Conlon is about to release Return To The Big Eyes. It's his ninth recording as Cooperblack, the ever-evolving, shape-shifting musical project he began in the early 90s as a Music Composition student in Adelaide, with only a trusty "4-track cassette machine" and a driving passion for musical experimentation to his name.
He's also joined forces with progressive Territory musical counterpart, Kris Keogh (Laptop Destroyer). This December Conlon released his new EP through Keogh's newly-minted "digital-only" independent label, ZZAAPP! Records. Dedicated to releasing "underground electronic music from Australia and Japan", Cooperblack's "very electro, mildly retro, spacious dance" sound perfectly fits ZZAAPP's "glitch/blip/bleep/boom/bap/zap!" agenda.
A long-time admirer of Conlon's music, Keogh says, "He writes driving electro tunes and he's not afraid to turn these into 'pop' songs. Sonically, Return To The Big Eyes just sounds great, really electronic, the drums are nice and dirty and the synths all sound huge."
He adds, "I feel like this EP is almost a return to the original Cooperblack sound: one guy alone in a room with his drum machines and synths. It's come full circle, only on this lap around he's lived more life, has more skills and some fun new gear to play with."
While it's always been rooted in crowd-pleasing pop, there's also a fearless weirdness to Cooperblack's music. Return To The Big Eyes is no exception. It's the kind of strange playfulness audiences love and faint-of-heart labels loathe. As Keogh intimates, Return To The Big Eyes also possesses an intimacy not seen on previous Cooperblack releases: it's perhaps Conlon's most mature and personal recording to date, with an album forthcoming on ZZAAPP! in 2016.
It's also bound to get people up and dancing as soon as they hear it – another palpable trait of the music made by Jeremy Conlon, this 'plug and play' musical Argonaut from planet Cooperblack…
---
Megan Spencer: How would you describe the 'entity' of Cooperblack?
Jeremy Conlon: Cooperblack is the musical output I do in a 'sometimes' pop sense… It sneaks in influences from many points: not only from music but from all kinds of art, visual and sonic; mysterious events; perceived reality versus imagined; outer space… From all over!
MS: Cooperblack has had a number of line up changes over the years: could you tell us about its evolution, and the kind of music you have 'moved through' over time?
JC: Cooperblack started in Adelaide, in the early 1990s with 4-track cassette machines and sound experiments, primarily as writing tool where I was really trying to emulate the music I loved (The Cure, Bowie, Bauhaus, Siouxsie and the Banshees etc.) I stuck to making it with bass, acoustic guitar, a Mattel drum machine and an early Yamaha CS01 Synth. (See early Cooperblack album, .interpacer).
In the late 1990s – early 2000s, I (Cooperblack) was really lucky to be creative with Adelaide musician and beat master, Tyson Hopprich (DJ TR!P). This gave me the freedom to start live voice manipulation and experimenting with sounds from outside the pop world, then re-implementing them back into songs which were normally very dark and sometimes very whacky. (Always loads of fun!)
Tyson was on Atari using a Mod-Tracker programme and scratching vinyl. I was on bass, 12-string guitar, synth and voice. We would ride to gigs with our gear on bikes, complete with ironing board. We used a lot of video projection with mainly loops gathered from the internet, medical videos of dissections and re-animation of animal corpses, things like that (ie very dark).
There was no sync at all, just loops. We released CDs Item V2 and Presbus, the title track of which having loads of rotation on triple j.
In early 2003 I moved to Darwin and started work on a new Cooperblack album, The Shiny Side. This was an extension of what had happened in Adelaide with Tr!p. The Shiny Side was mainly produced by myself, with the voice collaborations by Max Bowden and my brother Jock – still very electro!
In Darwin I met musicians Rosco Davidson and Simon Kormendy, so Cooperblack became a three-piece. I was on on bass, acoustic and voice with Rosco on drums and Simon on synth and guitar. At the time I was listening to loads of really bass-driven post-rock music with a clear 80s feel (ie Block Party, Joy Divison and Interpol). We released the Soft Robot EP, which again got some triple j airplay with the track Stand Up.
Rosco left Darwin and we were fortunate enough to meet up with Oliver Budack in 2007-2008, and began writing album, My Art Is Bleeding. Oliver brought a real precision and very German motorik feel to the rhythm, as well as being incredibly funny and up for almost anything! We played lots of gigs in the then-new Happy Yess live music venue in Darwin. The music was again really bass-driven, pushing a more 'rock' side and I found myself pushing my voice a lot more as well.
In 2009 Oliver left Darwin so we began working with Jess Davis and released a new EP, Malaysia, which included tracks with both Jessie and Oliver on drums. in essence, musically and lyrically it was still dark and personal, although this EP had lighter moments, with film clips produced for tracks Swim and Salted.
In 2010 I relocated to Western Victoria and Cooperblack changed again! Lauren Day (2Cats1Hat) joined in on synth and voice and Toby Robinson on drums. Gigs were played around the Ballarat area with many demos being recorded.
From 2012-2014 Cooperblack had a hiatus as Lauren and I worked on an electro project called Anelechi, which ended up honing and influencing the sound of this new Cooperblack CD, Return To The Big Eyes.
MS: How long have you been working on Return To The Big Eyes? How would you describe this music, and how was it produced?
JC: I have been working on new tracks for a release since the start of 2014, composing about 20-30 sketches. Most tracks that made it to the EP were produced within the last 6 months.
It is a very electro, mildly retro, spacious release, about dancing and questioning. Some major life changes and a re-alignment made me want to 'time stamp' this release as an important time in my life.
It's also '3D'! Because you kind of walk into it and dance! It is electronic and slightly dark but ends up positive and noisy.
I produced all the music except for the track 3 Point Turn, with 'elmstonchrist' (Kristen Elms) on vocals.
The songs were written mainly on the road, in Yuendumu, and partly in Sydney. The majority of it was written and produced in Yuendumu this year (2015).
MS: What inspired the songs behind this album?
JC: Different songs have different inspirations…
I Assume is a play on 'pareidolia' ("hearing or seeing things in nature or patterns and interpreting them as something familiar, or something that does not exist"). The lyrics are a play on that. I also played with leaving the skat inspiration as the main vocal – I wanted to ask the questions: "Does it need to make sense?" "Will people just create a meaning?"
Come Down was inspired by the beat and the need to dance – and the need to say these words in a simple form for me to hear and believe.
3 Point Turn is a collaboration with artist elemstonchrist (2Cats1Hat). The song is really driven by her lyrics and was loads of fun to do. She is a great artist.
Make or Break Us is very self-explanatory lyrically, and musically a nod to the some great electro groups that I hold close. It's the 'break up' song…
Strike Strikes never had words till the last moment: I felt like I needed to say thanks.
It was all a tool: therapy.
MS: What inspired the title?
JC: "Big Eyes" is a state I get into where I feel that my eyes are too small to take everything in: they need to become larger, I need to see more like a massive fish-eyed lense – this is often accompanied by 'collapsing legs' in moments of pure innocent joy…
MS: You have a new 'claymation' music video for the first track on the EP, I Assume – who made it? And is there a story behind the clip you could share with us?
JC: The video was produced by Alex Machin who is a skilled animator from Melbourne. He has a good style and is quirky and fun!
We sent random ideas to each other: I spelled out a rough story and he expanded, coming up with a storyline based on someone who gets hooked on coffee and ends up frantically fighting a Giant Praying Mantis!
There are strange connections between this story and things in my life – including past Cooperblack releases and songs. It seemed to echo strange things for me. So I felt like he was on the right track – I like it!
MS: How did your label partnership with Kris Keogh and ZZAAPP! Records come about?
JC: I have known Kris for around 15 years and have always loved his music and art. All my previous releases apart from Presbus in 2000 (Krell Records) have been totally independent. So it's nice to let go and have other peoples' influences around in order to deal with the music after it is created.
ZZAAPP! has an instant aesthetic and I like how Kris is also part of the actual artwork creation. Some of my favourite labels you can distinguish just by the cover art (for example Creation, Factory.)
He just continues – he has a constant output like a machine! Music is his life and he is continually pushing his boundaries and listeners' boundaries of sonic taste.
I've known him for 15 years but we have never made music together. This is our first mingling. Exciting!
MS: You left Darwin in 2010 – could you give us a bit of a 'snapshot' of your music and work thereafter, before returning to the NT, where you're currently based?
JC: With Cooperblack, I continually write ideas quickly and then return to them later. Since leaving Darwin in 2010 I have been busy making tunes but not releasing.
I have worked on a few other peoples' releases though, including Tjintu for CAAMA music in Alice Springs, Matthew The Oxx (NT), The Crepes (Ballarat) – actually many Ballarat bands came through my home studio.
I built it south of Ballarat over 2010-2011. That was when I went full steam into my own small business, Left Of Elephant Sound. That continued when I returned to work in Darwin in 2012-2013, whilst I ran out of Kakadu Studios. My music output moved between Cooperblack and Anelechi. Cooperblack did a few shows in Ballarat and surrounding areas, as well as in Melbourne.
Anelechi kicked in on the return to Darwin, with some shows at Happy Yess and Darwin Railway Club – all fun! Through this I fell straight back into electronic music, partly out of a return to where I really started – breakdancing to Kraftwerk, Grandmaster Flash, Rock Steady Crew and Chaka Khan!
MS: You worked at Skinnyfish Music in the Northern Territory for four years, with many Indigenous artists, including Gurrumul – can you tell us about your work there?
JC: I was really lucky to do all kinds of jobs there, as a stage hand, sound engineer and I was assistant sound engineer on Gurrumul's album Rrakala in New York at Avatar Studios.
I also worked as a producer, part-songwriter, as tour support – in lots of roles! I travelled all over Australia, including many times to and within Arnhem Land, and made awesome friends.
Currently I work at PAW Media in Yuendumu, Pintupi, Anmatjerre and Warlpiri Media. I have the title of Radio/Music Producer. I oversee the radio and music content created and broadcast, record loads of music and concerts, mix sound for short films, travel, and facilitate training all over Central Australia.
It's great fun, and seriously, it is an amazing experience living on community with lots of awesome people.
MS: You have spent a long time working in the Northern Territory with Indigenous artists. What motivates you to be a part of the culture, the music and the communities – and to continue this work?
JC: I started working in remote Australia in 2002 and have many connections within this part of Australia. I am not quite sure what motivates me but I know that there are so many good musicians and songwriters in the bush, people who are just naturally so good, yet very underrated.
I really enjoy working with good musicians wherever they are. I just find myself drawn to the bush I guess because I have done it for so long now.
Australia is so beautiful and massive. I rarely find myself in a place or community without some kind of connection to someone I know, families or band members who I know.
It kind of gets in to your blood and soul; people are friendly and relaxed, and time is different.
MS: What kind of experiences have you had that you otherwise might not have, if you had stayed working a music production job in the city?
JC: Diversity and adversity: from working in the bush you learn so much to improvise and adapt in all you do. For example, how you might set up a recording space in a really interesting and different space; how you look at time and peoples' interaction with time; things that are important and things that can wait for a bit…
Sports Weekends in community are always a great experience as a sound engineer. With up to 15 bands or more in one night battling it out for a prize, you get to see and hear a lot of good stuff – and every band member is in a football team as well. It's pretty special stuff and totally normal for the bush.
I spent a year living in Sydney, though for 5 months of that I worked in the NT on various jobs. In Sydney I felt I needed to expand what I do as part of being a sound engineer, and ventured into sound for film, looking at location dialogue recording. I did a short course at AFTRS (Australian Film Television and Radio School) in Location Sound, and totally enjoyed it. I found some great work straight away after finishing it. So that was well worth it.
I felt to survive – at least for me in Sydney – that I needed to diversify what I could offer. There are so many great studios and engineers there that one year living there is really just a 'sneeze in the breeze' – not nearly enough time to percolate into the known arena.
MS: What have you learned through your work with Indigenous artists and in communities?
JC: To take time, to laugh and not take everything so seriously all the time. To experiment; the importance of just stopping and just talking for a while; to have a cup of tea and chat – getting to know people is important. And to just slow down and really appreciate the individuality of people…
There is a whole music scene that is unknown to 'the mainstream'. It is so good – it has its own stars, own tour circuits, own labels, studios and legends. Unless people travel to these places it would be hard for them to imagine what happens there musically.
MS: Aside from the artists in the bush, who else inspires you – which artists? Especially the ones whose music you might keep going back to?
JC: Berlin-based Bowie, Eno, Lou Reed, Laurie Anderson, The Knife, Fever Ray, Kraftwerk, Planningtorock, early Cure, Joy Division, Cabaret Voltaire, among others!
MS: What do you like about contemporary music – who are you listening to right now?
JC: I love the diversity! There's so much good music coming out with an electro post-punk bent right now.
Currently I'm listening to Sexwitch by Bat For Lashes, Murlo, Die Antwoord, Terrible Truths, Flying Lotus, Hot Chip, (Vipassnā teacher) S.N. Goenka, Chinawoman and Rub by Peaches loads!
MS: What do you like about electronic music?
JC: Potential… Space.
MS: Finally, what's your favourite thing about making music?
JC: Escaping; the realisation that you are dancing around the room alone with your hair standing on end; recreating that hair standing on end; finding what works and what doesn't; making mistakes and using them; limitations of the canvas; Lego blocks; collaborating; trying to let go of ego; friends; discovery; intersections; visions and misinterpretations; stopping at the right moment…
MS: Anything else you'd like to add?
JC: Thanks for letting me rave and reflect!
'Return To The Big Eyes' is out now on ZZAAPP! Records, also with special merch!

---
Declaration: This is paid content.
Words & interview edit: Megan Spencer 
Interview: Jeremy Conlon
Commissioned by Jeremy Conlon & ZZAAP! Records
Additional thanks: Kris Keogh
Disclosure: Megan Spencer has known Jeremy Conlon since 2008, is married to former Cooperblack drummer Oliver Budack and produced & directed Cooperblack's 'Salted' music video.